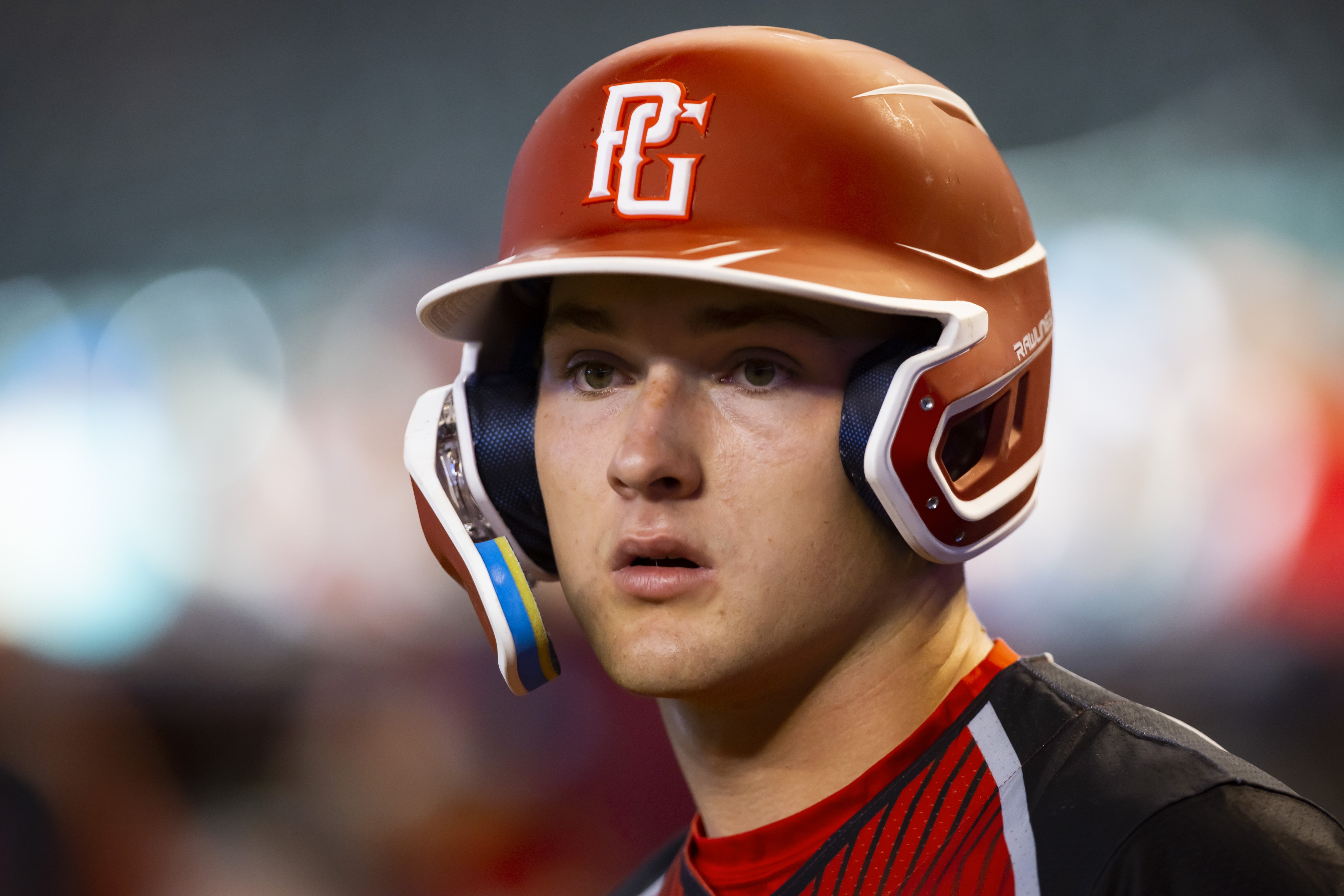 Image courtesy of Mark J. Rebilas-USA TODAY Sports
Over the next two weeks, we're going to be providing you with profiles of 10 players the Cubs could take with the 13th overall pick in the 2023 MLB Draft.
Who is He?
Kevin McGonigle is one of the best bats in the most recent high-school class. He's well-known to scouts due to his time with USA Baseball on the 2022 18U National Team. He's impressed with his hit tool and is regarded as a smart baseball player. 
Why the Cubs Will Draft Him
There's a collection of high school infielders - McGonigle, Arjun Nimmala, Colin Houck and Aidan Miller among others - with little that separates one from another. In a "beauty lies in the eye of the beholder" like situation, it will just take any team to like one more than the others for any specific reason. The reason to like McGonigle is his bat. It grades as an above-average tool with every other tool projecting to be at least average. If you believe he sticks at shortstop long-term, he gets a bump. If you believe he will develop 20+ home run power, he gets another bump. 
Why the Cubs Won't Draft Him
On the flip side, McGonigle is nearly 19 years old, which is over a year older than Nimmala. Analytic-driven teams typically ding players when they are older then their peers. That could be something to watch in regards to McGonigle (but also Miller and Houck). Turning 19 in August isn't exactly "old" but could ultimately be a factor when you're trying to make such a big decision.
Additionally, there's no guarantee that McGonigle remains at shortstop. He's also on the smaller (5' 10", 185) side, so there may be some limitations physically. How much power is he likely to produce? Is it justifiable to draft a potentially light-hitting second baseman in the top half of the first round? I think you'd find a number of people who oppose it. 
What do you think of Kevin McGonigle as a prospect? How would you feel about him being the Cubs pick at 13 overall? Join the discussion in the comments.
---
Previous Draft Articles and Profiles
Arjun Nimmala
Noble Meyer
Nolan Schanuel
Matt Shaw
Aidan Miller
Rhett Lowder
Enrique Bradfield, Jr
Jacob Gonzalez
Tommy Troy
Consensus Big Board Profiles: 26-50
Consensus Big Board Profiles: 1-25