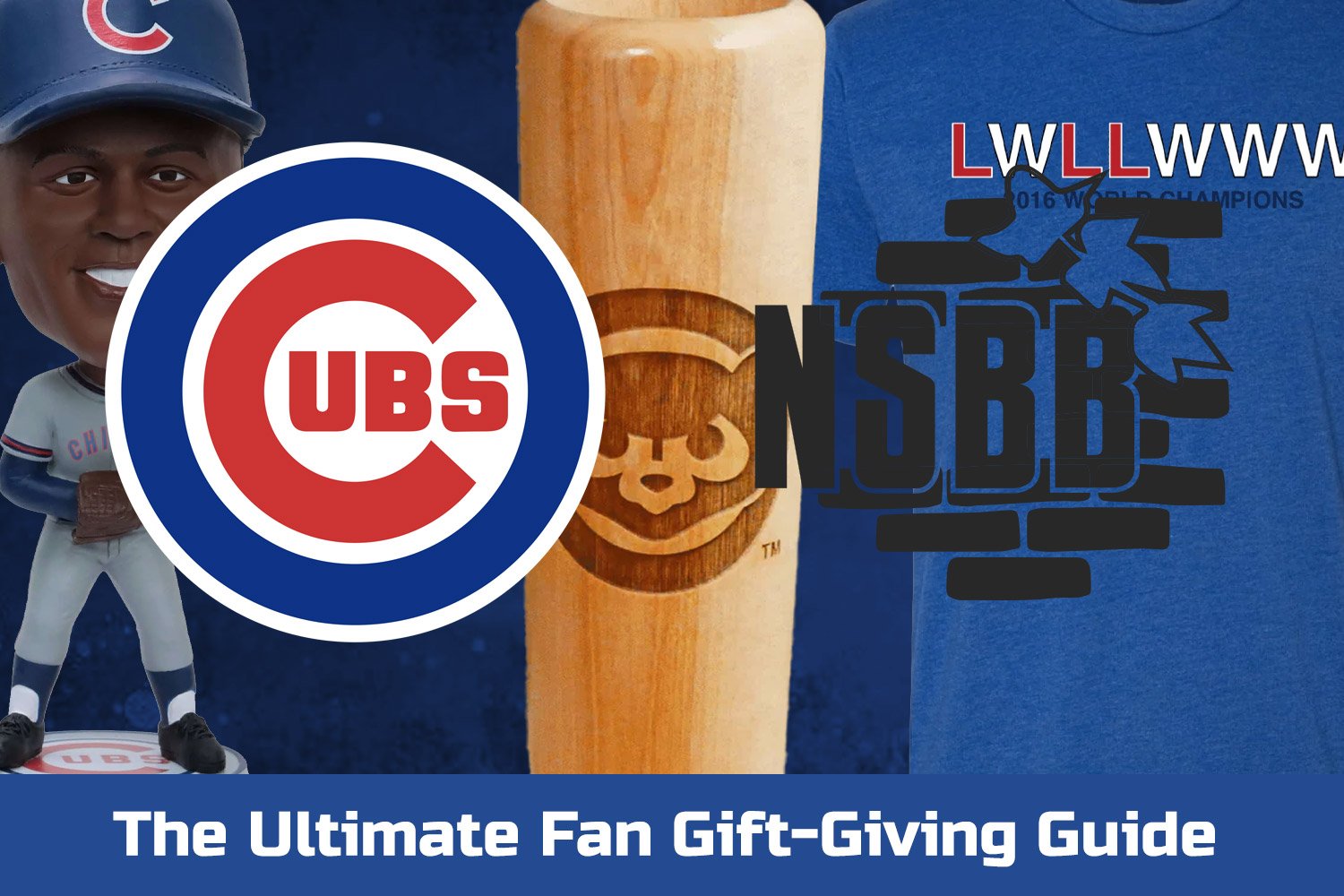 To start things off, we'd like you to take a look at the products from our friends at FOCO. They make a variety of novelty Cubs bobbleheads along with Cubs hats, apparel, and other products. Any purchase from FOCO using this link earns North Side Baseball store credit, which we use exclusively for gifts for our awesome users. Please consider giving FOCO a look!
Is someone you know a North Side Baseball user? If so, consider giving them a gift card to be redeemed for either a Gold Caretaker year-long subscription! Caretakers are offered free publications and exclusive content alongside ad-free browsing across North Side Baseball if you opt for Gold Caretaking!
Gift Ideas for Cubs Fans (click to jump directly to section):
FOCO Products
Apparel & Gear
Unique Gifts
Game Tickets
Books
Fan Memorabilia
Chicago Cubs Mens & Womens Flag Thematic Bib Overalls
Show your holiday spirit in these stylish and comfortable Chicago Cubs Men's Flag Thematic Bib Overalls. With their all-over team-colored design and bold team logo display, these overalls are the perfect way to show your support for the Chicago Cubs this holiday season while showing off some team-specific style that will make sure your fan fashion stands above the rest at home, on the go, at the game, or wherever life takes you.
---
Chicago Cubs Ugly Pattern One Piece Pajamas
Get some matching family pajamas and dress to impress this holiday season! You won't want to miss these onesie team pajamas! These men's and women's PJ's are comfortable and show off your team spirit in the form of some sweet one piece jammies. Introducing the Chicago Cubs Ugly Pattern One Piece Pajamas! Don't forget to take your holiday photo with the whole family wearing matching Christmas pajamas!
---
Chicago Cubs Reversible Colorblock Hoodeez 
Never before has the holiday season fandom looked so good and felt so relaxing. Lounge like a legend for the upcoming holidays while you cheer your team on to victory by rocking this Chicago Cubs Reversible Colorblock Hoodeez.
---
Chicago Cubs Wrigley Field BRXLZ Stadium
Who said you can only enjoy the awesomeness of the stadium on gameday? Build some home field advantage with this Chicago Cubs BRXLZ Stadium, and enjoy the beauty of your stadium whenever you want.
---
Chicago Cubs High End Stocking
This holiday season don't forget to hang the Chicago Cubs High End Stocking by the chimney with care, in hopes that Fanta Claus will soon be there. We get the feeling it won't be filled with coal when you wake up.
---
Chicago Cubs LED Shatterproof Ball Ornament
Light up the holidays with a little team spirit! Your Christmas tree will be ready to shine bright with this Chicago Cubs LED Shatterproof Ball Ornament at your disposal!
---
Chicago Cubs High End Santa Hat
When you're rocking this Chicago Cubs High End Santa Hat this holiday season, you'll prove you're the best gift-giver around. Santa himself is gonna be so jealous.
---
Clark Chicago Cubs Mascot 500 Piece Jigsaw Puzzle PZLZ
Enjoy the fun of a t-shirt toss at the game from the comfort of your own home when you put together this Clark Chicago Cubs Mascot 500 Piece Jigsaw PZLZ. It's as impressive as the mascot's dance moves during a game break.
If you haven't heard of Obvious Shirts, they're a purveyor of Cubs-specific apparel. You won't find team logo-branded merchandise here; every one of their products is crafted to capture an iconic sports moment or player, often using fun wordplay. If you want apparel with the flavor of something a little different for the Cubs fan in your life, The obvious choice is... Well, you get it. 
If you're looking for more traditional Cubs-branded hoodies, shirts, sweatshirts, women's apparel, or jerseys, the MLB Pro Shop is the place to go. They offer an enormous collection of branded apparel and gear that covers the history of the Chicago Cubs.
And finally, no list would be complete without a link to the New Era Chicago Cubs collection of hats. Over the past several years, New Era has expanded their line of caps to meet every color preference, shape, and design a Cubs fans could ever want. 
If the Cubs fan in your life is so hardcore that they're more likely to rock minor league baseball gear than something from the Chicago squad, look no further than the pro shops for the Cubs minor league affiliates: AAA Iowa Cubs, AA Tennessee Smokies, High A-ball South Bend Cubs, A-ball Myrtle Beach Pelicans.
When it comes to unique gifts for a Cubs fan, Dugout Mugs is one of the coolest companies you'll find for any gift-giving occasion. They make a line of "glassware" built from baseball bats! They offer a variety of sizes and styles, including variant logos for the Cubs.
Speaking of custom baseball bat gifts, Pillbox Bat Company is another outstanding gift opportunity if your budget is on the higher side of things. They offer a range of custom carved and/or painted baseball bats, such as the beautiful bat pictured below. If you're looking for something unique and exclusive, you won't find anything better than Pillbox Bat Company.
What's the point of being a baseball fan if you never catch a live game at historic Wrigley Field? Swing by the official Cubs ticket store to pick up tickets for a great afternoon at the ballpark!
Coming soon!
Coming soon!