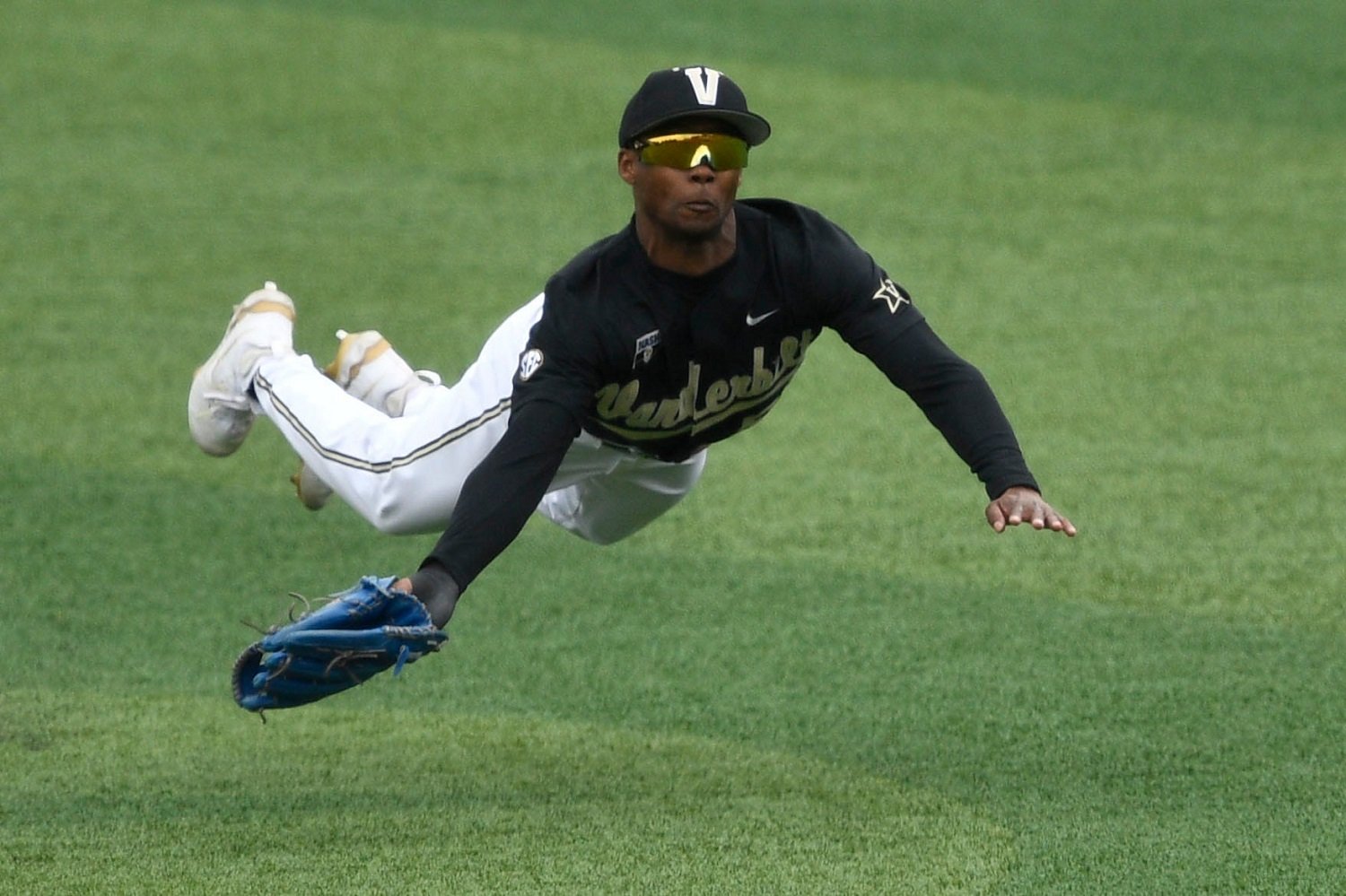 Image courtesy of Saul Young/News Sentinel / USA TODAY NETWORK
Over the next two weeks, we're going to be providing you with profiles of 10 players the Cubs could take with the 13th pick in the 2023 MLB Draft.
Who is He?
Enrique Bradfield Jr. is a left-handed center fielder out of Vanderbilt. His underlying speed (he is possibly the fastest player in this draft) gives him a solid floor as an elite defensive center fielder at the pro level. Bradfield currently sits at eleventh on the Consensus Board, with rankings ranking from 8-17. He has been in a similar spot since the beginning of the pre-draft process and initial spring rankings were released in February, which speaks to the value of his athletic trait tools.
Why the Cubs Will Draft Him
It might be easy to assume that Bradfield's value might be limited to speed and defense, instead, it's added to by an average to above average hit tool. Bradfield has a swing characterized by a flat bat path, leading to plenty of line drives and ground balls that allow him to leverage his speed. He accompanies this with an excellent approach at the plate, with a 16 BB% in 2023. Bradfield has typically struck out at a rate close to his walk rate in his three seasons at Vanderbilt, with that strong on base skill set allowing him to steal 130 bases in 191 games. While Bradfield has a below average arm in centerfield, his range more than makes up for it. His speed and route efficiency allow him to cover huge amounts of ground in the outfield. His floor is buoyed by speed and defense, how much he hits will determine his ceiling.
Why the Cubs Won't Draft Him
Bradfield doesn't offer much in the way of power and is not a profile that lines up with a typical first round college outfield selection. In three seasons at Vanderbilt, he hit just 15 home runs, and 31 doubles. There's not much reason to suspect there's more in the tank here, but MLB's rule changes to favor stolen bases and aggressive base running ought to increase his value as a base stealer. I think it remains more likely that the Cubs draft a college pitcher or college infielder at 13. While Bradfield isn't a typical profile, it's likely some folks will undervalue him not digging into the speed/defense assets thoroughly enough. 
What do you think of Enrique Bradfield Jr as a prospect? How would you feel about him being the Cubs pick at 13 overall? Join the discussion in the comments.