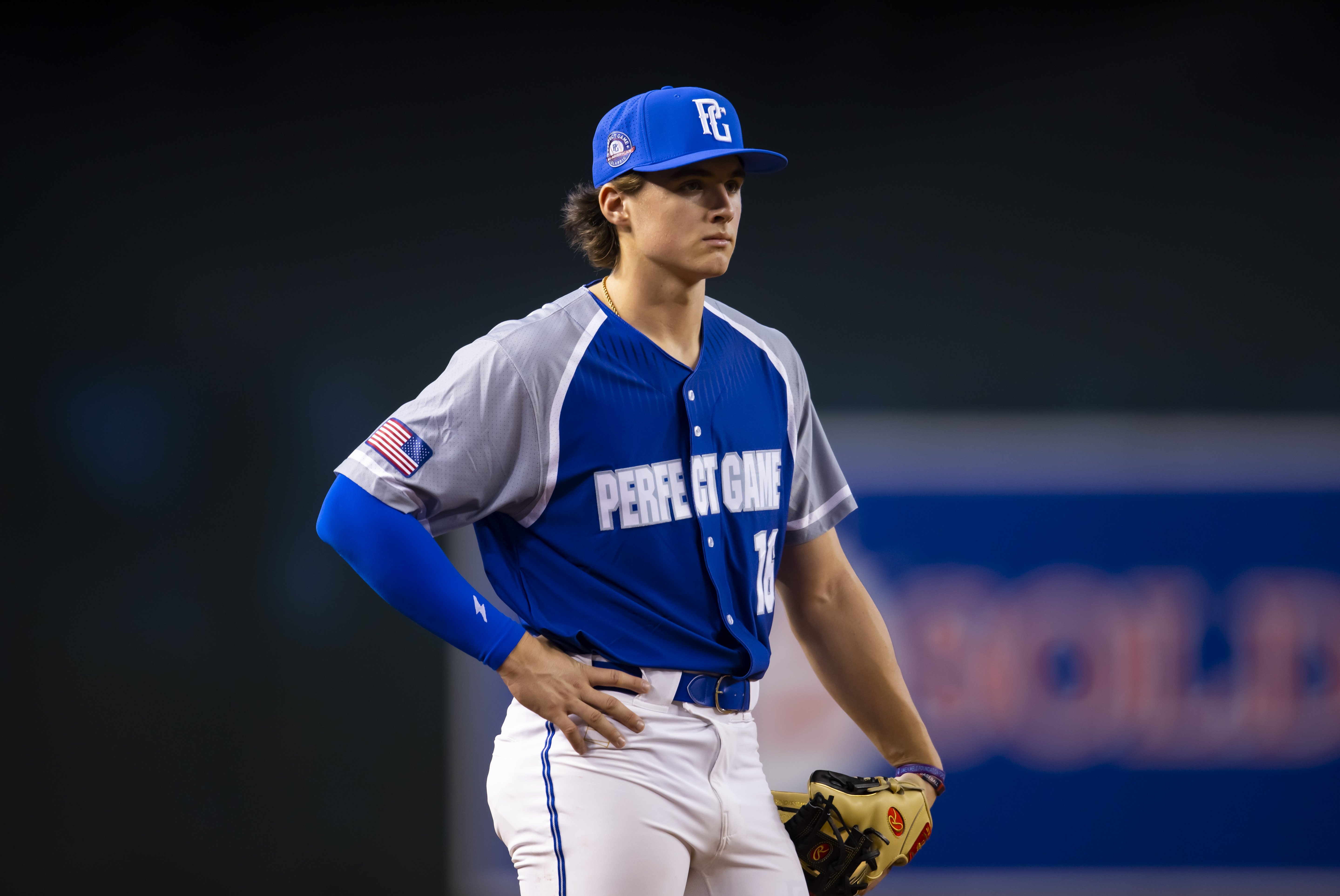 Image courtesy of Mark J. Rebilas/USA TODAY Sports
Over the next two weeks, we're going to be providing you with profiles of 10 players the Cubs could take with the 13th overall pick in the 2023 MLB Draft.
Who is He?
Aidan Miller is the younger brother of Jackson Miller, a catcher in the Reds system who was drafted in the second round of the 2020 COVID-shortened draft. Ranked 17th overall on the upcoming update to the Consensus Big Board, Aidan suffered a hamate injury this season and missed the majority of his final high school season, but not before impressing scouts last summer. He was the MVP of the All-American game and was gaining steam as a potential top-ten selection before the hand injury. 
Why the Cubs Will Draft Him
Miller has the type of bat you dream about. Swinging from the right side, Miller generates easy power and strong exit velocities. His overall hit tool projects to be at least average as well. For all intents and purposes, Miller is your prototypical third-base prospect.
There is no such thing as having too many excellent hitters in your lineup and Miller could provide excellent value to the Cubs because of his injury and teams not being able to get a fair, sustained look at him over the course of the spring. It's entirely possible that Miller would have cemented himself as a top-ten pick had he just been healthy enough to compete.
Why the Cubs Won't Draft Him
The value of this potential first-round pick is almost entirely tied to his bat. While most scouts believe Miller will be able to stick at third base (at least early in his career), there are others who question the body enough to think that he's destined to be a first baseman. He's listed as 6' 2", 205 and nothing is too concerning about that, but he appears to have a frame that might outgrow those dimensions. At this point in his career, he would be more likely to get reps at shortstop than first base. But that will become a different story by the time he starts knocking on the big league door.
Miller also has already turned 19, which doesn't look as good in data-driven models. Older prospects get dinged. And it's hard to ignore the lack of his senior season. Regardless of how much the Cubs - or any team has seen Miller - they've seen him a lot less over the last four months than a normal high school prospect.
What do you think of Aidan Miller as a prospect? How would you feel about him being the Cubs pick at 13th overall? Join the discussion in the comments.