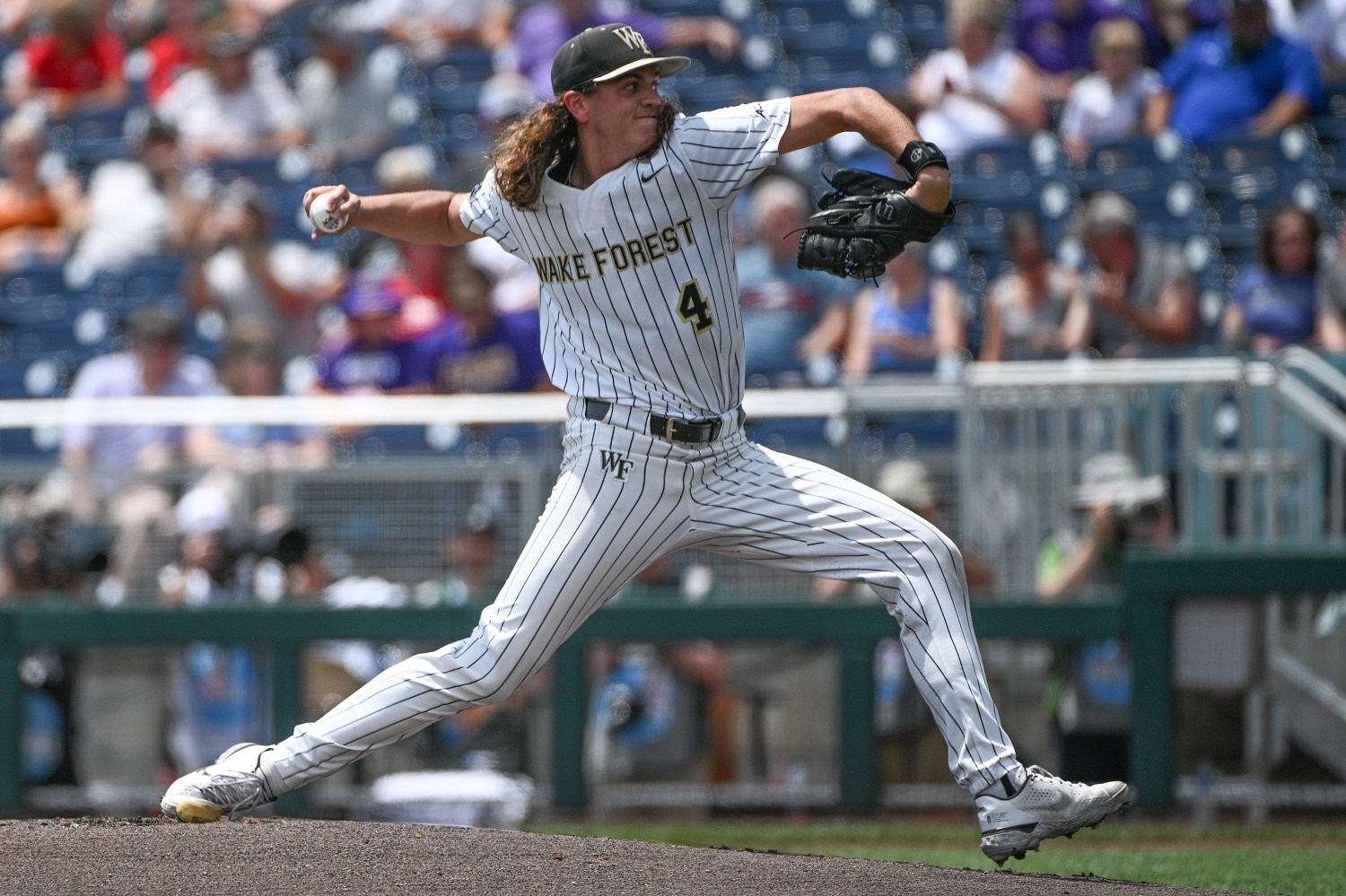 Image courtesy of Steven Branscombe/USA TODAY Sports
Over the next two weeks, we're going to be providing you with profiles of 10 players the Cubs could take with the 13th overall pick in the 2023 MLB Draft.
Who is He?
Rhett Lowder is a three-year starter for Wake Forest who put up impressive numbers over his three-year career and his 2023 season would have been talked about it even more if it wasn't for what Skenes did at LSU.
Over three seasons, Lowder was 30-5 with a 3.29 ERA, a 1.155 WHIP, and a K/9 of 10.2. As impressive as that is over three years, Lowder put up an otherworldly 2023 for a Wake Forest team that entered the NCAA Tournament as the #1 overall seed, won the most games in the nation, and didn't lose back-to-back games. He was 15-0 with a 1.87 ERA, a 0.947 WHIP, and a 10.7 K/9. He went pitch for pitch in the showdown with Skenes in Omaha.
Why the Cubs Will Draft Him
Remember when Cade Horton came out of nowhere, pitched really well for Oklahoma in the College World Series, and was drafted by the Cubs seventh overall last year? Of course you do! Rhett Lowder is a more proven (though lower-ceiling) version of Cade Horton. 
Lowder has a plus change-up, potentially the best in the draft. Additionally, his fastball is in the mid-90s and he has a usable slider, though it needs improvement.
There isn't much more to ask for - which also limits his upside - so any team who drafts Lowder may have a mid-rotation starter they can place on the fast track to the big leagues. With the development of the slider, he could be more than that.
Why the Cubs Won't Draft Him
The rumblings are that the Cubs - like many other teams - are more focused on college hitters. There's depth in that class and the Cubs will likely get the chance to draft someone at #13 that wouldn't be available at #13 in most drafts. 
If it is pitching the Cubs are focused on, they could potentially look for upside - like they did with Horton - and choose someone like Noble Meyer or Chase Dollander . 
It might be picking nits, but there's some concern with his delivery that may eventually necessitate a move to the bullpen. He threw a lot of innings for Wake Forest, but was very well protected by the coaching staff, only throwing 100 or more pitches two times. 
What do you think of Rhett Lowder as a prospect? How would you feel about him being the Cubs pick at 13th overall? Join the discussion in the comments.