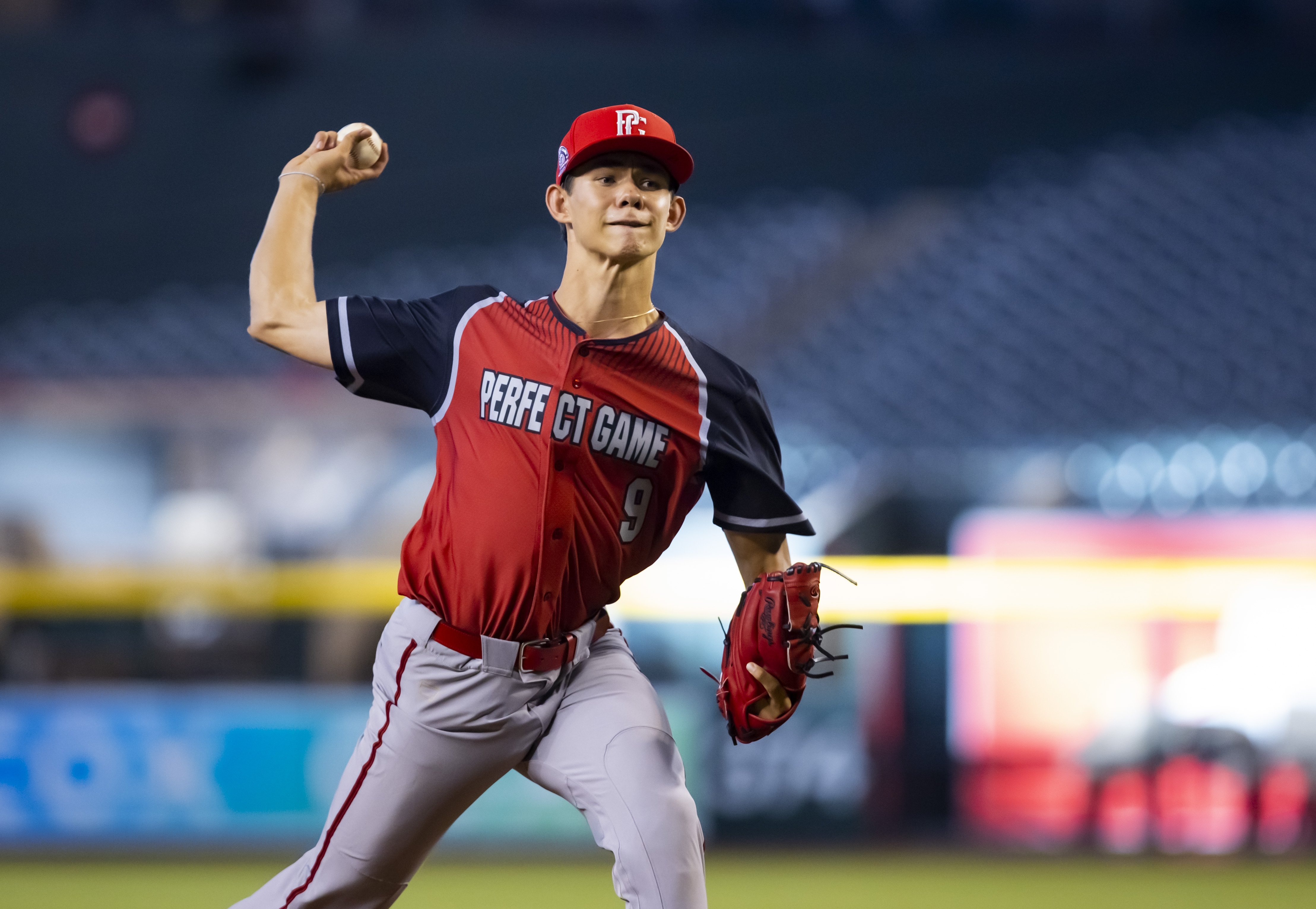 Image courtesy of Mark J. Rebilas-USA TODAY Sports
Over the next two weeks, we're going to be providing you with profiles of 10 players the Cubs could take with the 13th overall pick in the 2023 MLB Draft.
Who is He?
Noble Meyer is an 18-year-old from Oregon who, unfortunately, happened to graduate high school in the same year that the draft is loaded. Due to the COVID-shortened 2020 draft - which pushed many high school players to college - there is an abundance of top-end talent. Players like Noble Meyer become more afterthoughts than they would in a typical year. 
Meyer hails from the same high school that produced Mick Abel and is exactly what you want a pitching prospect to be. He's tall (6' 5") but has room to fill out. He already throws a plus fastball that has hit triple digits and a plus slider in the mid-80s. He's shown a good feel for a change-up as well. It's *easy* to project his ceiling as someone who leads a rotation. In a normal year, Meyer is getting a lot of love in the Top 5.
Why the Cubs Will Draft Him
Take a shot, right? 
The Cubs shocked the world by drafting Cade Horton seventh overall last year (despite looking like he'd go more in the late teens). And Meyer offers a similar upside. There are always going to be questions about a high school pitcher's track record - because it's so brief - but Horton had only thrown 53 2/3 innings at Oklahoma. The Cubs leaned into upside in 2022 and could reap the rewards of having considerable upside fall into their laps in the 2023 draft as well.
It also shouldn't hurt Meyer's chances that Horton has impressed in his first professional year. There's certainly nothing but a good taste in the mouths of the Cubs draft room when it comes to drafting pitchers with high-end potential.
Why the Cubs Won't Draft Him
All of the rumors have linked the Cubs to high school hitters (like Arjun Nimmala) or college hitters (like Enrique Bradfield) or college pitchers (like Rhett Lowder). Very rarely do you hear any mention of the Cubs wanting to go to the high school pitching demographic. In fact, you have to go back to 2012 to find the Cubs using a first-round pick on Paul Blackburn (and it was a supplemental pick) and all the way back to 2005 (can that be right!?) when they drafted Mark Pawelek 20th overall to find a high school pitcher the Cubs felt comfortable drafting in the first round. Jon Garland in 1997 was the last time the Cubs took a high school pitcher in the top half of the first round.
Nothing against Noble Meyer. It's just not a direction the Cubs seem inclined to head.
What do you think of Noble Meyer as a prospect? How would you feel about him being the Cubs pick at 13 overall? Join the discussion in the comments.
---
Previous Draft Articles and Profiles
Nolan Schanuel
Matt Shaw
Aidan Miller
Rhett Lowder
Enrique Bradfield, Jr
Jacob Gonzalez
Tommy Troy
Consensus Big Board Profiles: 26-50
Consensus Big Board Profiles: 1-25