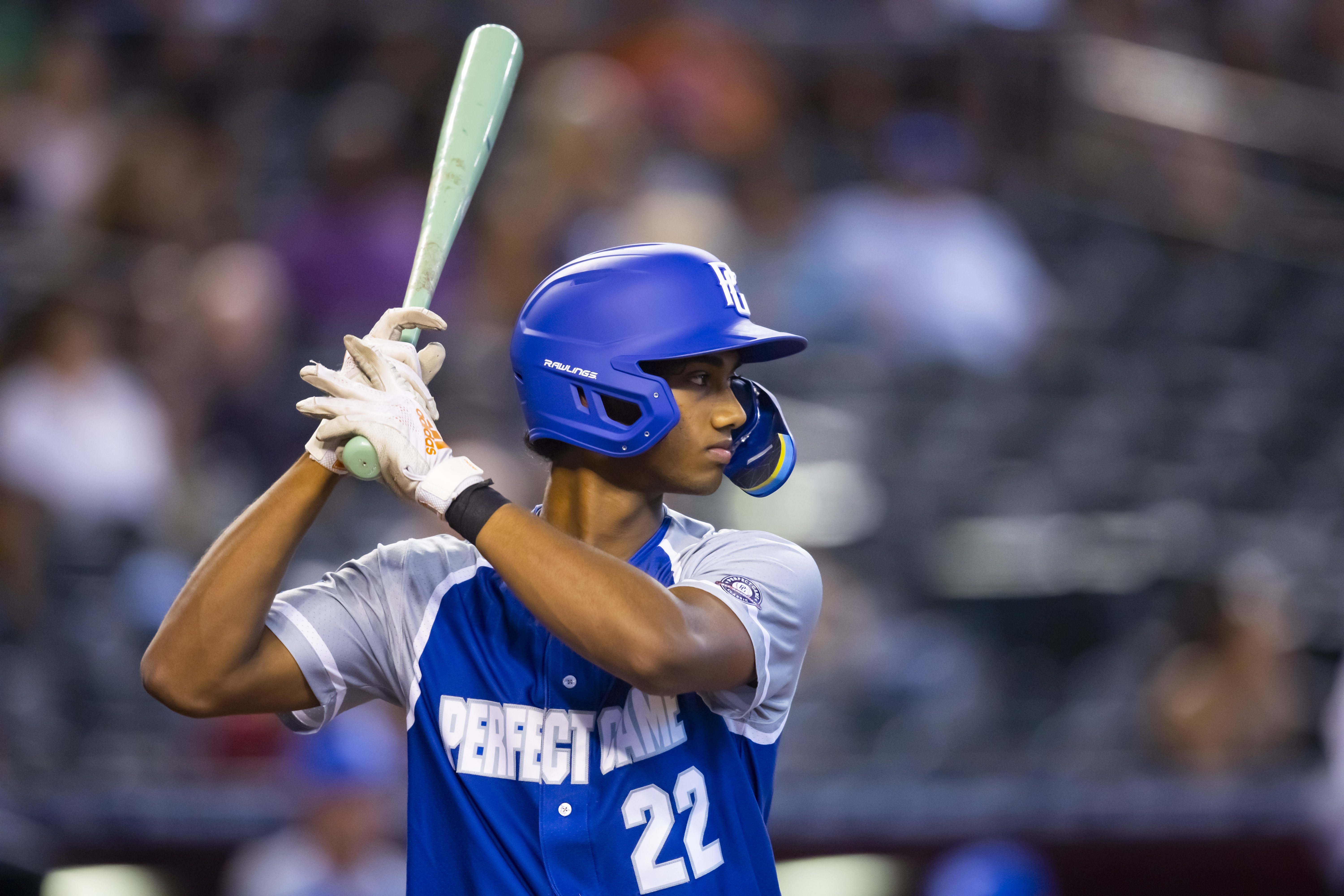 Image courtesy of Mark J. Rebilas-USA TODAY Sports
Over the next two weeks, we're going to be providing you with profiles of 10 players the Cubs could take with the 13th overall pick in the 2023 MLB Draft.
Who is He?
Arjun Nimmala is a 17-year-old shortstop from the gulf side of Florida who draws comparisons to Alfonso Soriano. Nimmala sees himself more as a Francisco Lindor-type. Either way, Nimmala has incredible upside. But as you would expect from someone so young, there are a lot of unfinished parts of his game. Buying Nimmala would give you a very, very high ceiling paired with an exceptionally low floor.
Why the Cubs Will Draft Him
If you want to take a swing for the fence after Dylan Crews and the two highest-ranked prep hitters go off the board, Arjun Nimmala is your guy. Providing a reward potentially much greater than the college infielders to choose from, Nimmala could give you 30-plus home run potential and a slick glove at shortstop. A premium bat at a premium position, it doesn't get much better. 
Says Jamie Cameron: 
Quote

If you want a prospect to dream on in the '23 class, Nimmala is him. Nimmala will be just 17 on draft day and is all about projectability. Currently 6'0, 170 pounds, Nimmala has impressive bat speed with already well developed raw power at the plate. Nimmala's approach needs work, and his contact rates will have to improve if he's going to fulfill his potential. Nimmala should stick at shortstop long term. He's a smooth defender with a solid arm and good lateral quickness. 
Why the Cubs Won't Draft Him
It's easy to be scared off by the low floor. How well will he hit? Right now, that's a huge question. If he doesn't hit, he becomes a utility-type who doesn't even have the wheels to be a pinch-runner. That's a tough pill to swallow when you're drafting 13th overall and there are a ton of safer options. 
His at-bats and pitch selection can be problematic. You're hoping he develops power. You're banking on his body developing in a way that doesn't push him away from a premium defensive position. There are a lot of what-ifs and risk-averse teams should look elsewhere. 
The Cubs took a similar prospect in the 2020 draft when they selected Ed Howard 16th overall. He was a bet on development and upside. So far, he's struggled. In his pro debut, he struck out 98 ties in 302 at-bats while only drawing 18 walks. After missing most of last season with a hip injury, he's repeating High-A and batting .187. If you're counting on walks to inflate his on-base percentage, he's drawn exactly one of them in 75 at-bats. His OBP is under .200. His slugging is under .300. Ed Howard is the cautionary tale of betting on upside, which is exactly what you'd be doing by drafting Nimmala. Howard may left the Cubs draft room with a bad taste in their mouth.
I love to take big swings on upside and Nimmala is one of my favorites to sneak into the Top 10. What do you think of Arjun Nimmala as a prospect? How would you feel about him being the Cubs pick at 13 overall? Join the discussion in the comments.
---
Previous Draft Articles and Profiles
Noble Meyer
Nolan Schanuel
Matt Shaw
Aidan Miller
Rhett Lowder
Enrique Bradfield, Jr
Jacob Gonzalez
Tommy Troy
Consensus Big Board Profiles: 26-50
Consensus Big Board Profiles: 1-25