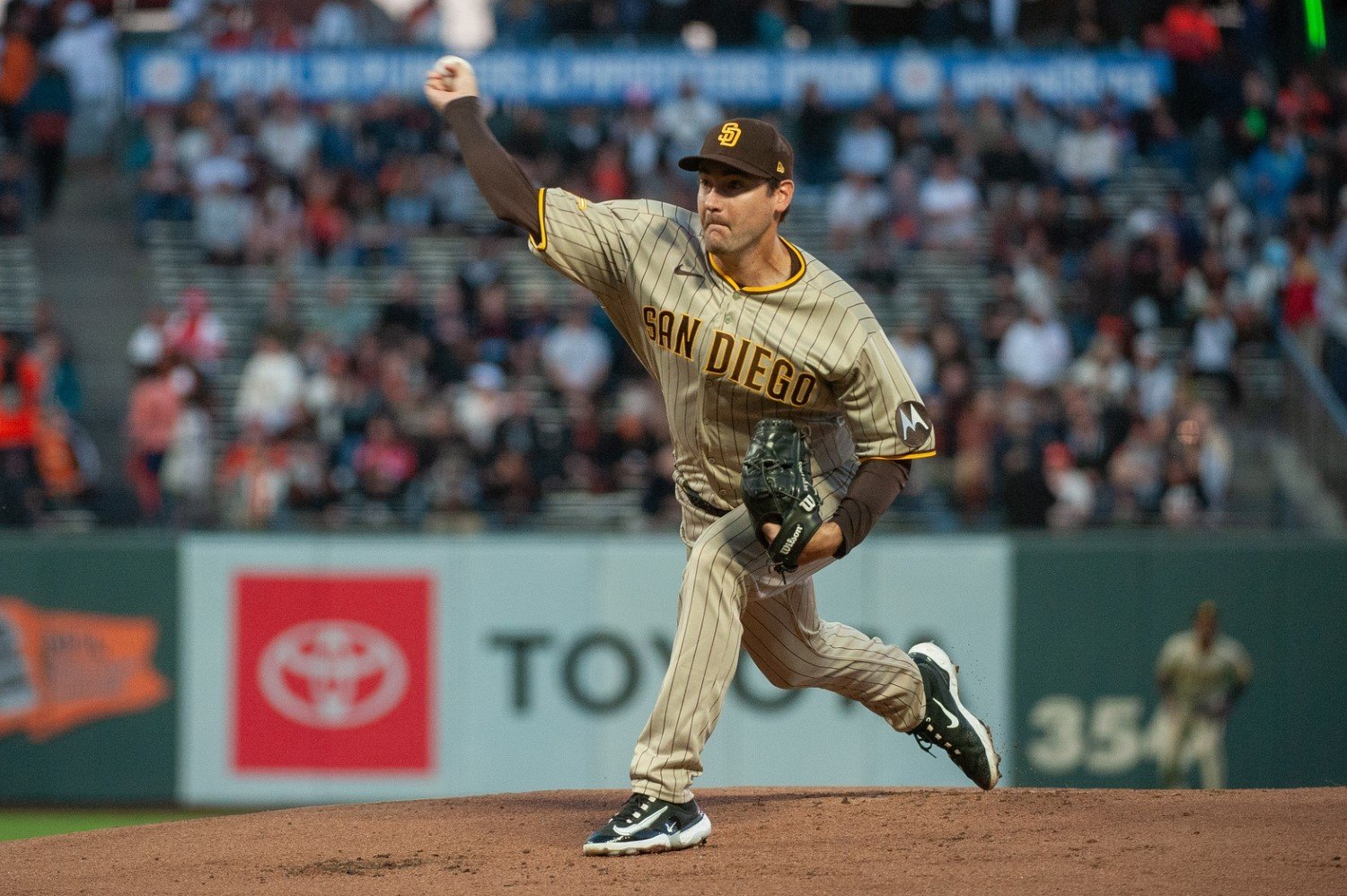 Image courtesy of © Ed Szczepanski-USA TODAY Sports
For those who haven't caught the three previous posts in this series, feel free to go back and peruse them. There are many, many players who could help the Cubs on the market this winter.
Nos. 41-50
Nos. 31-40
Nos. 21-30
Without further ado, though, let's jump into the next 10 names on my (highly subjective) list.
20. Michael Brantley, DH/LF
This name might catch a few people by surprise, this high on the countdown. Don't be fooled, though: Brantley is going to bring great value somewhere. A severe shoulder injury ended his 2022 season prematurely, and he didn't make it back until late in 2023. Between the regular season and the playoffs, he only came to bat 89 times this year. Even so, he made a huge impact on the Astros. At age 37, he remains a joy to watch at bat, with as smooth a line-drive swing and as superb a command of the strike zone as any hitter in baseball. He's actually a fine defender in left, on a limited basis, so he could help Ian Happ stay fresh. He's also one of the great leaders and clubhouse presences in the game. The Cubs should be all over him.
19. Wade Miley, LHP
Again, this one will seem unsexy, but every teammate of Miley talks about the positive impact he has just by being around. In his lone season with the Cubs, he was hampered by injuries, and he clearly pitches through pain almost every time he takes the mound. Yet, he had a 3.14 ERA in 23 starts last season with the Brewers. His underlying stats don't support that number, and he's only getting older, but there's a certain alchemy in the partnership of Miley and Craig Counsell. On a reasonable, short-term deal laden with incentives, the Cubs should have interest in reuniting the two again.
18. Yariel Rodriguez, RHP
There are some who envision Rodríguez as a starter, but the smart money is on the Cuban-cum-Japanese import working in short relief. Even so, he can be a massively valuable weapon. Though not hulking or capable of throwing triple-digit heat, Rodríguez is nasty. He'll turn 27 in March, and comes over to the States after a few years as one of the dominant relief pitchers in NPB. He dazzled in the World Baseball Classic this spring, then sat out the Japanese season to set himself up optimally for this chance to cross the pond. 
Though it's just treated as a four-seamer in most reports, Rodríguez throws what is really a 95-mile-per-hour cutter, and pairs it with a nasty two-plane slider. In Japan and in the WBC, he used a splitter with crazy armside run as his third pitch, but he might mill all of this into a slightly different repertoire as he comes Stateside. The stuff and the feel for it all is so good, though, that it should be easy to trust and invest in him even without knowing quite what he's going to evolve into.
17. Justin Turner, DH/1B/3B
If Rodríguez is uniquely enigmatic for such a high-profile free agent, Turner is the epitome of transparency and predictability. He's been metronomically solid at the plate over the last decade. You no longer want him playing the field with any regularity, but his bat would be a welcome addition to the middle of the lineup and a stupendous fit for Wrigley Field. Turner is also a recent Roberto Clemente Award winner and a beloved teammate everywhere he's been. He'd add to the solid group the team already has in terms of leadership and experience with big moments.
16. Robert Stephenson, RHP
Stephenson is a former top prospect, but he flopped as a starter and was a fairly forgettable journeyman reliever until the middle of 2023. That's when the Rays got him, gave him a cutter, and transformed him into a whiff monster with closer upside. The cutter is a perfect gyro-spin headwrecker of a pitch, and everything else he does works much better thanks to its implementation. He's already had his breakout. This wouldn't be the kind of bargain-bin project signing the Cubs love for the bullpen. It could, however, be the kind of high-impact relief help that unlocks the full potential value of having Counsell on the top step of the dugout.
15. Seth Lugo, RHP
Back at the dawn of the Statcast Era, Lugo became one of the first pitchers famed for the high spin rate on his breaking ball. He retains that feel for spin, although it never did translate into genuine stardom. For a long time, he was primarily a reliever, but after a season as a successful full-time starter for the Padres, he hits the market looking to find the team willing to bet on his stuff in a bigger way than they have until now. That rough sketch might give you frissons of Tyler Chatwood, but there's more to like and less to fear here. Lugo also tweaked his changeup in 2023 (as many Padres did), making it a more vertical offering that plays off his fastball better, and he got many more whiffs from it in the bargain. He's not the top-of-the-rotation arm that should be the Cubs' priority, but he's exactly the kind of average-plus back-end stabilizer they also need to find.
14. Mitch Garver, C/DH
I wrote about what makes Garver so appealing earlier this offseason, so I'll be brief this time around. Suffice it to say that, even in a post-David Ross world in which the Cubs are much less likely to carry three catchers at once, Garver would be a solid complement to Yan Gomes and/or Miguel Amaya. He'd also add an element of patient, lethal right-handed power that the lineup still needs.
13. Rhys Hoskins, 1B/DH
Sometimes the narrative connections between a recent move and another potential one are so obvious and lovely that rehearsing them becomes tiresome. If Hoskins signs with the Cubs, we're all going to be sick of hearing his name connected to Cody Bellinger even before spring training begins. Last spring, Hoskins tore his ACL in Grapefruit League play, cutting short his Phillies career in tragic fashion. That injury and the one suffered by Bryce Harper the previous season--the one that forced Harper to first base, first on an interim and now on a permanent basis--are the reasons why Hoskins is available this winter on what could be a similar basis to Bellinger: no qualifying offer attached, no long-term commitment, just an opportunity for a team to get big production and one for a player to rebuild and prove their value before a full-fledged plunge into free agency a year later.

Hoskins is streaky, but his hot streaks are more than enough to offset his cold snaps. His plate discipline steers his strikeout rate higher than his actual hit tool requires, but it also ensures that he draws plenty of walks and retains some value even when he's not quite connecting with his power. It's hard to project how he'll bounce back from a serious injury, but before it, he was a fine defender at first base, too.
12. J.D. Martinez, DH
I was a loud advocate for the Cubs to sign Martinez last winter, instead of settling for Trey Mancini. They get another shot at him, now, with one more All-Star game on Martinez's resume but one more year on his odometer. He's probably in line to command a two-year deal this time around, after slugging .572 for the Dodgers, but that's fine. His power is awesome and adaptable. Even as he traded more walks for it and struck out at a slightly scary rate in 2023, he reminded everyone that great sluggers find ways to balance and manage those tradeoffs. Eventually, he will decline sharply, but it's not especially likely to happen in 2024, and embracing the risk that it will in 2025 or 2026 might be the avenue to acquiring him at a manageable annual salary.
11. Eduardo Rodriguez, LHP
He's the least of the true top-of-the-rotation options, in my opinion, but Rodríguez is a legitimate one. The Tigers and Rodríguez weren't good for each other, and the opt-out in his contract felt like a blessing for both sides. He's likely to try to replicate the five-year commitment he got when he hit the market after 2021, but he might find that difficult. His surface-level numbers aren't overly impressive, and he doesn't have one elite pitch or the velocity that makes every modern executive a little more comfortable ponying up for a hurler. 
What he does have is unusual command of multiple pitches. He can locate his cutter on both sides of the plate with equal aplomb. He throws his sinker glove-side, for the most part, which is a weird habit that both speaks to his feel and hints at an opportunity to better utilize his arsenal. Tommy Hottovy would do some cool things with Rodríguez, if he came in with an open mind. Whether that's a plausible pairing depends a little on Rodríguez's attitude and a lot on how high his price tag gets on the open market.
Which of these guys are favored targets for you? Who do I have too high on the list? Chime in now, before the signings start rolling in fast.