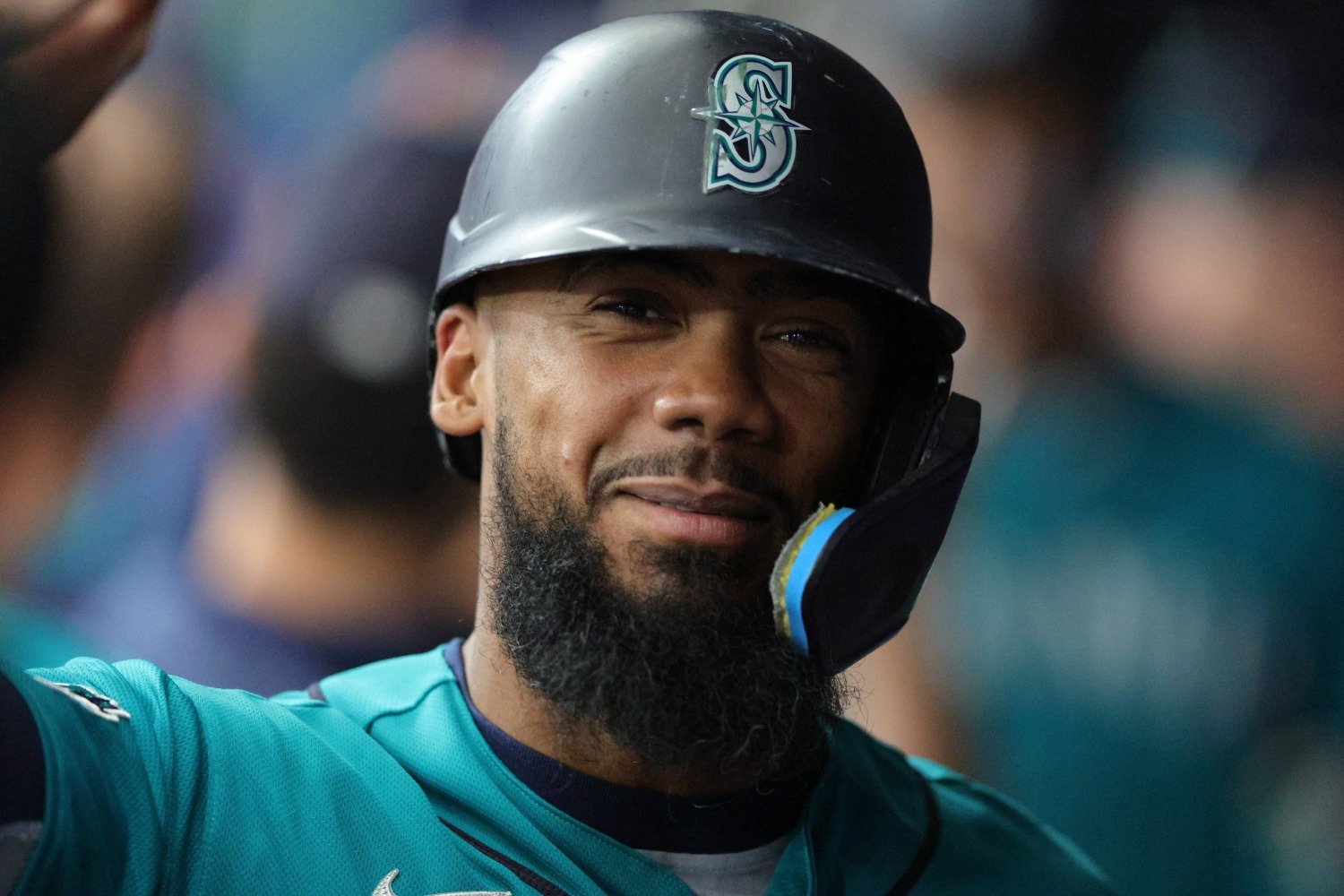 Image courtesy of © Nathan Ray Seebeck-USA TODAY Sports
For more information on the specific nature of this exercise (and how it differs from, say, rankings of all free agents via MLB Trade Rumors or other news outlets), and to catch up on the names already bandied about, check out the first two pieces in this series. Once you've done so, you're ready to read up on the next 10 players I'm rolling out.
30. Tommy Pham, LF/DH
Pham can hit. He's always been able to hit. Denied any kind of regular playing time until a relatively advanced age, he's gotten old on us now, but he can still hit. After a deadline trade from the disappointing Mets to the floundering Diamondbacks, he gave that team some newfound competitive juice and helped them surge back into the playoff picture and deep into October. He's respected throughout the game for his fire and for his plate discipline, and few players work harder. Here's the thing, though: he's crazy. Tommy Pham is crazy, and that makes bringing him into any clubhouse a bit of a risk. Whether the Cubs are comfortable with that risk will probably depend as much on their faith in Craig Counsell's stabilizing influence and on their background work on the guy as on their feelings of needing another right-handed bat for their outfield and DH mix.
29. Brent Suter, LHP
Reunite Counsell with one of his most unlikely former relief aces. Then, stand back and watch the magic happen. Suter is as soft-tossing as it comes, especially for a reliever, but no one in baseball better neutralizes power on contact, and his changeup misses bats as well as any flamethrower's wicked slider. Suter would fill an obvious need for both bulk and a southpaw in the pen, and he's one of the brightest, most conscientious people in baseball. No player has been a more vocal activist in the area of global climate change, and while that's not necessarily a reason to sign a free agent, it's a reason to feel even better about it if they sign.
28. Jorge Soler, DH/OF
Soler's initial tenure with the Cubs was more full of promise than of production, and he's hardly become a bastion of consistency since being traded for Wade Davis seven years ago. Yet, he's just the kind of thunderous middle-of-the-order bat the Cubs need, and he just opted out of his deal with the Marlins. If Soler could stomach the cold of Chicago in spring this time around, and if he can be had at a price that reflects the risk that he'll get hurt, he's well worth bringing back. It's not unfair to think of him, at this point, as Giancarlo Stanton redux. Stanton stayed healthy more often, but when he is healthy, Soler hits for similarly terrifying power, draws walks at a similarly impressive rate, and affects the game even from the on-deck circle in the same way.
27. Hector Neris, RHP
As Matt Ostrowski recently wrote, bringing in Counsell is a good reason to invest in the bullpen, not an excuse to avoid doing so. Neris doesn't throw as hard as he once did, and he tends to issue too many free passes, but he's a swing-and-miss stud, thanks to a nasty splitter and an improved ability to elevate the four-seamer in order to set it up. Thanks to that splitter, Neris tends to sport fairly neutral platoon splits. He'd be an upgrade over Mark Leiter, Jr. in the same role, pushing Leiter down the depth chart and giving the team some reasonably-priced bullpen coverage.
26. Nick Martinez, RHP
It's not quite kin to Neris's splitter, but Martinez has a nasty changeup of his own. He fits his into a pitch mix about five weapons deep, and uses all those offerings in fairly even shares, even when working in multi-inning relief. He was an extremely versatile, valuable weapon for the Padres over the last two seasons. Pitchers who are comfortable working in relief and as starters (and who can move freely between the two roles without deterioration) have some special value that goes beyond their raw numbers, just as a position player who is willing and able to move around the diamond defensively or provide good at-bats off the bench has. Martinez is likely to seek out a place where he can open the season as a full-fledged starter, and the Cubs might not be able to offer him that guarantee, but he'd ben a great utility pitcher for Counsell's staff.
25. Jeimer Candelario, 3B/1B
In a recent podcast appearance, Bruce Levine of 670 The Score mentioned that the Cubs haven't been in touch with Cnadelario's agent since the end of the seasons, and that he senses that Candelario's representation feels disrespected or deprioritized because of that. I mention that only to say this: don't put too much stock into tidbits like these. The factual premise of a report like this is nearly always true, but very often, some inference or conclusion drawn therefrom swallows up that premise, and those inferences and conclusions are often spurious. 

I can confirm that the Cubs and Candelario have not had direct contact since the end of the season. I wouldn't assign any deeper meaning to that, though, than to observe that the team does not have Candelario at the very top of either their third-base or their first-base options list this winter. Surely, you already knew that. It doesn't mean that the switch-hitting, fine-fielding two-time Cub might not rise to the top of one of those options lists in a month. I don't think Candelario is off the team's radar permanently, or that his agent would spurn any renewed advances. It's just not the ideal scenario for either side, at this point. Candelario wants to find someone who sees him as a star. The Cubs want a star. It's possible that neither of them will get exactly what they want, and in that case, they could reunite happily and salubriously.
24. Michael Wacha, RHP
Like his Padres teammate Martinez, Wacha threw his changeup more than any other pitch in his repertoire last year. That was even true against righties, which seems crazy, but it worked for both hurlers. In Wacha's case, it's certainly not a big surprise. He's always had an excellent cambio, with both fade and tumble. As he surpasses a decade of big-league service, he needs that pitch more all the time, but his velocity hasn't fallen off badly, or anything. The Cubs would be extremely comfortable working with an arsenal like his, and while there's little reason to think they could unlock another level from him, there's also none to believe that he'll collapse on the spot. His ERAs the last two years have markedly outstripped his expected numbers, which is why the Padres found no takers in trade and had to simply decline his two-year, $32-million option. He could make a very similar amount on the open market, though, and that would be a fine price for the Cubs.
23. Brandon Belt, 1B
You have to see Belt through the lens of what he does well, rather than what he does poorly. He's a great, incredibly patient left-handed power hitter. And that's all. He's not going to suddenly unlock the ability to hit for average. He's not going to become a Fielding Bible Award-caliber first baseman again at age 36. None of that is necessary, though. Even as a DH who only occasionally dusts off his first baseman's mitt, and even if he's so assiduously protected from left-handed pitchers that he doesn't qualify for the batting title, Belt can have huge value. Because he hits everything in the air, he won't see his power disappear overnight. Because he even hits his ground balls at notably high launch angles (for grounders), he belongs to the class of hitters who benefited (and will continue to benefit) from the elimination of the shift. He would be a stellar addition to the middle of the order against right-handed pitchers. 
22. Jack Flaherty, RHP
During the brief window in which he pitched to Cy Young-caliber results, it felt like Flaherty was more than the sum of his parts--like he was finding some improbable and slightly unsustainable ways to converge his pitches and skills into a higher level of overall performance. Perhaps, then, he's never going to be an ace again. On the other hand, as his career has come unglued in the past few years, he's been just as plainly less than the sum of his parts. He's a great athlete with a feel for spin and good control (though, especially on his fastball, insufficient command), and yet, there have been long stretches during which opposing hitters have positively pummeled him.
If he's been humbled at all by his recent misfortune, he's now one of the game's best possible reclamation projects. He doesn't need a new pitch, even. He just needs to radically reimagine and change the way he uses the ones he already has. The Cubs aren't baseball's leaders at that kind of optimization, but they're average at it, and average would be good enough to get plenty of value out of Flahety on a short- or medium-term deal.
21. Teoscar Hernandez, RF/DH
Multiple outlets project Hernandez to sign a four-year deal worth $80 million. That's probably more than the Cubs would pay for him. It's probably more than they should pay, too. Hernandez would have to squeeze into their plans in a slightly awkward way. He'd be the regular DH, but rotating into each corner outfield spot at times to spell Ian Happ and Seiya Suzuki. That's not an unusual arrangement in the modern game, but having three guys with annual salaries around $20 million doing it is living dangerously, and perhaps not living well enough to justify the peril.
Should Hernandez's market not materialize to that extent, though, he quickly becomes interesting. He's a good athlete, with speed and a rocket arm. He hammers the ball with regularity, though it comes with plenty of strikeouts. He would provide an exciting and dangerous wrinkle to the middle of the batting order. It's just a matter of whether the price is right.
Who jumps out to you as a good fit, from this list? Who am I a dope for including? Let's continue to kick around ideas for the Cubs to make news on the hot stove.