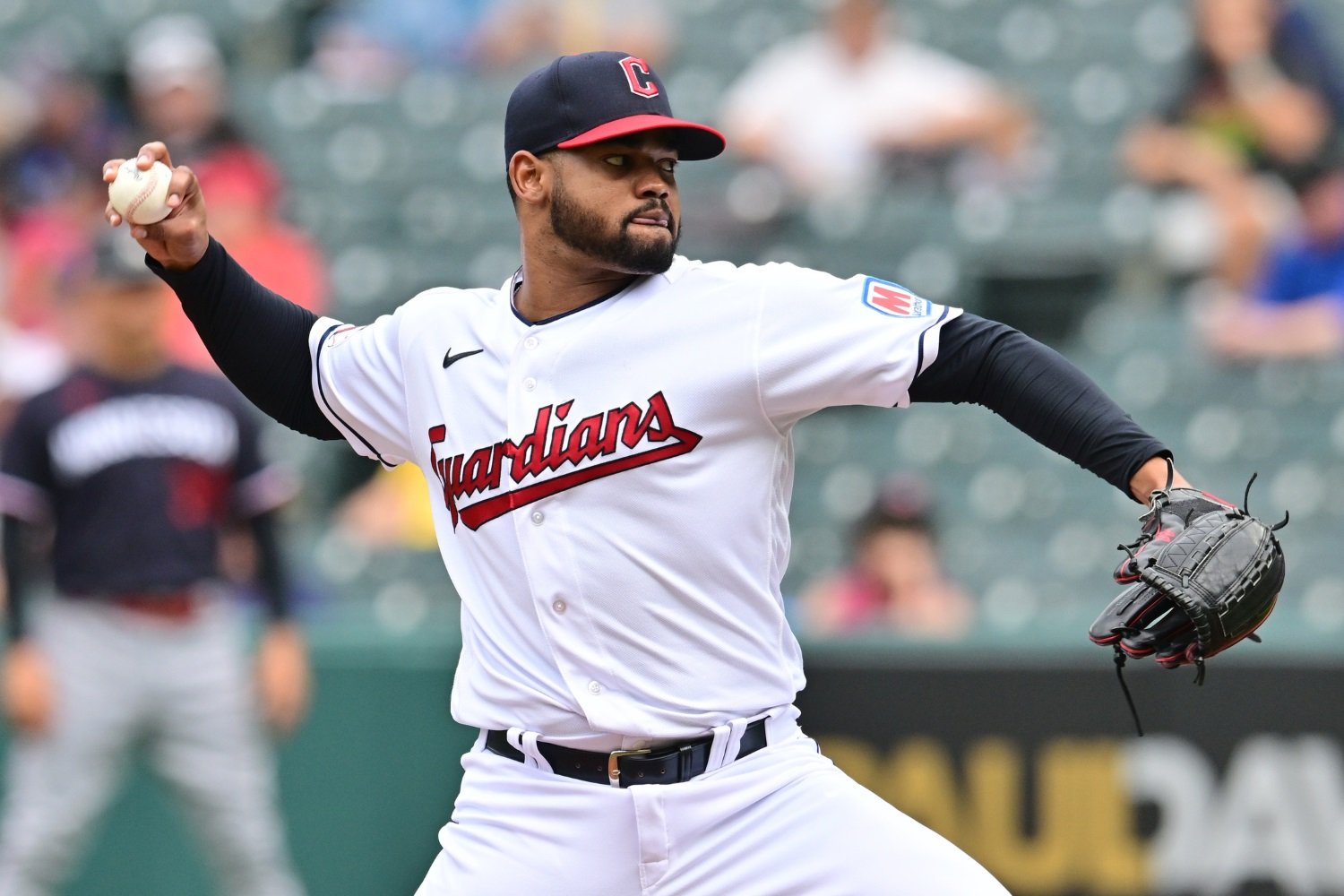 Image courtesy of © Ken Blaze-USA TODAY Sports
I'm attempting a unique (but, I think, a valuable) balancing act with this exercise. Ranking free agents from a global, league-wider perspective smooths too many important places where there's real friction preventing a given player from fitting what a team needs. Focusing on what the Cubs need and how they'll look to allocate resources this winter brings the hot stove into much clearer focus for us. You can check out the players I ranked 41-50 in this narrow way here. Now, here come the next 10.
40. Carlos Santana, 1B/DH
Sooner or later, Santana will give way and surrender to Father Time. He's put up an exceptional fight against him so far, though. For a decade and a half, now, he's put up superb walk totals and hit enough home runs to be a competent first baseman. He's also one of the better defenders in the league at that position, even as he creeps up on 40 years of age. A switch-hitter, he'd be a nice, versatile piece in the lower portion of the heart of a Cubs lineup that ends up featuring a big bat other than Cody Bellinger. The team probably will and should aim higher, but Santana is the kind of backup plan who wouldn't feel deflating, if something else fell through.
39. Emilio Pagan, RHP
An exemplar of the unpredictability of relief pitching, Pagan has been a star-caliber set-up man for long stretches during his career, but he's also been borderline unusable over long periods. Home runs are his biggest bugaboo, but on occasion, he also issues too many walks, the same way the man who saw Death in Baghdad and fled to Samarra only found Death waiting for him there. When he's right, though, Pagan is nasty. His cutter is the kind of pitch the Cubs' pitching brain trust would love to redeploy, and from which they would expect big results.
38. Kevin Pillar, OF
As a starter, he's slightly underwhelming, now that he's lost a step in the outfield and is no longer a plus center fielder. He can still patrol that spot on a part-time basis, though, and the relatively small center fields of the NL Central would be a great fit for him in that regard. Offensively, he's a right-handed hitter who hammers lefty pitching. That would make him a nice little platoon partner to Pete Crow-Armstrong and Mike Tauchman, to whatever extent each of them end up claiming playing time in center field in 2024, but Pillar would gain a little extra value by being able to spell Ian Happ (a switch-hitter who will never be good against lefties), as well.
37. Erick Fedde, RHP
The former Nationals first-round pick is coming back to the States after a year in the Korean Baseball Organization, with an overhauled repertoire and some very impressive results to recommend him. He heavily featured a new sweeper overseas in 2023, and learned to pitch with that as the anchor of his repertoire, rather than being overly fastball-forward. He's no Kyle Hendricks, but he doesn't throw hard, so his comfort with more evenly mixing four or five pitches could be the key to whatever success he finds as he returns to MLB. As a relatively low-cost upside play for the back end of the rotation, he could be a great bargain. This fit is probably a contingent one, though, in that the Cubs would only need or want him at his likely asking price if they were to trade a depth starter like Javier Assad in a move to bring in a high-impact bat.
36. Joe Kelly, RHP
On the cusp of his age-36 season, Kelly still feels like an extraordinarily volatile pitcher--like no one in the game has really figured him out yet. That includes hitters. He had the highest strikeout rate of his career in 2023. It didn't render irrelevant his persistent control problems, but Kelly is a pretty solid and occasionally overpowering middle reliever. He won't be healthy all season, but he won't come at a huge cost, and come September or October, his triple-digit heat is a weapon against any caliber of hitter. It was interesting to see him make a committed switch from the curveball to the slider as his principal breaking pitch this season.
35. Sean Manaea, LHP
It was a mild surprise to see Manaea opt out of a deal that would have paid him $12 million to pitch for the Giants in 2024. The sensible inference is that he wants multi-year security, and while giving it to him sounds a bit overexuberant at first blush, there are reasons to consider it plausible. A Northwest Indiana product, he'd be coming closer to home than his pro career has ever brought him before, and he's shown an ability to be effective in a swingman role. As the Cubs try to guarantee sufficient depth in both the rotation and the bullpen, he seems like a candidate to kill two birds with one hulking stone.
34. Reynaldo Lopez, RHP
It's not clear whether anyone is allowed to sign Lopez without also signing Lucas Giolito, who has moved with him each time either has changed organizations during their professional careers. With or without his hip attachment, however, Lopez is an exciting potential addition to the bullpen. He has an electric fastball-slider combination, and while it's not so different from those of Julian Merryweather or Adbert Alzolay as to feel like an entirely different thing, it would be great to add another player of that type to the relief corps--to hedge against injury or regression by either of those two, and to replace the good innings Michael Fulmer gave the Cubs in 2023. Lopez will probably command a multi-year deal at a non-negligible salary, but whether that's a hurdle depends on where else the Cubs are able or willing to spend money.
33. Adam Duvall, OF
If Patrick Wisdom were fractionally more consistent at the plate, he'd match Duvall's offense. Don't hold your breath on that happening, though. Instead, the Cubs could move on from Wisdom this winter. He's a candidate to be traded or non-tendered by the end of Friday, when the team has to tender contracts to players for 2024. Wisdom just isn't a great fit for the roster at this point. Duvall would fill the offensive role Wisdom occupies, but he's an above-average defensive outfielder, which makes a world of difference here. He even acquits himself well in center field. He might sign a two-year deal worth $15 million or more, but he'd be a terrific depth piece for the positional corps in that price range.
32. Kenta Maeda, RHP
The Cubs need more raw stuff in their rotation, and more swing-and-miss. Alas, those aren't the areas of great strength for Maeda, at this stage of his career. The ex-Dodgers and Twins starter underwent Tommy John surgery in 2021, and is down to a sub-91 miles per hour average velocity on his heater. His slider isn't the filthy pitch it used to be, now that his fastball is down a tick. He still has a nasty splitter, good command, and a whole lot of savvy, though. On the right deal, he could be a very good fourth starter for a team reinforced from the front end of the rotation by one of the premium free agents available.
31. Jordan Hicks, RHP
Few hurlers anywhere in the game throw harder than Hicks. His ability to translate pure velocity into whiffs and outs has been less consistent, but in 2023, he posted the highest strikeout rate of his career. Featuring a sinker instead of a four-seamer, he keeps the ball on the ground as well as any reliever in the game, and he reshaped his slider into more of a sweeper this past season. He also started making use of a four-seam fastball, for the first time. There's a lot with which to work, though to earn the right to do that work, the Cubs would probably have to commit to Hicks for three years at an annual salary near $10 million.
Are any of these appealing options for you? Weigh in, and come back later this week to see who comes in higher on the list of good fits for the Cubs this offseason.