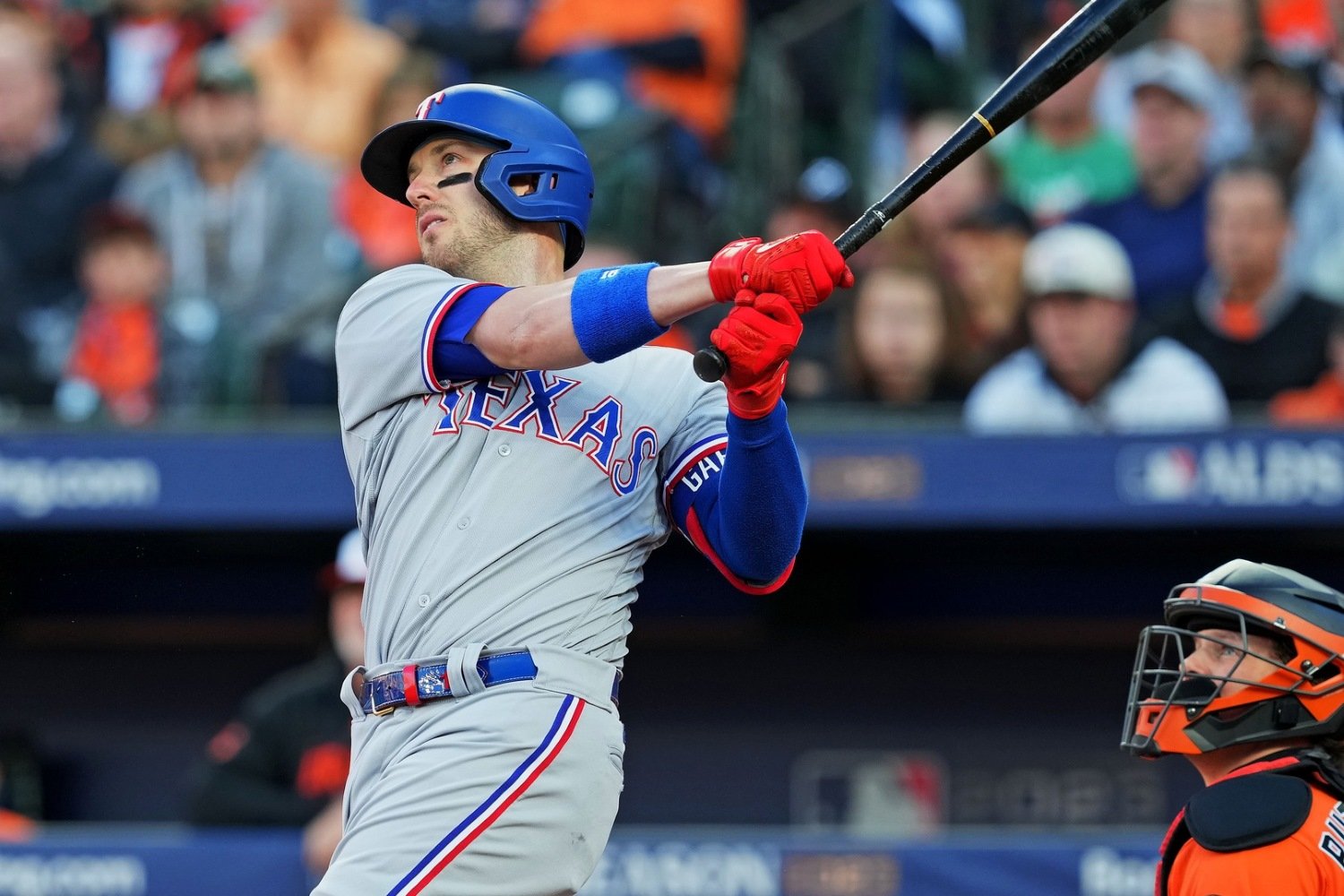 Image courtesy of © Mitch Stringer-USA TODAY Sports
It's possible that Mitch Garver will use his long-awaited free agency this winter to seek out a team who views him as a full-time catcher. That's always been his primary position, and he takes pride in the improvements he's made as a defensive catcher over the years. It's likely that he finds the most interest and money by marketing himself as a more versatile player, though, and if so, the Cubs could be the perfect suitor for the right-handed slugger.
Garver, who will turn 33 this January, has been limited by injuries in each of the last four seasons. At times, he's played through injuries and failed to produce much, but when truly healthy, he's been consistently excellent at the plate. In 2023, he batted .270/.370/.500 in 344 plate appearances in the regular season, with 19 home runs. In the ALDS, he added four more hits, eight total bases, and seven RBIs. He appeared in 28 games at catcher this season, and spent the bulk of his time as the DH. He's also played first base sporadically throughout his career.
There will be more important, more alluring, higher-profile free agents on the market this winter, but Garver could fit gorgeously into a retooled Cubs roster. If Christopher Morel can grasp the rudiments of third base, there will be plenty of available playing time at DH in 2024. If not, signing a veteran like Garver could give the Cubs greater flexibility (and, therefore, greater leverage) to trade Morel to bolster their starting rotation. Meanwhile, behind the plate, Garver would help address what feels like a lack of depth at the position for the big-league team. I wrote two weeks ago about the somewhat turbid catching picture for 2024, based on the age and track record of Yan Gomes and on the uneven rookie campaign of Miguel Amaya. Garver would clarify it, not by unseating Gomes or sentencing Amaya to another few months in Iowa, but by lightening each of their catching loads a bit and better balancing the various defensive skill sets required of catchers under the new rules.
It's likely that Garver will be able to command something akin to what Trey Mancini got in his turn as a free agent last year. That name might have spiked your blood pressure a bit, but at the time, signing Mancini for two years and $14 million made a world of sense. Garver would be an even higher-upside play than Mancini, thanks to the value of his more demanding defensive home, and to his sturdier recent numbers. On the other hand, he does get hurt often, and (because his approach is extremely predicated on hitting the fastball) he can fall into ugly slumps when trying to play through his bumps and bruises.
Behind the plate, Garver is roughly average as both a pitch framer and a thrower. He's an experienced and well-liked receiver, though not a savant of game-calling or an especially good handler of the ball in the dirt. At bat, he's as concertedly focused a pull-field, fly-ball hitter as there is in baseball, and it's an approach he's polished to a shine. His refusal to chase outside the zone and his ability to spoil junk until he gets the fastball he's really hunting makes him lethal, when he's going well. His batted-ball profile would be a dead solid perfect fit for Wrigley Field.
What do you think  about Garver as a free agent target for the Cubs, beginning next month? What's your level of confidence in their current catching corps, and do they have the capacity to add a third catcher and DH to this roster without the positional group becoming dysfunctional in some way? Let's discuss.