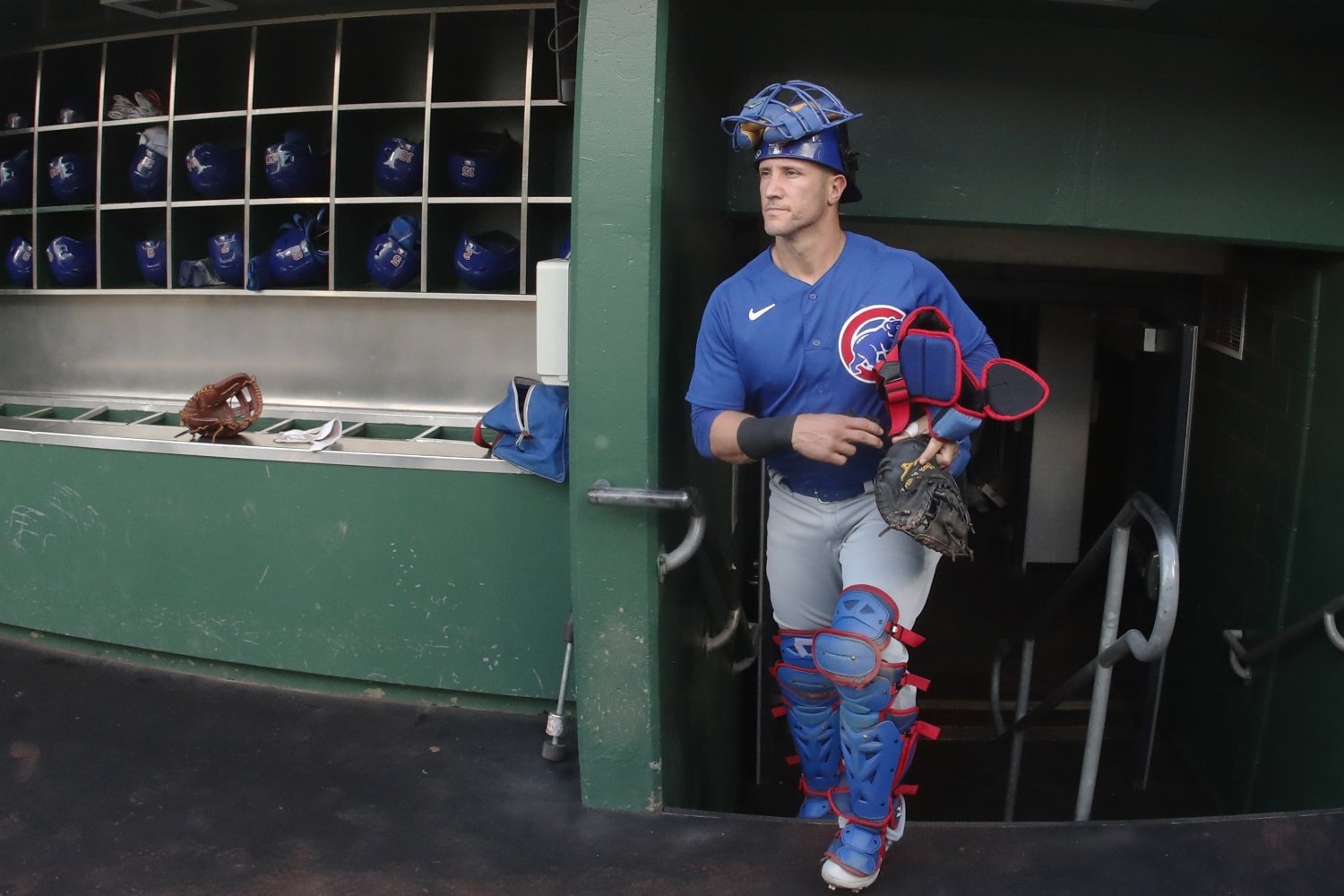 Image courtesy of © Charles LeClaire-USA TODAY Sports
Without doubt, Yan Gomes was one of the most valuable members of the 2023 Cubs. Entering the season, it seemed vaguely unlikely that the Cubs would exercise their $6-million option for his services in 2024, given his age and what he'd done as (in large part) Willson Contreras's backup in 2022. Here at the end of the season, that seems laughable. Gomes not only delivered several big hits over the course of the season and outhit the average catcher by some 30 points of OPS, but became the anchor of the run prevention unit–a trusted receiver and beloved leader behind the dish.
Here's the problem: Gomes, like brief backup Tucker Barnhart, is a below-average thrower. He's also a below-average pitch framer. Barnhart was actually slightly above-average in that regard, in 2023, but his bat was so bootless that he couldn't stick, anyway. Until this season, framing was considered the much more important skill, but with the explosion of the running game after the implementation of new rules, that's far less true. (It will be still less so if, as seems increasingly likely, the league goes to some form of automated strike zone within the next few years, but the shift is already underway.)
Gomes is so good at the softer sciences of catching that it's hard to envision the Cubs moving on from him at any point in 2024, unless his health forces them to do so. That's a real possibility, though. Gomes hadn't taken as many plate appearances or caught as many innings as he did this year since 2018. He's 36 years old, which is something like 72 in catcher years.
Let's say Gomes does stay healthy next year, though. Can the Cubs afford to keep giving him the bulk of the starts? Even if he calls a great game and uses that extraordinary square-jawed handsomeness to bring calm and confidence to the hearts of his pitchers, can that make up for his deficiencies in the more quantifiable areas of catching?
Happily, Miguel Amaya will make that a tough decision, in a good way. He had good framing numbers in his rookie campaign. Alas, he wasn't good in the throwing department. That was part of why he didn't seem to earn David Ross's confidence, at any point. Of course, another part might be that Ross simply sees more of himself in Gomes than in Amaya, or that he seems to instinctively mistrust young players, but in any case, it's true. It's not even clear whether they can bring back Amaya (presumably, in a larger role) as the second catcher next year, or whether Ross will prefer that they bring in another external option and keep Amaya in Iowa to open the season.
In Amaya, Moises Ballesteros, and Pablo Aliendo, the team does have three young backstops in the upper levels of their system. Only Aliendo has a plus arm, though, and only Amaya seems likely to be a serviceable framer. It's going to be fascinating to see how the team responds to the winds of change in terms of what catchers do and what catching is. That question hangs heavy over teams other than the Cubs, to be sure, but it feels urgent in their case.
For however long framing continues to be a skill that matters, it matters a lot to the Cubs, because their pitching staff relies more on called strikes than most teams' do. They don't have overpowering, swing-and-miss stuff. If they get a small zone on a given day, they get into trouble in a hurry. That's one thing Jed Hoyer and Carter Hawkins will try to change this winter, but it figures to take some time. While the transformation is ongoing, the Cubs really need good framing, and they need to slow down the running game better than they did in 2023. Neither Gomes nor Amaya seems capable of doing both for them, so it will be a challenge to mix and match well enough to get the offense and defense needed from that spot to get over the hump and into the 2024 postseason.