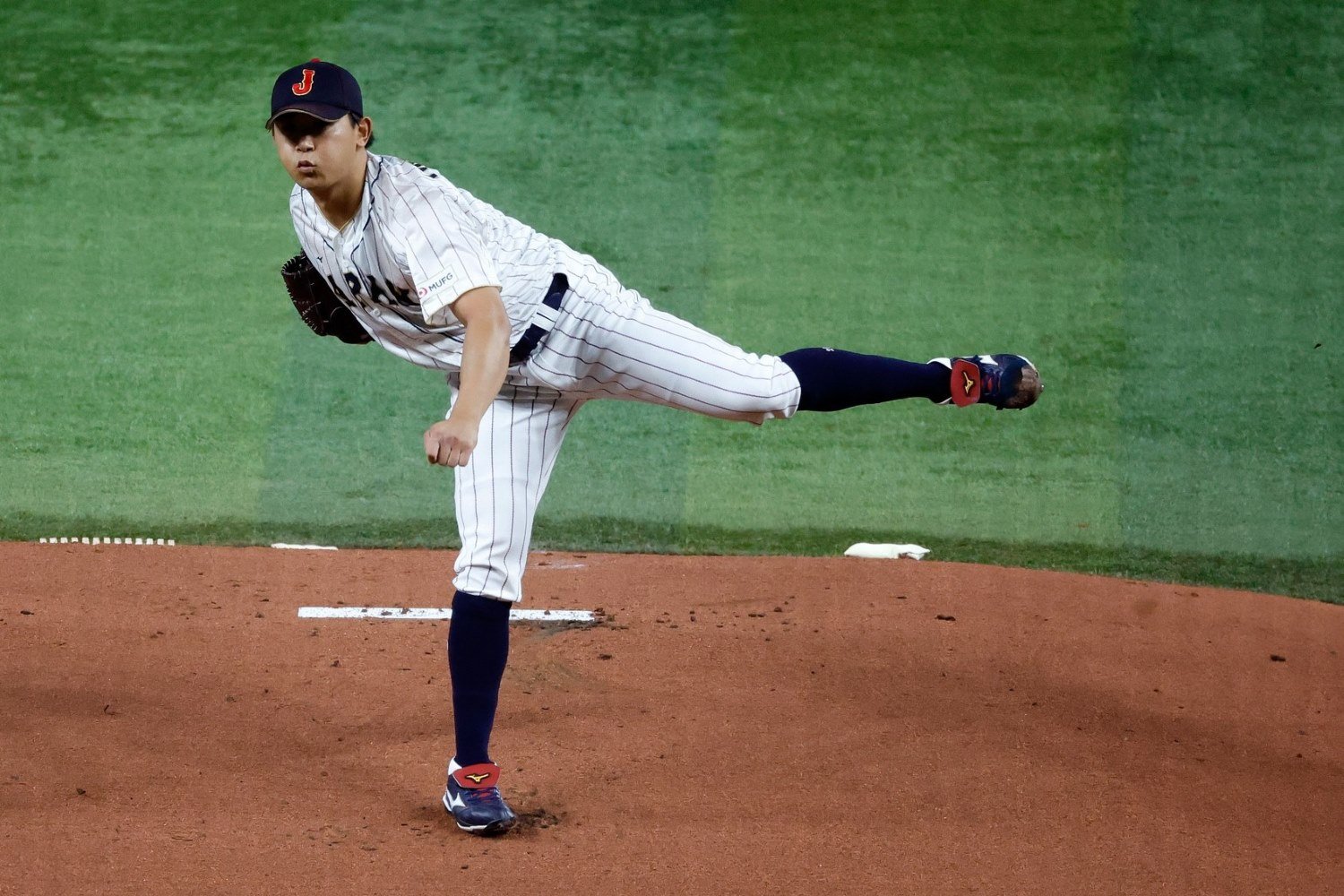 Image courtesy of © Rhona Wise-USA TODAY Sports
For those who haven't read the first four posts in this series, you can catch up (and read some brief remarks on my approach to this exercise, including how it differs from a global, standard-issue ranking of free agents) by perusing them now. 
Nos. 41-50
Nos. 31-40
Nos. 21-30
Nos. 11-20
Now, however, it's time to dive in and round out this countdown.
10. Josh Hader, LHP
Spending big money on a closer in free agency?
That's the argument against it, in a nutshell. The argument for it is equally simple and clear, though: Hader is an exceptionally good left-handed reliever. He'd be the Cubs' best closer since either Carlos Marmol or Lee Smith, depending more on how much agita Marmol gave you than on anything having to do with Hader himself. As he embarks on his 30s, we can expect another crisis or two--another enforced change in approach or stuff, akin to the one he had to go through in 2022. That's happened to Aroldis Chapman, Kenley Jansen, Craig Kimbrel, and every other elite reliever this side of Mariano Rivera, and it's likely to happen to Hader again, too.
Yet, he's already survived one of those crises, which plenty of relief aces don't manage to do. He still has incredible carry on that fastball and the little brother of Randy Johnson's slider. Last year, opponents struck out 36.8 percent of the time against him. He issues more walks than you'd like, but his ability to miss bats and manage contact sets him apart from all but the best handful of relievers of this generation.
One more drawback bears mention, because it's an important caveat to my recommendation here: Hader has not pitched even 60 innings in any regular season since the pandemic began. In fact, he's averaging just under 55 frames per year since 2021. In this day and age, it's not unusual for closers to be used lightly and carefully, but this is extreme. Edwin Díaz, to pick one superficially similar stud, had 62 innings in each of the last two seasons in which he pitched. The difference sounds small, but if there are five or eight fewer games a year in which Hader is available relative to other top closers, that has to matter. 
For that reason, I expect Hader to have an unexpectedly hard time matching Díaz's contract from last winter. I think the qualifying offer and the lack of flexibility or volume in his track record will limit his market, perhaps to something as manageable as four years and $76 million. In that range, he makes plenty of sense. If he does get something north of $100 million on a five-year deal, it won't be with the Cubs, and I will lose no sleep. It's only if his price tag gets the markdown I'm forecasting that I advocate reuniting Frankenstein and his monster.
9. Sonny Gray, RHP
Imagine, for a moment, a right-handed Justin Steele, only with six pitches instead of two. That's what Gray has grown into over the last two seasons, with summering in the northern climes of Minnesota. His fastball has become extreme in its cut, at the expense of some of its former ride. He milled and polished a sweeper, to go with the high-spin curveball that used to be his calling card. Blending veteran intellect and hard experience with great raw stuff and hard data, Gray had his best year to date at age 34. 
The qualifying offer hanging off several of the guys at this level does pose a complication. The Cubs won't want to lose a draft pick unless absolutely necessary, and Gray is right on the line where you catch yourself asking whether the necessity is absolute. His athleticism and his arsenal allow him to throw strikes consistently and manage contact well, but Gray lacks the transformational whiff power that the team should be trying to add to its starting rotation this winter. He can still be a huge boon, but he's probably only a fit if he ends up signing a three-year deal.
8. Matt Chapman, 3B
'Gilding the lily' is meant as a derisive expression. You can't improve upon the glory and beauty of nature by brushing it with gold. There's an argument to be made that the gorgeous, seemingly organic defensive wizardry of last year's Cubs infield can't be improved upon by throwing a nine-figure financial commitment at it. After all, the middle of that infield is already gilded: Dansby Swanson and Nico Hoerner both hauled in Gold Glove awards this year.
On the other hand, consider: Chapman, one of the best defensive third basemen of this generation, could complete a long-term defensive phalanx as strong as any in recent memory. Nick Madrigal has gorgeous defensive metrics last year, and the eye test more or less matched that, but Chapman is on another level. He doesn't have any of the athletic limitations that apply to Madrigal. He doesn't have any of the limitations that apply to most third basemen, it seems. He's a fast, strong-armed, feline outs machine at third base. Moreover, unlike Madrigal, he brings a well-balanced offensive profile.
Chapman has been wildly inconsistent at bat, and his chief asset (plus power) deserted him for much of 2023. With strong exit velocities and a non-catastrophic whiff rate, though, it's a good bet that he'll remain an above-average contributor for most of the life of whatever deal he signs this winter. That will probably be five or six years, which is a bit daunting, but Chapman would lengthen the lineup and give this team built on the premise of elite defense a truly, well, elite defense. That's awfully valuable.
7. Aaron Nola, RHP
We needn't spend too much time on Nola, since he became the first high-end free agent off the board Sunday morning. The amount for which he re-signed with the Phillies ($172 million, over seven years) is right around what was projected, representing no great bargain or major overpay. He'd have been a strong addition to the Cubs' rotation, but if they're going to spend that much, they should do it on one of the guys in the top five on this list, instead, giving them greater upside. His return to Philadelphia is no great miss, in that sense.
6. Jordan Montgomery, LHP
Everything about Montgomery--his mechanics, his arsenal, his stuff--looks normal, but nothing is. He's a big guy with a clean-looking over-the-top delivery, but his primary fastball--at least since the start of 2022, and especially this past season--is a sinker with a ton of arm-side movement. His changeup was the pitch that really came along as a weapon in 2023, but peculiarly, that was mostly because he traded in so many four-seamers for sinkers.
Of the 49 southpaws who threw at least 200 changeups in 2023, only three utilized seam-shifted wake effects so well that the pitch rose, relative to what its spin implied that it would do. Austin Gomber and Ryan Yarbrough aren't similar to Montgomery at all in arm slot, though. They have lower slots. The way Montgomery throws, it's odd to see the change sort of float, and hitters can't quite adjust to it.
That's always been true. His changeup has been missing bats for a few years. The thing that made the effect more complete, though, was leaning away from the four-seamer and into the sinker, because Montgomery's sinker actually sinks more than his change. The relative effect of the two pitches, then, is even more extreme than the interaction between spin and movement for the change would imply on its own.
It's the curveball that gets everyone talking with Montgomery, though, and that's not without cause. Few pitchers manipulate the hook as well as he does. He's been chaining curves together and moving them around the strike zone since he was a rookie with the Yankees, years ago. The curve, too, defies batters who think they've spotted its spin, because it tumbles more (kind of like a changeup, ironically) and moves less horizontally than its spin axis promises that it will. Coming from that slot and situated in the arsenal he's created, the curve is a versatile and nasty weapon.
After Montgomery's run to the World Series title with the Rangers, none of this is a secret. He's going to sign a huge deal somewhere this winter. The Cubs are an organization that facilitates much of the above especially well, though, and he suits their needs this winter gorgeously. It makes some sense for the Cubs to be the ones who make that splash.
5. Shota Imanaga, LHP
There will be so much attention paid to two other ballplayers from Japan this winter that Imanaga is almost certain to end up underrated and underpaid. Last winter, Kodai Senga signed a five-year deal worth $75 million to come over from NPB, and he immediately garnered not only strong Rookie of the Year support, but an All-Star nod and some down-ballot Cy Young Award votes. Imanaga is left-handed, and he's a bit smaller (worryingly smaller, if you're inclined toward injury anxiety) than Senga, but he has every chance to be at least as good.
Even more than Senga, too, Imanaga is fascinating and fun to watch. He has a high-energy delivery, with a high arm slot and a lot of moving parts. He starts on the far first-base side of the rubber, which is smart, because his four-seam fastball (a pitch that, if anything, cuts a little more than a typical one) is the pitch that needs the most room to move to his arm side. That's a radically unusual trait. Imanaga utilizes a splitter heavily, but the pitch actually cuts, rather than fades, relative to his four-seamer. You never see that. He also has a good slider, which is his primary non-fastball offering against lefties.
No matter what type of hitter he's facing, Imanaga can change eye levels as well as any pitcher on Earth. His fastball has more rising action than that of any big-league pitcher had last season. Forcing hitters to try to get on top of that kind of pitch makes them helpless against the splitter and slider, and his curve represents yet another huge vertical variation. Not everything he's been throwing in NPB will translate perfectly and work in the same way in MLB, but Imanaga has all the makings of a high-strikeout, low-walk top-of-the-rotation starter. That's where he departs sharply from Senga; he will fill up the strike zone. Unless he ends up receiving seven-year offers or someone wants to give him $25 million per year over six, Imanaga should be a priority for the Cubs. He could be their ace for the next few years, and it wouldn't take a 90th-percentile outcome.
4. Blake Snell, LHP
I don't think the Cubs have any greater need than for a front-of-the-rotation starter this winter. Yet, I'm ranking a defending Cy Young Award winner who had won the prize another time in the past fourth on this list. That's the furthest I'm willing to go in my protest of Snell's style, which includes a bizarre amount of nibbling and strikeout fixation from a pitcher with good enough stuff to go straight after hitters. Snell's command genuinely isn't great, but he doesn't need to walk hitters at anywhere near the clip at which he's done so throughout his career. He just tries to make every pitch perfect, and it's maddening. When he's good, it's also mercilessly effective. You don't win two Cy Young Awards with a bad approach. You can win them and still have an annoying approach, though.
Annoyance isn't a good enough reason for me not to support the team signing Snell. He's just not my preferred pick for them, because he's going to make a massive amount of money and he does struggle to work deep into games. If a pitcher is going to cost you $200 million, you should be able to send them to the mound with a reasonable expectation of six or seven innings most of the time. That's not an archaic notion, no matter how many dweeby hyper-modern analysts decry it. Snell doesn't do that, and his approach leads to a piling-up of pitches that smells like arm trouble to me. Nonetheless, on sheer talent and accomplishment, he gets a place in the final four here.
3. Cody Bellinger, 1B/CF
In one of the more polarizing free agencies I can remember, Bellinger has been projected for everywhere from $144 million to $264 million, on deals between six and 12 years in length. I think he'll fall right around $200 million, and if I'm being honest, that kind of investment would make me tremendously uneasy. Bellinger is fun. He has good power, and that power plays up because everything is hit in the air and most of what he hits in the air is pulled. I trust that skill to age well, and it should assuage some of the concerns people have developed based on oversimplified looks at batted-ball data. I also loved, from both an aesthetic and a value perspective, watching Bellinger emulate Mark Grace so often in 2023. With two strikes, he not only modulated the aggressiveness of his swing, but altered his entire physical sequence. He did the old, ungainly but beautiful Grace thing, letting his legs lock out and leaning forward at the waist to scoop and flick the ball into the outfield. 
All that said, if things work out the way the Cubs hope they will, Pete Crow-Armstrong will be their long-term center fielder, starting almost immediately. Ian Happ and Seiya Suzuki are already locked in at the outfield corners. Bellinger would be almost exclusively a first baseman, and once you wrap your head around that, the urgency and seriousness of skepticism about his offense come into focus. By 75th-percentile exit velocity (the best mark for assessing power rigorously using that data set), Bellinger was 271st of the 328 batters who had at least 250 plate appearances this year--right between Zach McKinstry and Paul DeJong on that leaderboard. To reinvest in him at the required level, the Cubs would have to believe fervently in the staying power of those adjustments and those emergency hacks.
2. Shohei Ohtani, DH/RHP
No issues with exit velocity, at any percentile, here. The only thing you're surprised at is finding him here, instead of one spot higher. He's one of the best hitters in baseball, and one of the best athletes of the 21st century. When he returns to the mound, he'll instantly return to enjoying default MVP status. It will take a player having a historic season and a bunch of writers getting much too excited about it to unseat a full-strength Ohtani from his rightful MVP perch, so if you can just survive one year in which he's merely the best DH in baseball, you can look forward to a few more years of having the best overall player, without a close rival.
Obviously, it's not that simple. Even regular pitchers face some real risk of permanent degradation or further injury once they undergo a second elbow surgery. Ohtani's latest wasn't a full-fledged revision of his previous Tommy John operation, but it's still major, as indicated by the fact that he won't return to the mound before 2025. Once you reach that point with a player who also hits every day and whose stuff is so intense, it's inescapable: there is some chance Ohtani will not ever be the same pitcher he's been for the last three years.
Whether he does manage that unfettered recovery or not, though, Ohtani is the most valuable baseball player--off the field, to say nothing of his unprecedented on-field contributions--of this century. Signing him would make signing other free agents easier, for multiple reasons. Signing him would alter the identity of the franchise. All of that would happen even before he emerges from his latest chrysalis.
1. Yoshinobu Yamamoto, RHP
How can anyone be a better fit for a team like the Cubs than a superhero in cleats, like Ohtani? It certainly takes a rare beast. That's what Yamamoto is. Having just turned 25 in August, Yamamoto has already pummeled and demoralized NPB hitters for years. He's struck out 587 batters and walked 110 of them since the start of 2021. Opponents have scored just over 1.70 runs per nine innings against him over those three seasons--not 1.70 earned runs, but 1.70 runs total. 
Stateside hitters will score more than that. The level of competition in NPB is closer to that of MLB than many people want to believe, but at the bottom end, NPB has many more players who can be exploited and dominated by its best talents than does MLB. Still, Yamamoto is not one of those guys about whom anyone needs to worry, in terms of success overseas translating to the majors. He's diminutive, like Imanaga and Gray, but he sits at 95 miles per hour and can touch 97 or 98. He has multiple plus secondary offerings, in his curveball and splitter, and all the requisite feel to modulate or expand that repertoire is there.
Yamamoto will shatter the previous record for money committed to a player joining MLB for the first time. Aces do not become available at this young an age, and the small worries of his not having faced such uniformly strong competition and having thrown a lot of pitches this young will only be enough to keep him south of Gerrit Cole money. He's going to get a deal lasting 10-12 years, paying $200-300 million. That's an extraordinary investment. If the Cubs can sell Yamamoto on Chicago and their plan for the future, they should gladly do it.
There you have it. That's a long post, to end a long series, but we've now kicked around my top 50 free-agent fits for the Cubs. Who did I miss? Who's far too low? Who's a little too high? Let's keep the stove warm while Jed Hoyer and Carter Hawkins prepare to cook.