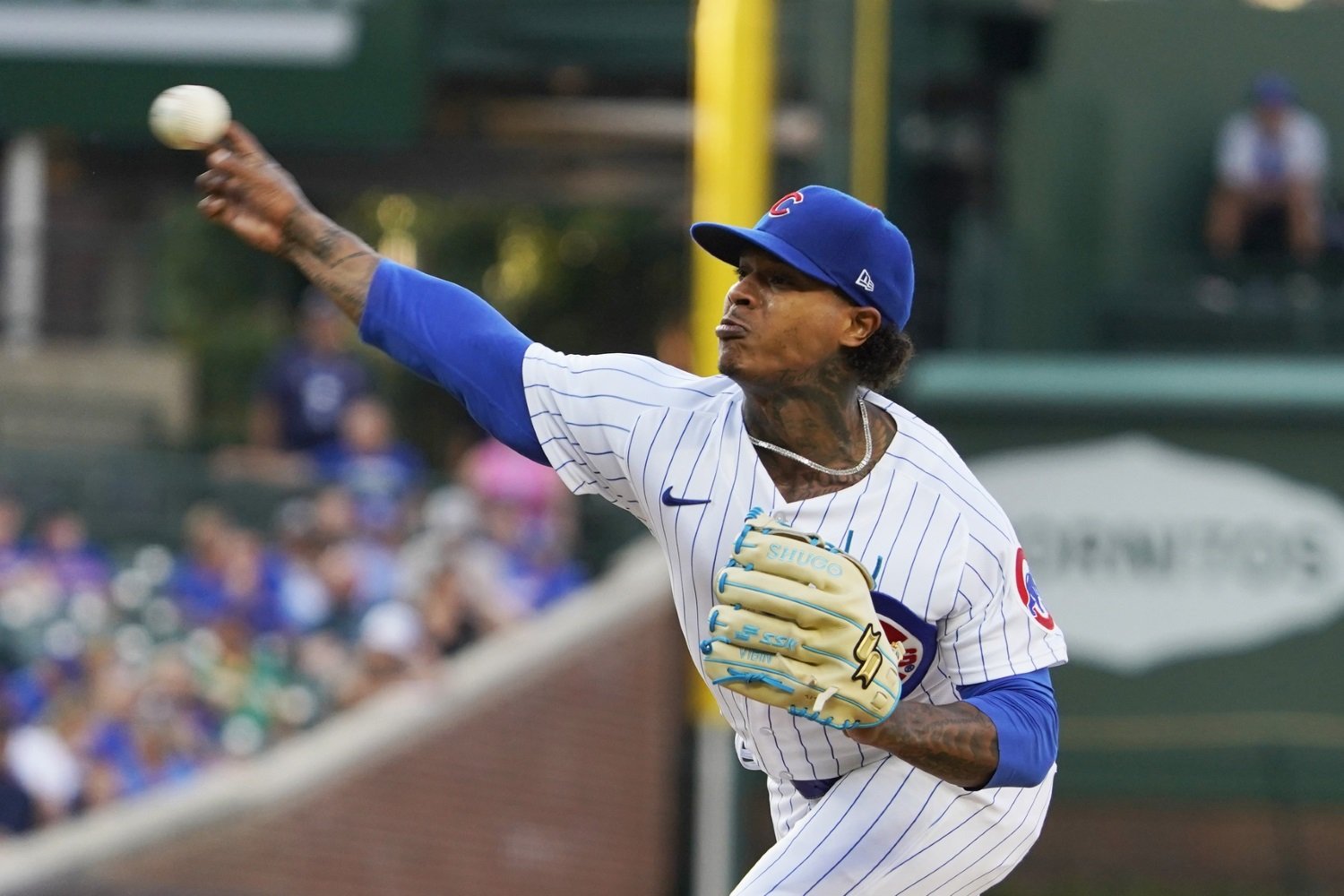 Image courtesy of © David Banks-USA TODAY Sports
Over the weekend, The Score 670's Bruce Levine reported that the Cubs are more likely to trade Marcus Stroman than to deal Cody Bellinger. Those two are the Cubs' most famous and intriguing trade chips, should they undertake any version of selling at the deadline, but it's Bellinger (and his scorching July) who has generated more widespread buzz.
Still, Levine is plugged-in, and his report was not to be taken lightly. Sure enough, during an appearance on the same station Tuesday, Jon Morosi said the same thing. Morosi mentioned that "at least seven or eight" teams are in the market for rental starting pitchers, whereas finding a fit for a position player is always a bit trickier. He also highlighted the fact that, unlike Stroman, Bellinger is eligible to receive a qualifying offer after this season, giving the Cubs an opportunity to get something back for him even if they don't trade him. 
To complete the trifecta, Ken Rosenthal sounded the same notes in his latest notes piece on The Athletic. When those three people say the same thing, it's a good bet that it's a sound report. Notably, none of them said that the Cubs won't trade Bellinger, and none said they will definitely trade Stroman. They only sketched the probabilities of either deal by setting them in relation to each other. We have no reason to doubt them, but the door is still wide open to them all being wrong.
For now, though, let's grant that they're right, and discuss whether and why that makes sense. It's easy to identify the fact that Bellinger can be tagged with the QO and that Stroman can't, which makes for a handy talking point. Further, Stroman effectively has a $21-million player option for 2024, so dealing him would pass the risk that he gets hurt and ends up as dead money on next year's books to his new team. 
Those lines of thinking overlook the payoffs of each possible trade, though. That the Cubs can give Bellinger the QO sets a floor for their asking price, and the fact that he can't unilaterally opt for big money on this deal next season ensures that that asking price won't be dampened by any teams who get queasy in the face of a little risk. Stroman's circumstances give the Cubs much less leverage. We saw the Giants hold onto Carlos Rodon at last year's deadline, because a similarly pricey option deterred teams from paying what San Francisco wanted for him. Stroman isn't nearly the injury risk that Rodon was (and always is), but interested teams will certainly use Stroman's option against Jed Hoyer and Carter Hawkins.
If the Cubs end up as sellers, Bellinger will bring back a much stronger return than will Stroman. Thus, if they're sellers, they should absolutely trade Bellinger, even more certainly than they should trade Stroman. If they're buyers, though, they should absolutely retain Bellinger, because they can't stay in contention without him and because they can always get a draft pick for him after the season, whether their bid for the postseason pans out or not. 
That leaves the question of whether trading Stroman could still make sense for a buying version of the Cubs. That's a thorny question, for multiple reasons. Firstly, from a logistical perspective, a Cubs team positioned to contend and trying to reach the playoffs would need to have a replacement for Stroman in order to deal him. Presumably, an acquiring team would be unwilling to provide that player, because they'd be getting Stroman for that very reason. That leaves two possibilities:
A separate deal to acquire a starter (probably one with more team control) from a team not looking to contend this year; or

Calling up at least one of Jordan Wicks, Ben Brown, and Hayden Wesneski to fill out the rotation.
I wrote on Sunday that Wesneski should take Drew Smyly's place in the rotation, anyway, so promoting him might fall into the category of necessary but not sufficient. The team would be taking a huge leap of faith by inserting a rookie, no matter which one it be, into the rotation vacancy left by one of their co-aces, in the heat of what they would be hoping would develop into a pennant race. Wicks has only recently reached Triple A, and Brown has been tantalizing but brutally inconsistent there. 
Thus, the most realistic scenario in which the Cubs trade Stroman but not Bellinger is also one in which they go make a trade to land an established, controllable starter to take his place. That's viable, because the team has depth and an impending roster crunch in the farm system, and because trading Stroman would only add to their trove of prospects. However, it's a delicate balance to attempt to strike. The 2021 Mariners traded Kendall Graveman, their closer, to the rival Astros, and though they acquired a useful reliever in that very deal, the move torpedoed the esprit de corps and led to their failure to end their 20-year playoff drought. The 2022 Brewers learned nothing from that, and traded Josh Hader for useful pieces, including a viable replacement for Hader. It had an equally deleterious effect on morale.
Maybe the Cubs are materially mentally tougher than those teams, but they're just as actually thin as those teams proved to be. Trade Stroman, and the planning fallacy comes into play in a huge way. They might acquire an ostensibly or plausibly solid replacement for him, but there's a good chance that the gambit would turn out badly, and that the team would have set itself back by trying to be too clever.
The front office's position is unenviable. They have five more games, really, to make a decision about whether to buy or sell, and those five games are taking on an artificially inflated importance that could lead to bad decisions. They do have a few potential avenues that involve a middle ground between buying and selling, but those options are fraught. Stroman is more likely than Bellinger to be dealt, but in reality, it ought to be either both or neither who wear Cubs uniforms on the other side of August 1.