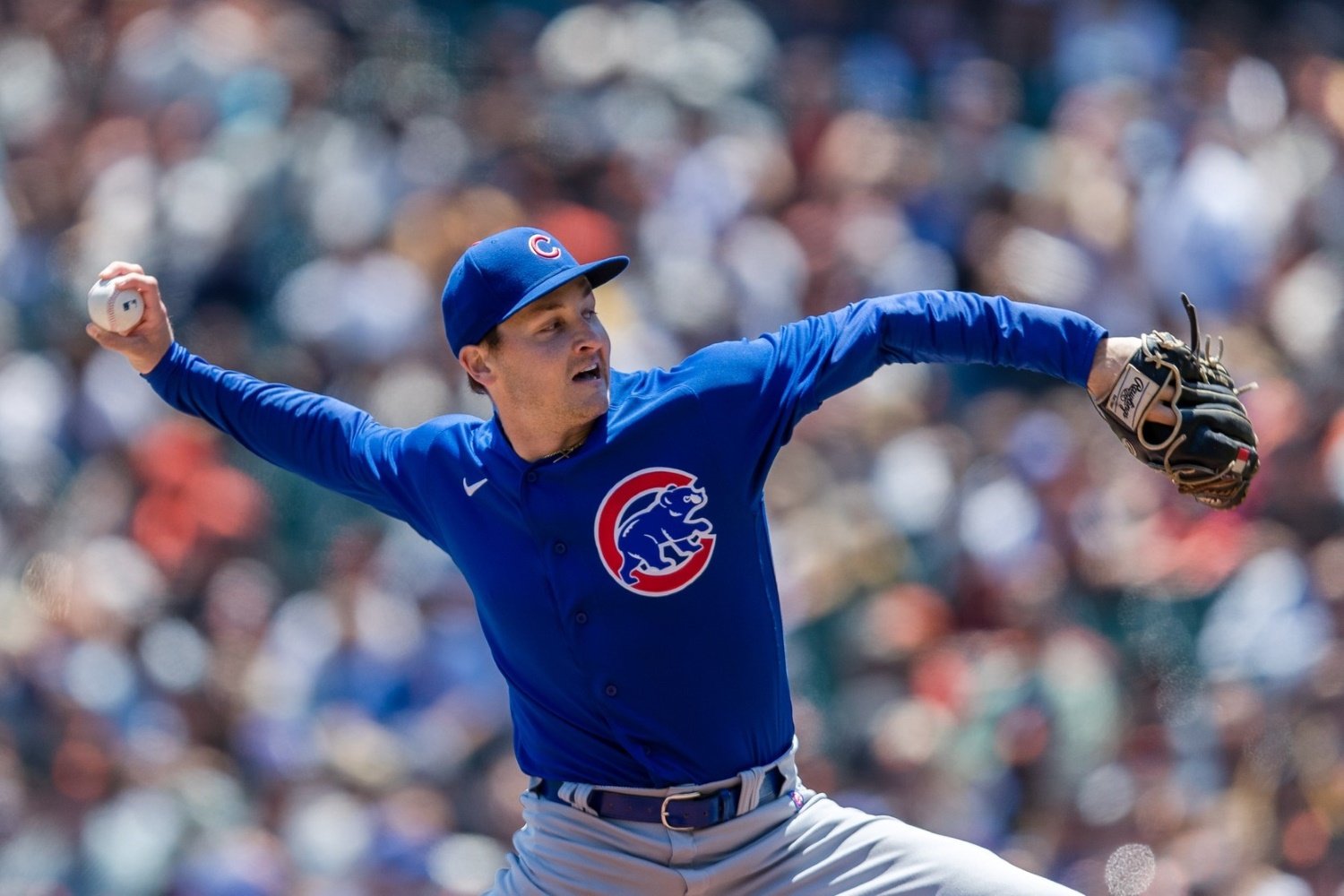 Image courtesy of © John Hefti-USA TODAY Sports
It's been a steady but inexorable tumble for Drew Smyly, since his strong start to the season. His seasonal ERA is up to 4.69, but that doesn't even begin to tell the full tale of his woes. Over his last 10 appearances, he's thrown 48 1/3 innings, with an ERA of 7.08. Opposing hitters are hitting .327/.397/.599, When Smyly takes the mound, the whole league is hitting like likely NL MVP Ronald Acuna, Jr. 
Smyly still flashes the ability to get outs. He's not completely washed up. In fact, he has 12 strikeouts and just two walks over his last two appearances. He's just not able to get through entire outings without breaking down a bit and getting hit hard. Whether the Cubs can stay in contention for the balance of this month or not, then, it's time to demote Smyly to the bullpen. By using Michael Fulmer for the first full turn through the St. Louis order Saturday, the Cubs signaled that they're aware of that fact--even if the primary motivation for doing it was really the Cardinals' uniquely deep and platoon-capable bench, which gave David Ross trouble Saturday in a game started by fellow southpaw Justin Steele.
Just as the Cubs finished their rain-disrupted win at Wrigley, Hayden Wesneski took the mound in Iowa. He twirled five scoreless innings, allowing just four hits and striking out eight, without walking a batter. For Wesneski, it was the next in a line of starts in which he's been as good as Smyly has been bad. Going all the way back to when he was first optioned to Triple A in mid-May, Wesneski now has 12 appearances between that level and the big leagues. Over that span, he's fired 41 1/3 innings, and he's running a 2.83 ERA. He's fanned 49 batters and walked 14, and opponents are hitting .182/.261/.338. He's had some good batted-ball luck, but when he's right, he manages contact quality well, anyway. Right now, he's very much right.
One major adjustment for Wesneski has been turning into primarily a four-seam fastball guy, rather than the primarily sinker guy he was last year and to open this season. He's still utilizing slightly different release points for his four-seamer and cutter than for his sinker, sweeping slider, and changeup, but he's found better ways to be deceptive and effective while doing so. For one thing, he's slid back toward the first-base side of the rubber, after trending toward the third-base side early this year. For another, he's getting more comfortable shaping his slider, using it more as a true sweeper against righties and getting more depth on it against lefties. 
Perhaps most helpfully, though, Wesneski is starting to use the top of the strike zone with that four-seamer. Because his heater lacks elite rise, he'd been very reluctant to do that in the past, but the result was that hitters could cover his whole arsenal without having to commit to one offering or another. He's creating better contrast with better location now, and it's made a huge difference.
Regardless of whether the rest of the Cubs' season needs to be spent evaluating players for the future or whether they become surprising contenders with another surge through the deadline, Wesneski is the right man for the fifth spot in the starting rotation. The team won't need to get cute or creative every fifth day. They just need to make Smyly the lefty reliever missing from their bullpen, and promote Wesneski back to the majors.