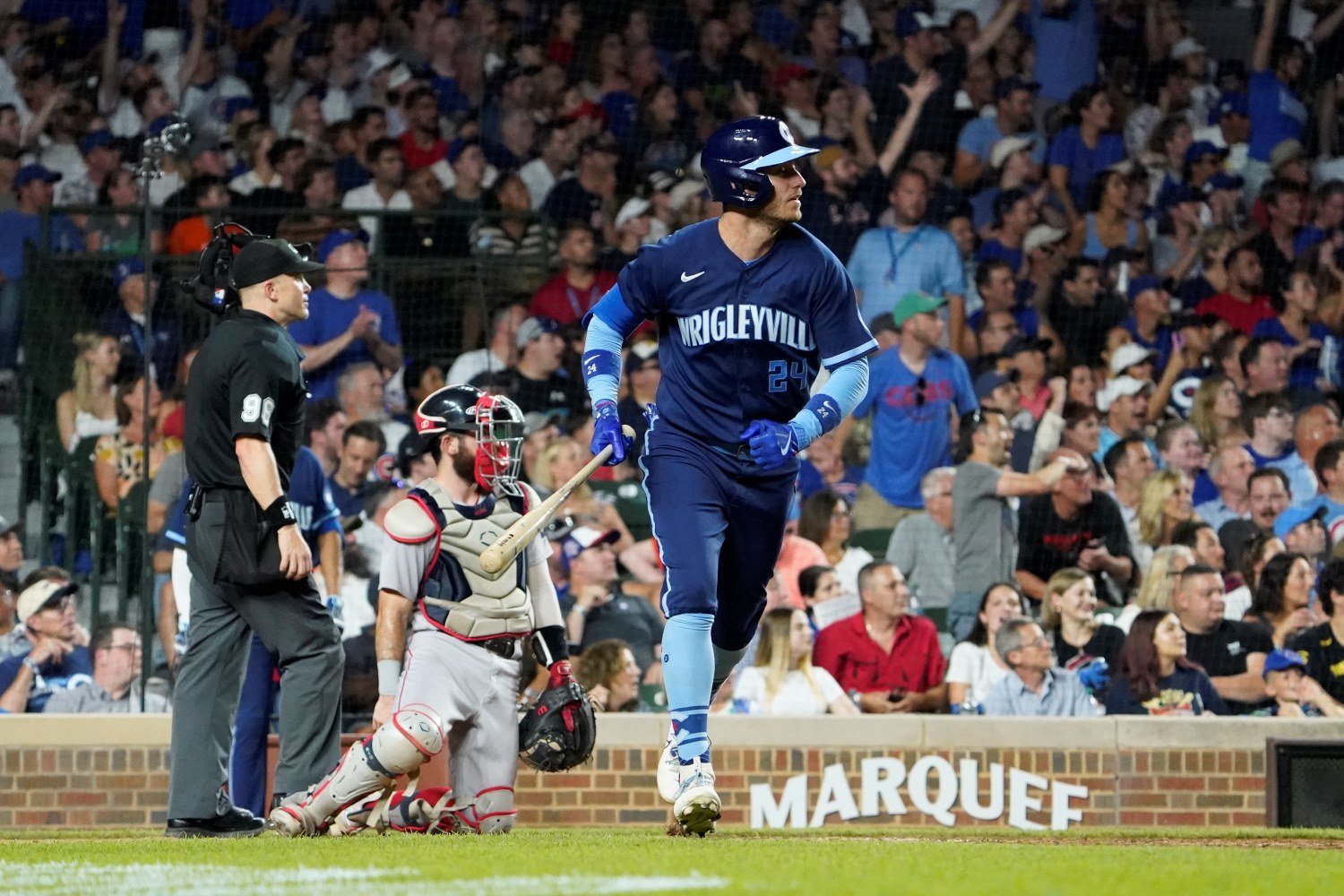 Image courtesy of © David Banks-USA TODAY Sports
Today's is the first in a series of pieces we'll do as the deadline approaches, featuring mock trades that could make sense for the Cubs under various circumstances. Check North Side Baseball daily for more, and jump into the discussion by leaving your opinion in the comments.
With two home runs in the first game after the All-Star break Friday night, we can officially declare Cody Bellinger to be on a heater. He's hitting .302/.357/.518 for the season, with 11 homers and 11 steals. He's making contact at almost exactly the rate at which he did so when he won the 2019 NL MVP award. He's played plus defense both in center field and at first base, and it's been a joy to watch him play. Even beyond the steals, he runs the bases well and aggressively. In the field, he doesn't just track down fly balls well, but charges singles and returns them to the infield quickly. He uses his speed and his strength well in every dimension and facet of the game.
Alas, we have to be realistic. Once the Cubs locked Ian Happ in for three more years with their April extension, it got a lot harder to fit Bellinger into the team's long-term plans. He's having exactly the season he and Scott Boras hoped he would have, which means that he'll hit the market this winter seeking almost exactly the deal he and Scott Boras envisioned a few years ago, before injuries sidetracked him for multiple seasons. The Cubs have too many other needs and too much other money committed to pay what Bellinger will cost beyond 2023. 
Even if one were of the mind to move Seiya Suzuki (eating a sizable share of his contract, in the process), it might be tough to justify retaining Bellinger. Unless the team finds such an enticing trade target that they elect to trade Pete Crow-Armstrong now, he's their center fielder of the future, and the future figures to begin on Opening Day 2024. To re-sign Bellinger would mean paying him more than several teams will surely be willing to pay for a star-caliber center fielder, while intending to stow him away in right field. Bellinger has the arm for that, and maybe playing right would keep him a bit healthier over the course of a long deal, but it's tough to make the value match up in that kind of situation.
The next question, then, is whether it's worth retaining Bellinger for the rest of the year, making him a Qualifying Offer, and accepting draft pick compensation when he departs in free agency. If the Cubs climb back into the division race over the coming fortnight, that's an easy call. If they fall farther back, it's equally easy, although painful. Right now, as they struggle to get out of neutral and the clock slowly ticks down toward August 1, it's tough.
On one hand, the team would absolutely get more in a trade than the draft pick they'd get for Bellinger is worth, and the chance that trading him is the thing that torpedoes what could otherwise be a winning or playoff season feels vanishingly small. On the other hand, even the remote chance that the team will turn things around is worth preserving, for as long as it exists. Dealing Bellinger before that candle flickers out would be a betrayal of the team's responsibility to do its best for the fans and for its own players. 
All that said, though, perhaps there's a deal worth making, anyway, because it could be nearly a wash in the short term and a profitable one in the longer term. The Minnesota Twins have a major need, and Bellinger could fill it perfectly--if the price is right.
For those unfamiliar with the particulars of the 2023 Twins, it's pretty simple. They have an elite pitching staff, but they can't hit. In particular, they're hurting for production in center field, where shuffling Byron Buxton to designated hitter has left Michael A. Taylor as the everyday starter, and they're not getting enough out of first base. Alex Kirilloff, their 2016 first-round pick, has just four homers in 204 plate appearances. That was to be expected, as he's always been hit over power and has dealt with multiple wrist surgeries already in his young career. However, he's also striking out almost a quarter of the time, which is uncharacteristic and concerning.
Bellinger would fit like a glove (er, and a bat) into the Twins' lineup. He could play some center field and some first base for them. His contact skills would be a balm to the league's most strikeout-prone offense. In a weak AL Central, he could be the difference-maker who get the Twins over the top.
For the Cubs to give him up, though, the Twins would have to be willing to pay. There will be several other suitors, and the Cubs' playoff dreams (however faint) and the option of giving him a QO give them some leverage, anyway. Happily, Minnesota has a solid farm system, and several recent graduates of it who might be available even on their big-league roster. It's unlikely that the Cubs would have much interest in Trevor Larnach or Matt Wallner, who have good upside as left-handed sluggers but also show plenty of warts, and who only play the corner outfield spots. Again, having Happ and Suzuki locked in (even if only monetarily) makes adding another corner-only outfielder a tricky proposition.
However, the Twins have a few other young hitters who could have immense appeal to the Cubs, as part of a Bellinger. One is the aforementioned Kirilloff, who (despite the problems described above) has a 117 wRC+ for the season. He's drawing walks and collecting singles at a fine rate, and with more development, he could turn into an above-average first baseman, albeit one more in the lineage of Sean Casey or Wally Joyner than in the traditional slugger's mold. Another is Jose Miranda, who's taken a massive step backward this year and just hit the injured list with a shoulder problem, but who looked like a cornerstone of the team's lineup for the future just a few months ago.
Miranda is considerably further from free agency, and it's unlikely that the Twins would want to move him in exchange for a player who will leave after this year. They could be more open to a Kirilloff trade, though, because he's due to become eligible for arbitration via Super Two after this season. If the Cubs do land Kirilloff, they could also probably persuade the Minnesota front office to throw in an extra arm from the lower levels of their farm, especially by offering to pay down the remaining money owed to Bellinger.
Slot Kirilloff into the lineup as the first baseman, and the Cubs' offense doesn't take a terrible hit for the loss of Bellinger. The downgrade is real, but it's not crippling, and center field would become an open space on the lineup card. In the very short term, that could be filled by Mike Tauchman, but by the middle of August, it could be time to stick Crow-Armstrong out there. His speed and defense would be worth the potential for some offensive struggles, especially if the Cubs fall out of the race by then, and the audition would give them a better sense of how much they need to pad their lineup for 2024. If Crow-Armstrong hit the ground running, the team could even come out ahead from the exchange.
Four years of a usable first baseman--even one with a spotty health track record and a dearth of power--would be a steep price for the Twins to pay for Bellinger, and they might prefer not to take such a gamble on this one season. On the other hand, that front office is under mounting pressure to deliver a return on the team's ownership's record-level investment in the roster, first by reaching the playoffs, and then by breaking their nearly two-decade drought without a playoff victory. Kirilloff would be a good get for the Cubs, but an alternative to that form of the deal could be just as interesting.
The Twins have a pair of starters showing well in Double-A Wichita, in David Festa and Marco Raya. Festa is a bit of a Ben Brown clone: big, hard-throwing, and with a good three-pitch mix that should make him a mid-rotation starter in the big leagues soon. Raya is much smaller, but still uses a riding heater to miss bats and set off a three-pitch arsenal. Those two are the kinds of arms the Cubs still need to stockpile, especially with the likely departure of Marcus Stroman and the increasing likelihood that they won't be able to rely on Kyle Hendricks or Drew Smyly beyond the end of this season. Getting both for Bellinger is a pipe dream, but getting either would be a solid return.
Bellinger is a unique player on the market. If he stays hot for the balance of this month, and if the Cubs still decide to trade him, he should command a very handsome price. The Twins are a great fit, and there's at least one form of that transaction that wouldn't even make the Cubs materially worse in the short term.