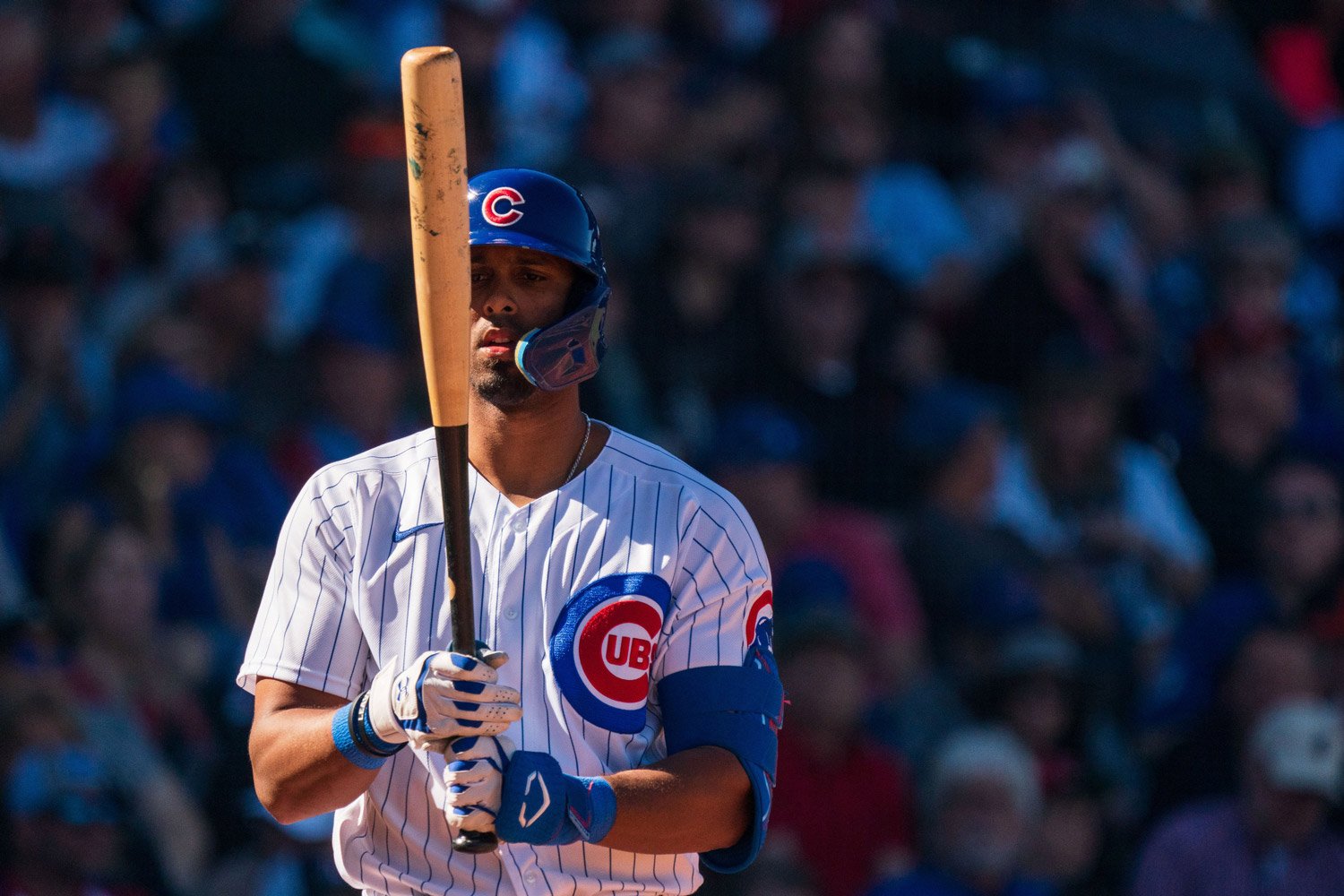 Image courtesy of © Allan Henry-USA TODAY Sports
Brennen Davis's performances have been filled with strikeout issues, multiple injuries, disappointing results, and weak contact…and this is quite the fall from his position of grace exiting the futures game in 2021. The easy thing to do would be to look at the sub 70 wRC+ he's put up in his two seasons at AAA and write him off as prospect attrition and that he's a lost cause. With that said, I'm not writing Davis off yet, and I'd recommend you not, either. Why is that? Let me give you three reasons…
Reason #1: Look at the current MLB roster
The Cubs have done a great job with "dead" prospects in recent years; Justin Steele, Adbert Alzolay, and Miguel Amaya are three players who have been written off multiple times, and all three are playing roles in MLB. Steele toiled away for nearly a decade, battled injury, battled the belief he was only a multi-inning reliever, only to turn into what is arguably the best starting pitcher on the roster today and a well-deserved All-Star appearance. Adbert Alzolay battled an abdominal injury that cost him a full season only to come back in 2021, proceeded to get rocked by LHH in 2021, and was written off by many only to turn into the most reliable bullpen arm on the Chicago Cubs currently. Miguel Amaya battled the belief that his bat wasn't good enough (despite being well underage for his levels) and essentially lost over two years of development to Tommy John Surgery to become the 2nd best catching option on the Cubs and arguably the Cubs' best option as the future of the catcher's position.
So who's to say that two bad seasons and injuries will be why Brennen Davis cannot resurrect himself? Davis is 23 today; it took Steele until the age of 27, it took Alzolay until age 28, and Amaya until age 24 (and the reality is he probably won't be 25 until we know what he really is)...time remains for him to turn into something. The Cubs have had successes with prospects in their second and third lives. Davis may be on his second or even his very own third life, but there's a precedent that the Cubs can work through injury and developmental disappointment to get there.
Reason #2: He's adaptable
Prospect development is not linear. As much as it'd be perfect for prospects to get better steadily, one step forward each day, we know that's not the case. Development can come in bunches, and sometimes players take steps back before moving ahead. Thankfully, Davis has shown a unique ability to be adaptable. When drafted, the general belief was that Brennen Davis was toolsy but largely a work in progress. His scouting report from Baseball America at the time of the draft read that he would need "two years" in Arizona before seeing A ball. And yet, Davis met and exceeded all expectations, tearing through the MiLB for his first few seasons resulting in that multi-home run performance in 2021 in the Futures Game. He worked on his swing and barrel control, and the resulting hitter was impressive. His best tool was seemingly his ability to hit for power the opposite way, showing it off multiple times on increasingly larger stages. That would change, however.
Entering 2023, the book was pretty different on Davis; his long levers and lanky size were starting to work against him; the K% had ballooned to over 30% in AA and bordering 30% in AAA (a frightening concept as K% and contact rates are among the best correlators to MLB success). However, with some work and cleaning up his chase rate (especially elevated fastballs), Davis saw his K% drop to 18.7% this season, which virtually mirrored his K% during his 200 PA stint in A ball in 2019. Yes, it's easy to look at the >70 wRC+, but there was ability in the process of bat-to-ball; there should be reason to believe he can find the middle ground between bat-to-ball and damage. Going back to Baseball America well, BA wrote in 2022, "He's a fast learner who makes quick adjustments and controls the strike zone." The adaptability is certainly there, and the learning may be fast when it happens. He's already shown the ability to take his K% and contact issues to heart; who's to say he can't work on the quality of contact, too?
Reason #3: Bad luck has some part in this
On the one hand, this is a damning question, but on the other, there's reason to think it can point to the injuries as somewhat "flukey" and out of his control. His health issues are certainly frustrating but seem in part to bad luck. Can we blame Davis, for example, for having a nerve issue in the back? Or being hit in the face or on the hand and breaking a finger? None of these issues are recurring or should be things that hold him back moving forward in theory. Perhaps we can blame an overzealous Davis for the stress fracture, pushing too hard to return, but even that shows a player dedicated to his craft. All of this raises the question of how healthy Brennen Davis has been when we've seen him. And how has that affected his numbers? It's hard to separate the injury and the poor results in many ways. Davis may be fast learning, but it's hard to learn if you're not playing.
As well, it's hard to blame Davis for the loss of development during the 2020 pandemic-lost season. Davis did "play" and practice with the Cubs, but I'm not sure he didn't suffer from the lack of an actual, real season. The quotes out of the Cubs' camp at the time were glowing, but it's hard to put much stock into that. 
Some people have bad luck, but bad luck often runs its course, just like good luck. We could also rattle off injuries and bad luck in the previous cases of Steele, Amaya, and Alzolay. Injuries are annoying, they've claimed many a previous prospect, but sometimes, bad luck injuries stop happening. 
So what does it all mean?
No one is saying Davis shouldn't currently have some dark clouds hanging over his prospect star. No one is saying to rank him as the #2 prospect in the system behind Pete Crow-Armstrong (I don't have him as #2 in my personal rankings). But perhaps, we can all have a little patience. The upside of Davis was always that of a starting OF'er with strong barrel control, impressive bat speed, and raw power. There was an almost universal belief that the ceiling of Davis stretched to the point where he could become an All-Star caliber OF'er. While I certainly believe the last few years have made it less likely for Brennen Davis to become the all-star OF'er he was predicted to become, it doesn't mean he can't. Brennen Davis may return in 2023, and he may not, but in either scenario, he'll still only be 24 when the AAA season kicks off next year. I don't know what Davis will become, but I'm not willing to simply give up on him, and I certainly hope you don't, either. Hearing Davis having a bounce-back season in AAA in 2024 wouldn't be among the craziest things you could predict.