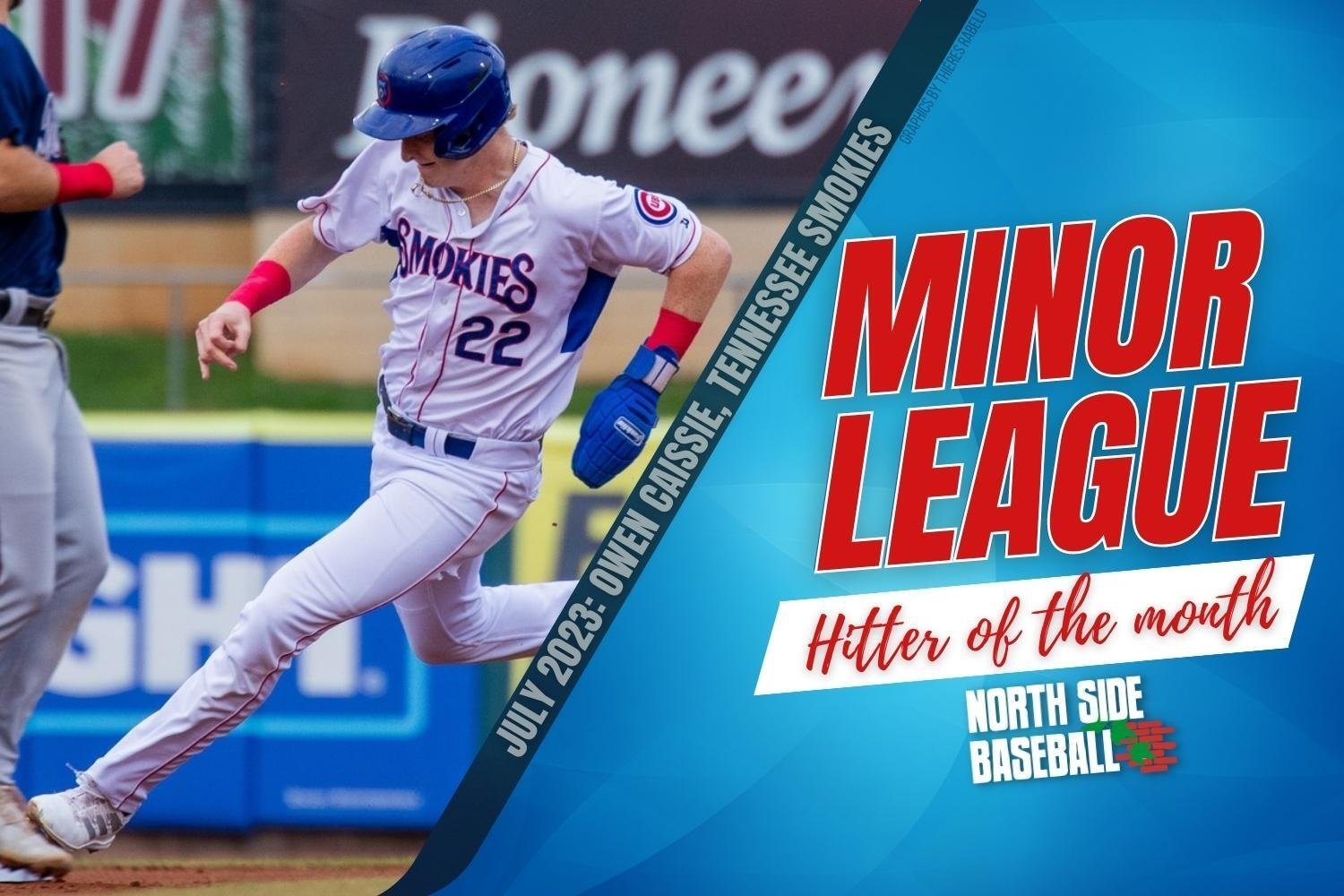 One of the really fun things about doing these types of lists for minor leaguers is the variety. There are several names on this that are familiar, the top 20 prospect guys. But maybe there are a few names that you didn't recognize, or didn't know as much about. Hopefully this will help you get to know them a little better too. 
Also, if you missed the previous minor league awards, be sure to check out the Cubs Minor League Starting Pitcher and Relief Pitcher of the Month of July. You can also read the July Hitter of the Month and Pitcher of the Month articles if you missed those. 
Let's get to those hitting prospects, starting with a few Honorable Mentions. 
Honorable Mentions

Kevin Alcantara: (South Bend, A, CF) 219 wRC+, 22.9% K%, 12.5% BB%, 2 HR, 5 2B
Sadly, Alcantara pulled up with a calf strain on July 19th because had this been his full-month's line, he just may have been in the argument for the hitter of the month.  Alcantara started slow this year, really struggling with over-aggressive swing choices and a bit of a rough plate approach since moving up to High-A, but there seems to be some real movement in that category. He's reached base at least once every game since June 16th, and I think we're on the verge of a breakout (hopefully the small injury doesn't set that breakout back).  
Matt Mervis (Iowa, AAA, 1b) 134 wRC+, 24.8% K%, 16.8% BB%, 3 HR, 5 2B
Mervis had a really nice month in Iowa, but it's pretty ho-hum, too, for a player who's probably too good for the level. He's been said to be working on small mechanical changes, likely to get the ball in the air a bit more than he showed the ability to do in his first run. I still think there's a starting first baseman here, and I still think he deserves a shot at the MLB. Whether or not that comes in Chicago is questionable, but he's trying to force the issue and that's good.
Yonathon Perlaza (Iowa, AAA, RF/LF): 148 wRC+, 22.4% K%, 15.3% BB%, 5HR, 2 2Bs
Perlaza wins some months, but sadly misses out on the top-5 this one.  Pretty unfair, however, nothing anyone else can do can make me not notice what Perlaza is doing.  There is considerably more violence in his swing than ever before, and especially when hitting LH, Perlaza is forcing everyone to take notice.  If there's one downside of the Cubs winning, it's that we may not get a proper look at Perlaza entering 2024, and with needing to add him to the 40-man roster or be exposed in the Rule 5 draft (in which I'd guess it'd be very likely he'll be picked), this causes some questions for the future.
And now let's jump into the Top 5 Cubs Minor League Hitters in July: 

Number 5 : BJ Murray (Tennessee, AA, 3B) 152 wRC+, 21.4% K%, 16.7% BB%, 5 HR, 2B 
What a find Murray was for the Cubs on Day 3 of the 2021 draft. Murray rounds out yet another Tennessee hitter here, and has me really reconsidering what I think his upside is down the road. He's showing a really strong ability to put damage onto the baseball, and we're seeing more and more home runs out of him (his five this month match his entire total in South Bend, in 224 PA's). Where he lands defensively is still up in the air, as he's not considered a particularly strong third baseman, and he's likely too squatty to play first base, but for now, I'm keen to let BJ keep hitting and forcing the issue.  
Number 4:  Cole Roederer (Tennessee, AA, OF) 206 wRC+, 20.3% K%, 20.3% BB%, 6HR, 3 3 2B
Cole Roederer?  Cole freaking Roederer?  I honestly didn't think I'd ever get to type his name on a list like this, but what a July! I'm going to give him a little flak for being off the prospect radar for a bit, and it not being his first rodeo in AA, but please don't let that take away from the monster month the guy has had. He's had a beautiful swing but had so many darn injuries. I'm so happy to see him succeeding. His path to Wrigley is probably tough, but I think he'll get a shot somewhere. He'll be Rule 5 eligible like Perlaza, so we'll see where that is. I'm rooting for him. He's really stuck it out.  
Number 3: Moises Ballesteros (South Bend, A): 171 wRC+, 21% K%, 13.6% BB%, 1HR, 8 BB
Is Ballesteros a catcher? Who cares right now when you have a month like this? The wRC+ is mammoth, the K% is wonderful. He's in third because we just aren't seeing the home run power yet (though the XBH are plentiful and with age those doubles will become HR's more frequent). Ballesteros is showing more and more pull-side ability with his swing. I love how good his command of the strike zone has become. We just don't see kids of his age with this ability to command the zone that often. I am so impressed. Even if Ballesteros has to be a DH down the road, the bat can play.  
Number 2: Pete Crow-Armstrong (Tennessee, AA, CF): 162 wRC+, 23.5%, 11.5% BB%, 5 HR, 8 2Bs, 1 3B 
These numbers on the surface are pretty amazing, but they're not the sole reason I'm picking him as the second-best hitter this month.  Digging in deeper, I want to focus on the numbers PCA has posted after July 6th. While July 6th feels like it's an example of playing with arbitrary endpoints, I'd argue this is a different case. It was after July 6th that the Southern League, Tennessee's division of minor-league baseball, switched to a normally-tacked baseball. Prior to this change, Tennessee's baseballs were causing quite the stir; league K% was up over 3% over any other MiLB league and this was largely due to the new pre-tacked ball the MLB was trying out giving pitchers a significant advantage. So why the big deal? From July 14th through the end of the month, PCA posted a whopping 218 wRC+, a K% down to 19.6 %, a walk rate of 14.3% and hit 11 extra base hits (out of his total of 14). Someone earned his promotion.
Number 1: Owen Caissie (Tennessee, AA, RF) 187 wRC+, 25.5% K%, 18.4% BB%, 5HR, 8 2B
For the month of July, Owen Caissie posted a mammoth 187 wRC and I'd argue that's not the most impressive thing Caissie accomplished this month. If not the sterling wRC+, why is Caissie winning the award this month? The answer for me is simple… it was watching him drop his K% over the month to 25.5%. The improvement alone feels like a reason to name him the winner as he's worked incredibly hard on his glaring weakness, and we're starting to reap the rewards of that hard work.  
Owen Caissie will always be a higher-strikeout player, but for me, his "goldilocks" zone sits somewhere between 25% and 27% He's incredibly disciplined as a hitter, and with the power, he'll outpace that kind of K-rate. If he can keep his strikeouts somewhere around there, I think he's got true "impact bat" ability and can stray away from being a Joey Gallo-esque power-K machine.  His month was also bolstered by a walk rate over 18% and 13 extra base hits.  Add in that he just became legally able to buy a drink (and remains one of the youngest AA hitters in all of baseball), and Caissie is absolutely flying right now. 
What are your thoughts on our choice for Cubs Minor League Hitter of the Month for July? How would you rank them?