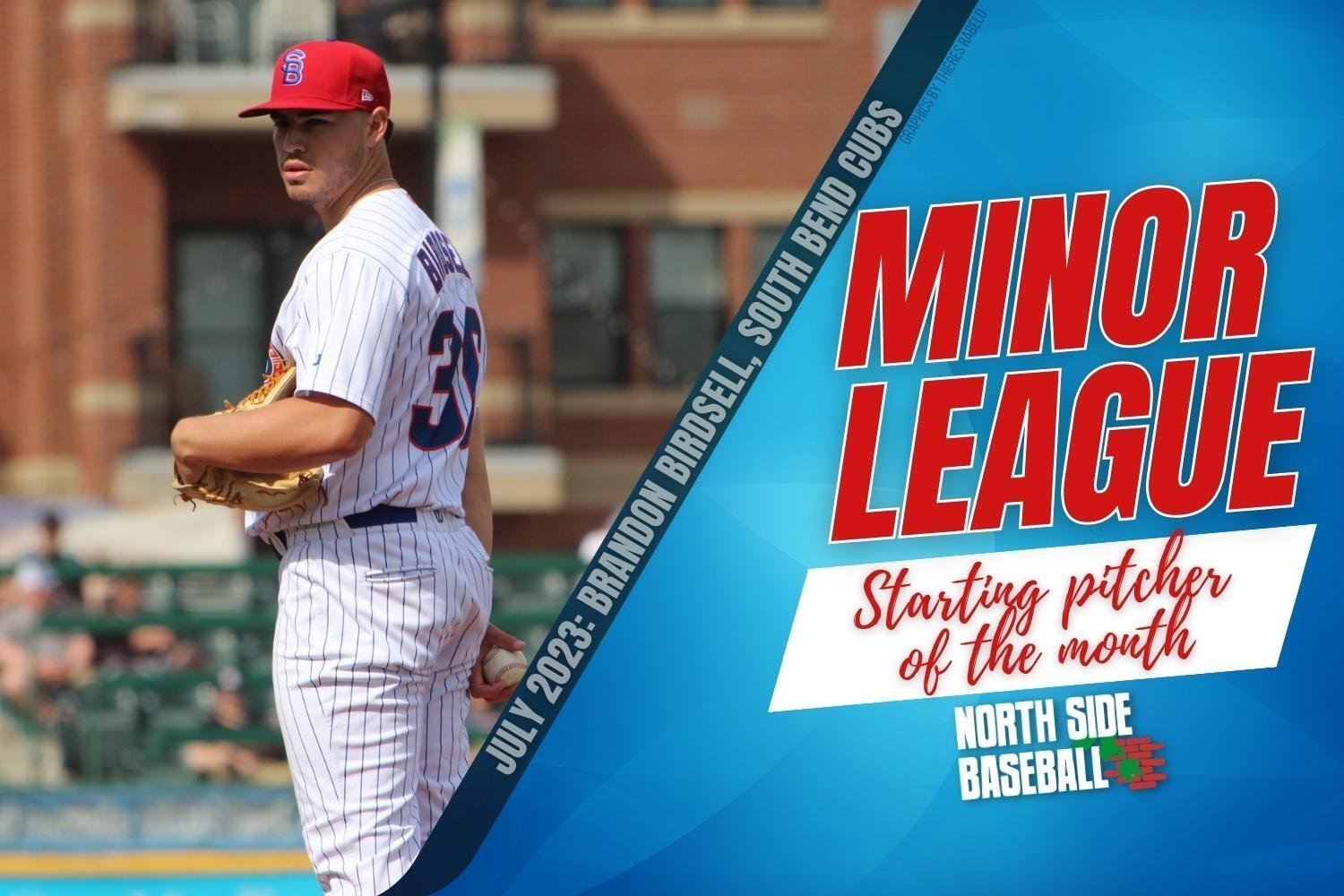 Image courtesy of South Bend Cubs
This last month, a few Cubs Minor Leaguers took significant strides in their professional careers. Here is how the best in the system threw in July.
Honorable Mention 3: Riley Thompson, Triple-A Iowa Cubs
Riley Thompson made three starts in July that were showing a great improvement in his stuff compared to how the month of June went for him. Thompson posted a 2.08 ERA, .159 opponent batting average, allowing only seven hits in 13 innings of work.
What kept Thompson from being ranked higher is his being placed on the 7-day injured list following his July 21 start where he exited the game only after throwing in the first two innings. 
If he can show his turnaround from June to July was not just a short-lived spark when he returns from the injured list, he could become a great asset to finish out the season in the Cubs bullpen. 
Honorable Mention 2: Kohl Franklin, Double-A Tennesse Smokies
Kohl Franklin had a similar month of June to Thompson where the numbers didn't look good at all coming into July. 
Franklin dominated in three of his four starts in July allowing zero earned runs in those starts. His fourth and final start in July wasn't as pretty as he allowed five runs in four innings. 
But that last start shouldn't take away from how the rest of the month went for him. He was tied for second on the team in strikeouts with 24, only behind now-former teammate DJ Herz, who had 34. 
The thing Franklin needs to work on the most is his swing-and-miss pitches as he allowed 14 hits and seven walks, and posted a WHIP of 1.24 in July. While not terrible, there's still room for improvement for the 23-year-old. 
Honorable Mention 1: Luis Rujano, Low-A Myrtle Beach Pelicans
Before this month, the 20-year-old signee out of Venezuela never made a start in his professional career. Luis Rujano had only come out of the bullpen for the Pelicans nine times and his transition to a starting role only seemed to make him better.
In his four starts, Rujano posted a 1.98 ERA across 13 2/3 innings striking out 13 batters, surrendering only eight hits, one a homer, and posting an opponent's batting average of .170.
There's still a long way to go for Rujano as he's only a rookie in professional ball, but his first month throwing as a starter has shown fruitful results that should give Cubs fans something to keep an eye on at the Low-A affiliate. 
Minor League Starter of the Month: Brandon Birdsell, High-A South Bend Cubs
While the Cubs' #2 prospect Cade Horton had a bad month with the South Bend Cubs, his teammate Brandon Birdsell stepped up and showed himself to be the best Cubs minor league starter in July.
Birdsell, a fifth-round draft pick by the Cubs in 2022, has had a fantastic start to his professional career with South Bend this season. He was drafted by the Twins a year before but opted not to sign with them in July of 2021. His month of July may be the best of his pro career so far as he posted a 1.35 ERA in 20 innings across four starts. He also struck out 18 hitters, while having a 1.05 WHIP and .183 opponents average. 
Birdsell is not commonly seen on any top 20 or 30 prospect ranking lists for the Cubs across the internet. But his month of July may earn him more consideration for whenever the next Cub prospect graduates off the list.