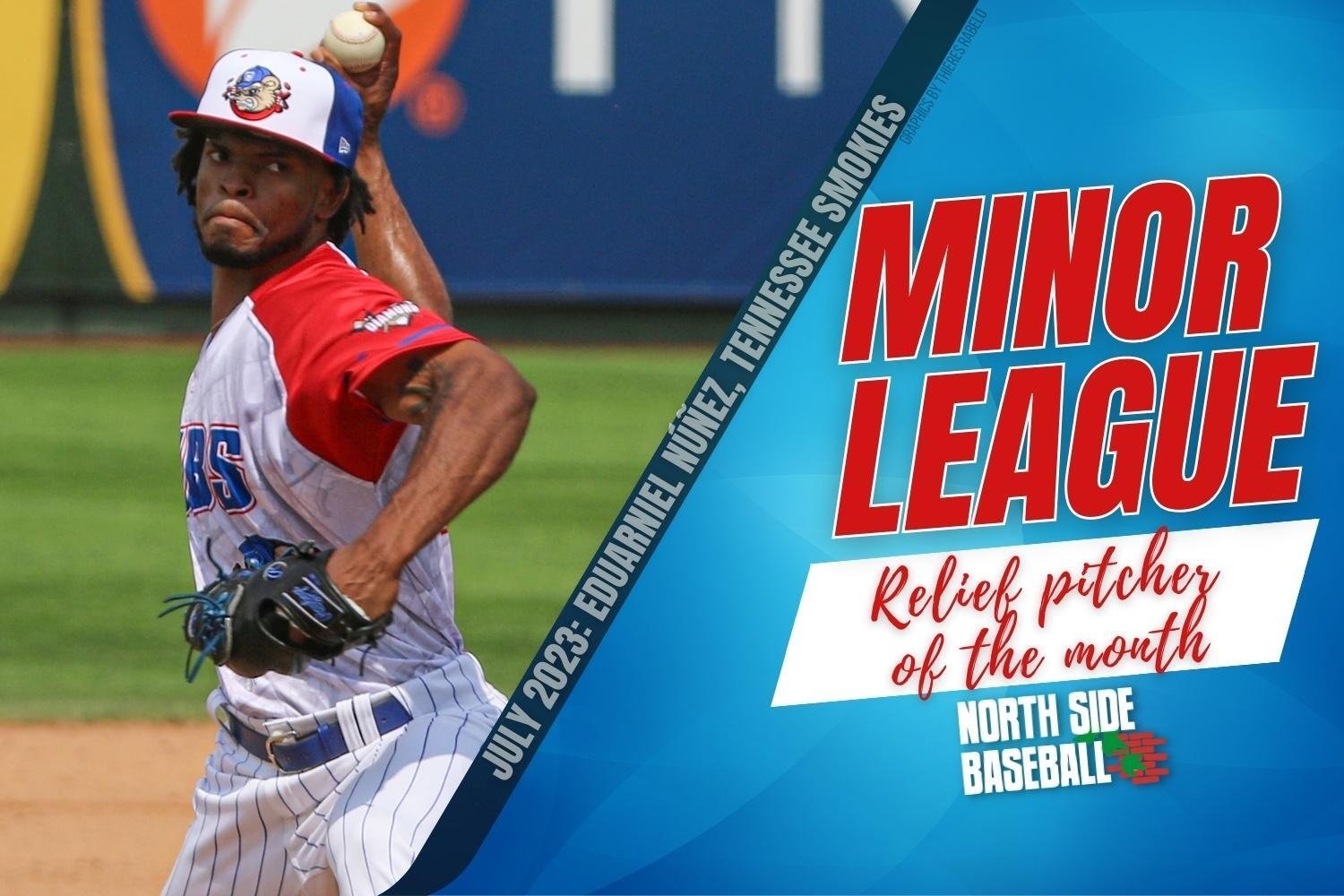 Image courtesy of South Bend Cubs
Bullpens are often forgotten, or at least not talked about as much until things go poorly. If a reliever comes in and tosses a 1-2-3 inning, it doesn't get talked about many times. A reliever can have eight straight scoreless outings, but if he gives up five runs in 1/3 of an inning in the ninth game, that's what fans remember. 
Often, it's a thankless job, so today, we want to honor and recognize eight relievers in the Cubs system who had a really good month. We'll list our Top 5 relievers, but first we will give yo a couple of honorable mentions. 
Honorable Mentions

Brailyn Marquez (Multiple Levels): 8 IP, 6.75 ERA, 6.34 FIP, 10 K
This isn't about the numbers, it's just good to see Brailyn back on a mound.  He's had a few good outings, a few really rough outings, but he's having outings.  Good to see you back.  
Scott Kobos (South Bend, A+): 9 IP, 3,00 ERA, 3.57 FIP, 13 K
Much better month for Mr. Kobos after getting blasted in AA to start the season.  He's working his way back after arm injuries, and while definitely old for the level, he had such a great start to his career that I'm hoping this is a sign from the future.
Max Bain (South Bend, A+): 10.1 IP, 1.74 ERA, 3.77 FIP, 12 K
Noticing a theme?  Welcome back Max Bain! There's upside here as a leverage arm if he can figure it out. Good start numbers wide, now let's see where we go from here.
TOP 5 RELIEF PITCHERS IN JULY
Now let's jump into the Top 5 relievers in the Cubs minor league system in July. 

Number 5: Zac Leigh (Tennessee, AA): 9 IP, 2.00 ERA, 3.00 FIP, 13 Ks
Zac Leigh is probably a bit too old for AA at age 25, and he's had some experience here in the past.  He's showing much improved walk numbers from his first short stint and I could really see him moving from AA to AAA quickly.  Good to see him catch his footing a bit more in AA over his last nine innings pitches, and maybe we're seeing him break out a bit in Tennessee.  Speaking of Tennessee, get used to seeing them on this list…
Number 4: Luke Little (Tennessee, AA): 12.2 IP, 2.84 ERA, 2.65 FIP, 24 Ks
24 strikeouts in 12 2/3 innings will put you on this list most of the time. Luke Little, fresh off a stint on the Development List, really impressed with the strikeouts. There's still some walks in the game, but lefties who throw in the upper 90's are very fun relief pitchers.  Wouldn't be shocked to see Little in September if this keeps up.
Number 3: Samuel Reyes (Tennessee, AA): 11 IP, 0.82 ERA, 2.60 FIP, 13 Ks
Remember how 24 K's in 12 2/3 innings gets you on this list? Yeah, so does an ERA south of 1.00 while striking out over a guy per inning. Reyes isn't much of a prospect like the first two, but I think it's important to highlight guys like Reyes when they have killer months. He might not matter a ton to the future of the big league team, but he does matter to the entire team in Tennessee and pitching like that, he's earned it.
Number 2: Danis Correa (Tennessee, AA and Iowa, AAA): 10IP, 3.48 ERA, 3.89 FIP, 17Ks
Yet another Tennessee bullpen arm. They've had a really good month. Really good. On the surface it doesn't feel like Correa deserves to be on this list with those numbers, but I'm giving him a little break; his most recent two outings, his first since being recalled to Iowa, were kind of rough and really threw the numbers askew.  But his AA numbers were next to perfect, as he went 7 2/3 IP, striking out 14 and had a sub 2.00 ERA. Correa has a big-league fastball, and if he can settle just a little in AAA, he could be in line for an injury callup.  He's Rule V eligible, as well.  I won't blame a guy for 2 rough outings after pitching so well he earned a promotion.
Number 1: Eduarniel Nunez (South Bend A+, and Tennessee, AA): 10.1 IP, 3.48 ERA, 3.78 FIP, 17Ks
We finally move away from Tennessee (kind of) and get to Nunez. Nunez is another case of a guy whose final numbers are skewed because he had a rough start at his new level, much like Correa. Nunez, however, was even better before the promotion, as he had a 1.00 ERA in nine innings, striking out a massive 15 hitters while only walking a single batter. Those nine innings are the reason he's the Cubs MiLB Pitcher of the Month of July for me. I'll give him a pass on the AA start.  
What are your thoughts on these pitchers and their performances? How would you rank them? Leave your thoughts in the Comments below.