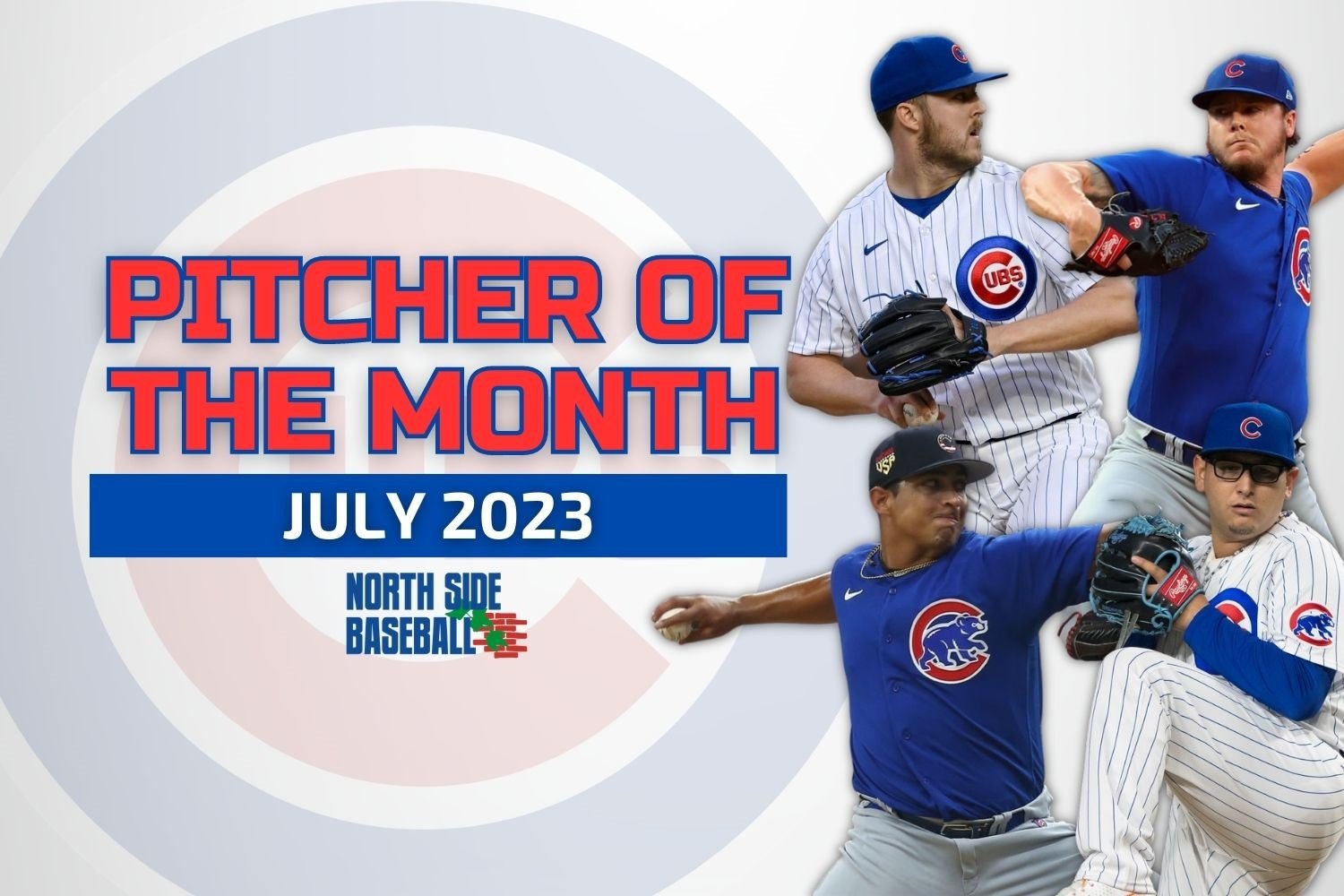 July saw another winning record from the Cubs, as they went 15-11 and flirted with climbing over the .500 mark. Their team ERA actually ballooned from 3.43 in June to 4.87 in July, which further illustrates how the Cubs offense came to play this month. The feast or famine results of the starting staff and bullpen led to some low-marks, but also some players worth celebrating.
Both starters and relievers impacted the team's success in July. Here's the list of those whose impact shone brightest:
Honorable Mention - Adbert Alzolay  - 12 G, 3.65 ERA, 1.22 WHIP, 12.1 IP, 14 H, 1 BB, 16 K
Alzolay couldn't match his epic June, but he did still save eight games with only one blown save. A 0.00 ERA for a month isn't easy to replicate, and he did appear in five more games in July. The Cubs ability to gain ground in the standings is a testament to the fact that when the game needed to be put away, Alzolay was still up to the challenge.
July Pitchers of the Month
#4. Justin Steele - 4 G, 4.44 ERA, 1.44 WHIP, 24.1 IP, 30 H,  5 BB, 24 K
Last month's pitcher of the month is now barely clinging to a spot on the list, mainly due to a shortage of starts and an inflated ERA in July. Steele still showed up as the headliner for this staff, but not to the degree he had in recent months. Opponent batting average leaped .100 points to .297 in July from .197 in June, but the Cubs still won three of the four games that Steele started. This looks more like a good month after a great month, and no doubt Steele will continue to be at the top of this list moving forward if he can stay healthy.
#3. Daniel Palencia - 9 G, 1.86 ERA, 1.03 WHIP, 9.2 IP, 7 H, 3 BB, 10 K
The young righty reliever from Venezuela made his MLB debut on July 7th and never looked back. A two-run homer to Keibert Ruiz of the Nationals was the only blemish on his ledger, and while that impacted the game, the loss definitely doesn't hang on his shoulders. 
Palencia ended up going 2-0, while navigating everything from first man out of the bullpen duty to closing out a game that lingers just beyond a save situation. No doubt this rookie will continue to be tested in the dog days of summer, but he's a weapon that the Cubs didn't have in their arsenal before July, and he's not going anywhere anytime soon.
#2. Jameson Taillon - 5 G, 2.65 ERA, 1.02 WHIP, 30.1 IP, 23 H, 8 BB, 24 K
After a horrendous May, and a mediocre June, Taillon turned on the jets to a 3-0 mark in July. His ERA lowered 1.50 after only five outings, and he held opponents to a .205 average. While three of his starts stopped in the sixth inning, his results set the Cubs up for success each and every time he took the hill. Granted, he got to face some reeling Yankees, Nationals, and Cardinals teams during July, but the results can't be ignored.
Winner: Javier Assad - 8 G, 0.47 ERA, 0.78 WHIP, 19.1 IP, 7 H, 8 BB, 20 K
July presented Javier with new opportunities out of the pen, and he kept seizing them. He held batters to a .113 average, down over .200 points from the previous month. Javier also pitched a whopping 19 innings of relief, both in keeping the Cubs in the game after a short start or in situational spots late in the game. Pride of Mexico, most of his highlight videos are in Spanish, but the stuff speaks for itself!
Another youngster, Assad has rode the option bus to and from Iowa several times this season already, but it looks like he's now one of the best, if not the best option out of the pen for the Cubs as they head into August seeking to keep climbing up the standings.
What do you think? How would you rank your top Cubs pitchers of June? Comment below.