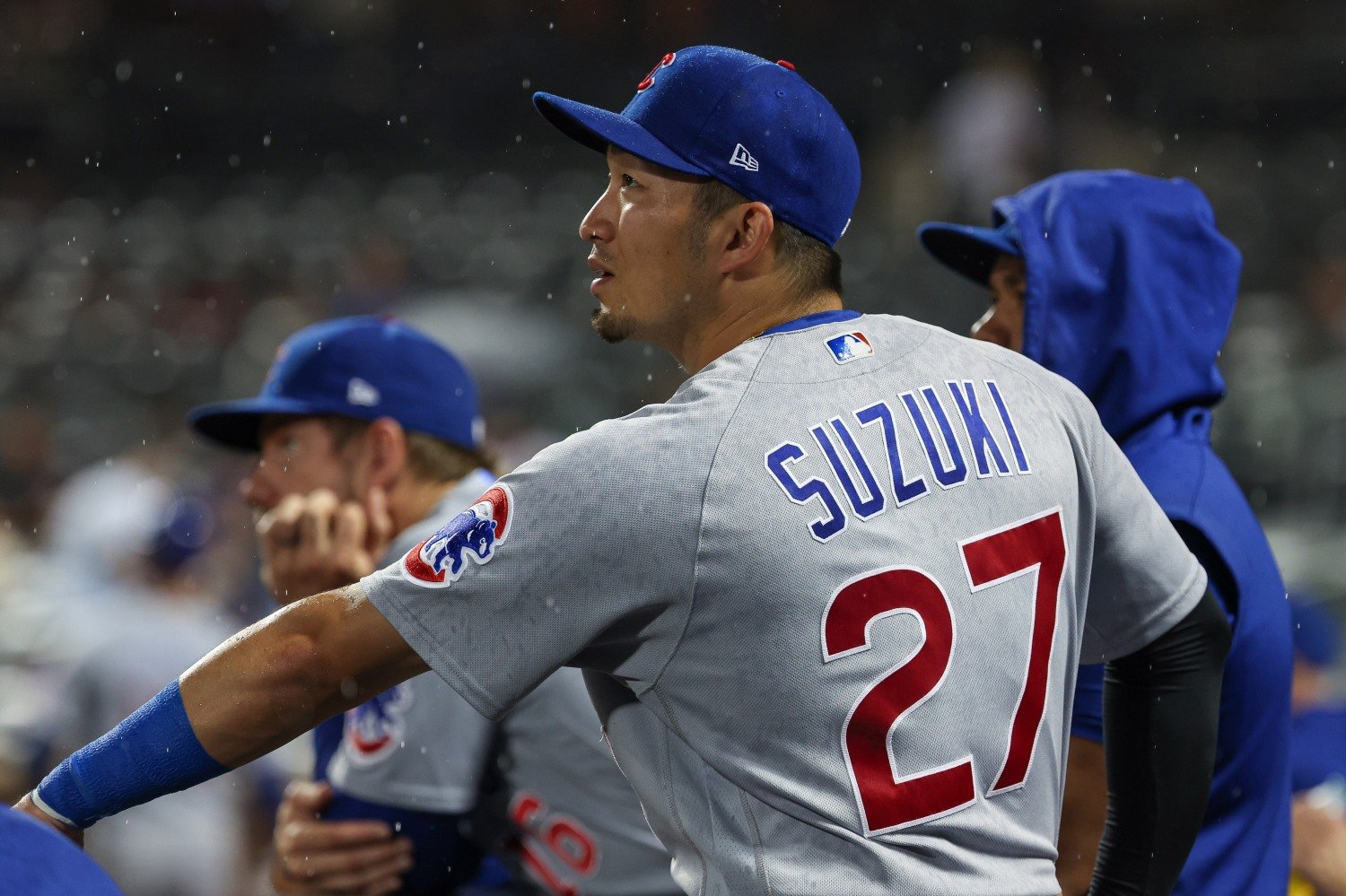 Image courtesy of © Vincent Carchietta-USA TODAY Sports
Of the seven starting lineups David Ross has drawn up since the arrival of Jeimer Candelario, only two have included Seiya Suzuki. The Cubs' incumbent right fielder has lost his regular gig, at least for the time being. Mike Tauchman has started the other five games in right, with Cody Bellinger in center field and Candelario at first base. It's awkward for everyone involved, but less than two full seasons into a five-year deal on which they spent over $100 million, Suzuki is going to have to earn and fight for playing time the rest of the way.
It took a long period of struggle to unseat Suzuki from his position. He's batted just .207/.268/.307 since June 15, and one of his three home runs during that span was against a position player pitching in a blowout. In years past, big commitments have paralyzed the Cubs when it comes to redistributing playing time, but that's not what kept Suzuki in the lineup for so long. Rather, it was a combination of a lack of better options, and the fact that Suzuki is persistently, enigmatically less than the sum of his parts. 
When the other options at first base included only Trey Mancini and Patrick Wisdom, Ross was inclined to use Bellinger there most of the time. That necessarily meant putting Tauchman in center, and left right open for Suzuki. After the team acquired Candelario, though, the constellation of possibilities shifted. Suzuki still wasn't producing at the plate, so it made sense to move him to the bench in favor of the more consistent Tauchman.
It's maddeningly difficult to pin down what's ailing Suzuki, and it feels as though he should recover at any moment, but it's been a long drought for him. Let's take a look at what's happening.
Firstly, Suzuki is undergoing a prolonged power outage. He consistently drove the ball early in the season, but that punch has faded badly as the year has progressed.
Seiya Suzuki, Average Exit Velocity Over Time, 2023
| | |
| --- | --- |
| Month | |
| April | 93.5 |
| May | 91.4 |
| June | 93.2 |
| s. July 1 | 89.7 |
That's bad, but Suzuki is the kind of hitter who can usually weather some missing pop. He draws many walks, and puts the ball in play at a pretty high rate--or at least, he used to.
Seiya Suzuki, Whiffs Per Pitch Over Time, 2023
| | |
| --- | --- |
| Month | |
| April | 8.9 |
| May | 7.5 |
| June | 6.8 |
| s. July 1 | 12.1 |
That whiff rate since the start of July is still a hair below the league average. Even going on a per-swing basis, Suzuki is only a bit worse than the average, whiffing on 28.2 percent of swings since July started, while the league whiffs on 25.8 percent of them. 
With his extremely patient approach, though, Suzuki is always going to take a lot of called strikes. He can only afford to swing and miss at even an average rate if he's doing damage when he makes contact, and recently, he simply isn't doing so. 
Our Matt Ostrowski wrote about this issue last month. Suzuki's problem is that too much of his hard contact comes on the ground, where the chance that it becomes an out is substantial and the chance that it becomes an extra-base hit is virtually nil. That's a perennial problem for him.
Right now, though, there's more going on. It looks, to me, like Suzuki is struggling with his timing and pulling off the ball too often as a result. Last year, he hit the ball to right field 33.1 percent of the time, significantly more than an average hitter. He's still capable of hammering outside pitches the other way, too. That was on display as recently as early June, in Anaheim.
This season, however, Suzuki is only using right field 19.6 percent of the time, far below the league average. It's not because he's bailing out or selling out for power; his timing is just way off. Suzuki's bat path requires him to clear his hips fairly early, to generate bat speed, but that always creates the risk (if he guesses wrong on pitch type or location, or if his rhythm is just wrong) that he'll pull off and get the ball out on the end of the bat. That results in a lot of weak contact to left and center fields, and that's exactly the problem he's run into over the last month and a half.
Fixing that kind of problem can be difficult--especially without regular reps. Alas, the Cubs can't give Suzuki those reps right now. They have to make up ground in order to claim a playoff berth, and Suzuki doesn't give them their best chance to do so, offensively. There's still a role for him. His defense has been excellent, and he clearly has utility at the plate in certain matchups and situations. Until he can demonstrate having cured his timing problems or being better able to outguess opponents, though, he'll have to try to rediscover himself in inconsistent playing time. Hopefully, the Cubs can help him smooth things out via work in the cage or during on-field BP. In the meantime, Suzuki will continue to play mostly as a platoon bat and late-game tactical substitute.
1