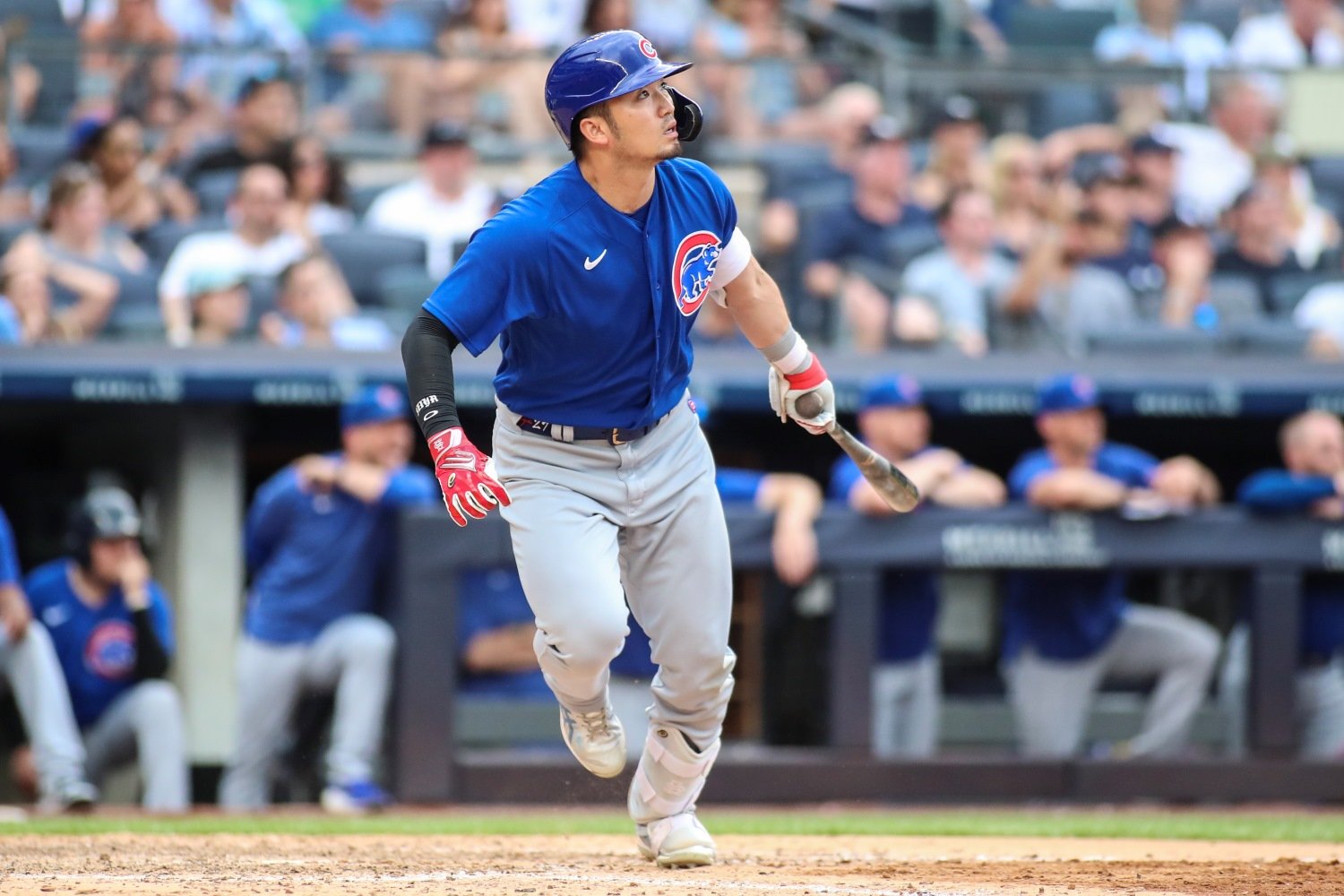 Image courtesy of © Wendell Cruz-USA TODAY Sports
When the Cubs invested $85 million in Seiya Suzuki during the 2021-2022 offseason, it was seen as a smart gamble by most. Suzuki had the potential to develop into a middle-of-the-order presence for the Cubs, while also maintaining a high floor as a player thanks to a keen batting eye.
According to Frangraphs, Suzuki has been worth about $21.8 million thus far as a Cub, which is right on par with the roughly $20.5 million that he has been compensated, thanks to his contract being slightly backloaded. There are many cries from Cubs fans out there saying that Suzuki is drastically overpaid, and has been a disappointment, but the fact of the matter is that an average annual salary of $17 million is just not that much in Major League Baseball in 2023. 
Clearly, I try to remain reasonable. Yet I also, like many, find that Suzuki still leaves much to be desired. Per Baseball Savant, Suzuki is 19th among qualified hitters in average exit velocity. He hits the ball as hard as Mike Trout, and harder than Kyle Schwarber.
Why, then, has Suzuki been roughly a league-average hitter in his two seasons with the Cubs? Among that group, Suzuki's expected slugging percentage of .390 is one of the worst. The only player in baseball in the top 50 in exit velocity with a worse expected slugging percentage is Brandon Marsh. 
The issue? Suzuki hits ground balls at 93.1 miles per hour. He also hits balls in the air at 93.1 miles per hour. His average exit velocity on ground balls is 3rd in baseball, behind ground ball enthusiast Yandy Diaz and Aaron Judge, who hits everything hard. 
His average exit velocity on balls in the air, though, is 141st in baseball, and his 10.6 degree average launch angle is 191st. Suzuki is adept at hitting the ball hard, but he is just not doing any damage in doing so because so much of that loud contact is on the ground, leading to few home runs and lots of groundouts. 
Baseball Savant also estimates that Suzuki has been worth -15 runs on pitches over the heart of the strike zone, which is 8th-worst in all of baseball. Granted, most players don't generate positive value on those pitches, but -15 runs is just not good enough for someone who was brought in to be a starting right fielder. 
He grades out at average to above-average value on pitches in the shadow, chase, and waste zones, but he just doesn't do any significant damage on pitches over the heart of the plate:
The backbone of a good hitter is here. Suzuki has the ability to hit the ball hard, and combines that with a 75th-percentile walk rate. He just doesn't hit enough of those balls in the air. As he's currently going, he is still a valuable player, but I totally understand the frustration that some fans have with him. If he can start hitting the ball in the air consistently, he could turn into one of the better hitters in baseball.