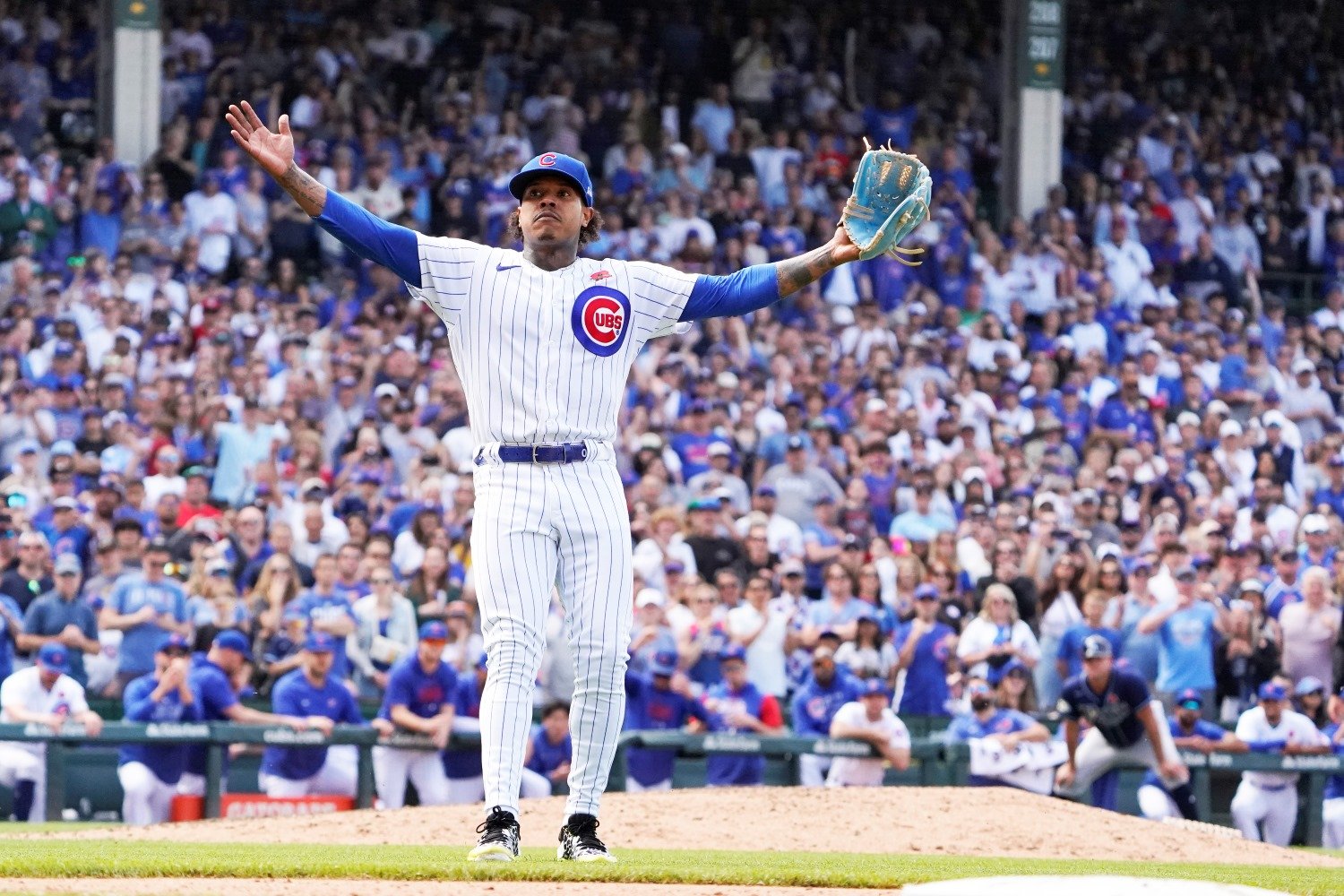 Image courtesy of © David Banks-USA TODAY Sports
Already this season, we've seen multiple reports that Marcus Stroman would prefer to sign an extension with the Cubs, rather than either being dealt at the trade deadline or hitting free agency this fall. That probably shouldn't shock us. For one thing, Stroman is already 32 years old. It makes sense for him to seek long-term security–and the big payday that comes with it–as soon as possible, rather than risk having a downturn in the second half and being less valuable than he might have hoped when the time comes to decide between his $24-million salary for 2024 or free agency. 
Because he's been given a qualifying offer in the past, Stroman also doesn't have anything to gain from being traded. The Cubs can't make him that offer this fall and limit his free-agent value artificially, even if they retain him all year. Thus, Stroman has no reason to want to go elsewhere, likely moving to a smaller market and losing the fan capital he's amassed in Chicago already.
Even with the convenient alignment of his incentives, though, it seems like Stroman feels an authentic connection to the Cubs and to Cubs fans. To watch him pitch throughout the last year, especially during home games, has been a joy. He comes up with big outs, and his outbursts of exuberance and exultation have been welcome reminders of what is missing too much of the time at Wrigley Field lately. Stroman cares deeply about winning. He relishes the passion of the fans when the game is close and the outcome matters. That's enjoyable and admirable. If the team can keep him around for a reasonable price, they ought to do it.
What's a reasonable price, though? That's the key question. Since July of last year, when Stroman returned from the injury that sidelined him for a month, he's pitched 164 ⅓ innings. His ERA is 2.57, and while his underlying numbers don't fully support that figure, it feels a bit more sustainable than those peripherals would predict. He's back to getting ground balls at a truly elite rate, for the first time since 2018. He's missing more bats than he did back in 2018, too.
Finding comparable players for Stroman is vital to estimating what it would cost to extend him, but it's not easy to do. Most pitchers who are right around his skill level are much less durable than he is. Most who are as durable as he is are either considerably worse, back-end starters, or true aces, a class to which he also still doesn't seem to belong. Worse, pitchers who do roughly approximate both his ability and his durability still feel like bad fits, because he's a unique athlete for the position. 
When the White Sox signed Lance Lynn to a two-year extension in July 2021, Lynn was pitching similarly to Stroman. He was around the same age. He didn't strike hitters out at an elite rate, but he was still well above average overall. Lynn got $38 million in new guarantees, and the equivalent to that deal now would likely be adding two years and around $40 million to Stroman's guarantee for 2024, thus making it a three-year extension.
Hyun-Jin Ryu was even more akin to Stroman, when he hit free agency after his stellar 2019. He got $80 million over four years from the Blue Jays. That seems like a more likely deal to strike, especially given the leverage Stroman has. Even Yu Darvish's lucrative new extension with the Padres is a relevant guidepost, though Darvish is older, has a different style, and signed under different circumstances than Stroman.
The problem with either comp is that neither Ryu nor Lynn remotely resembles the lithe, explosive Stroman. He's a dramatically different athlete than those guys are. That's the fact that shines through in almost any analysis of this situation one might attempt. It's important to keep in mind, always, that Stroman is a unique pitcher and person. If he and the Cubs are going to find common ground and extend their relationship beyond 2023 or 2024, it will happen because the Cubs understand that.