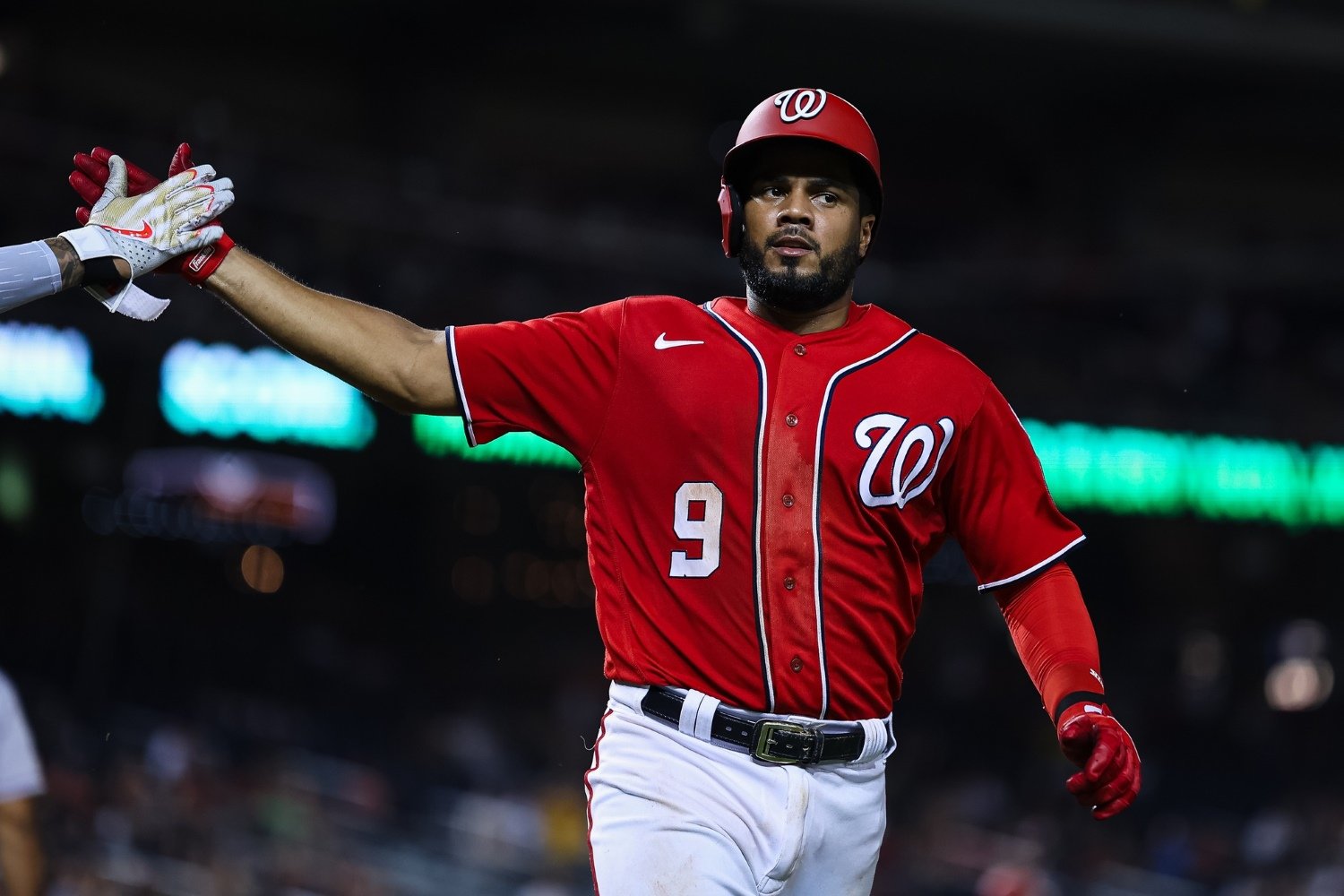 Image courtesy of Scott Taetsch-USA TODAY Sports
Six years after being traded to the Tigers, Jeimer Candelario returns to the Cubs organization, where he'll become the everyday third baseman as the Cubs pursue an NL Central crown.
Cubs acquire Jeimer Candelario from Nationals, source tells @TheAthletic.

— Ken Rosenthal (@Ken_Rosenthal) July 31, 2023
In return, the Cubs will send prospects Kevin Made and DJ Herz to Washington, according to Michael Cerami of Bleacher Nation. Herz was one of the names I mentioned in my piece about a potential Candelario trade, last week. The value makes sense. 
SOURCE: I'm hearing the Cubs are sending prospects DJ Herz and and Kevin Made for Jeimer Candelario. https://t.co/QicnRiY88i

— Michael Cerami (@Michael_Cerami) July 31, 2023
As I wrote in the aforementioned piece, Candelario is a galvanizing addition to a lineup that already led baseball in runs scored during July. His arrival only exacerbates the uncertainty around Nick Madrigal and Patrick Wisdom, but they become much less important figures, which is the point of a trade like this at this stage of a pennant race.
Candelario can credibly bat in the top half of the batting order against both lefties and righties. He adds power that Madrigal couldn't and is an on-base threat Wisdom can't be. He's a more experienced defender than either, and though defensive metrics have had a mercurial relationship with him, the eye test says he's smoother and lower-effort there than either of the incumbents. He's also enjoying one of his good years, by those inconstant numbers.
What a difference a year makes, for everyone involved in this deal. Candelario was non-tendered by the Tigers this past winter, after a brutal season in which he batted .217/.272/.361. This year, however, he's batting .258/.342/.481. On the flip side, both Made and Herz had some helium at this time last year, but neither has distinguished themselves in their tests in 2023. Each still has upside--Made as a glove-first shortstop, Herz as a stuff-over-command fourth starter or a very interesting reliever--but they're no longer the somewhat shiny objects they were a year ago.
It's funny, how nicely Candelario has grown into exactly the player he projected to be when many of us became aware of him as a Cubs farmhand over a decade ago. He draws walks, he hits more doubles than home runs, and he acquits himself in the field. He's a solidly above-average (though rarely star-caliber) third baseman, with the same shape of production one would have guessed he would provide by watching him in Tennessee or Iowa in 2016. Now, the Cubs will be the ones reaping the rewards of that successful development.