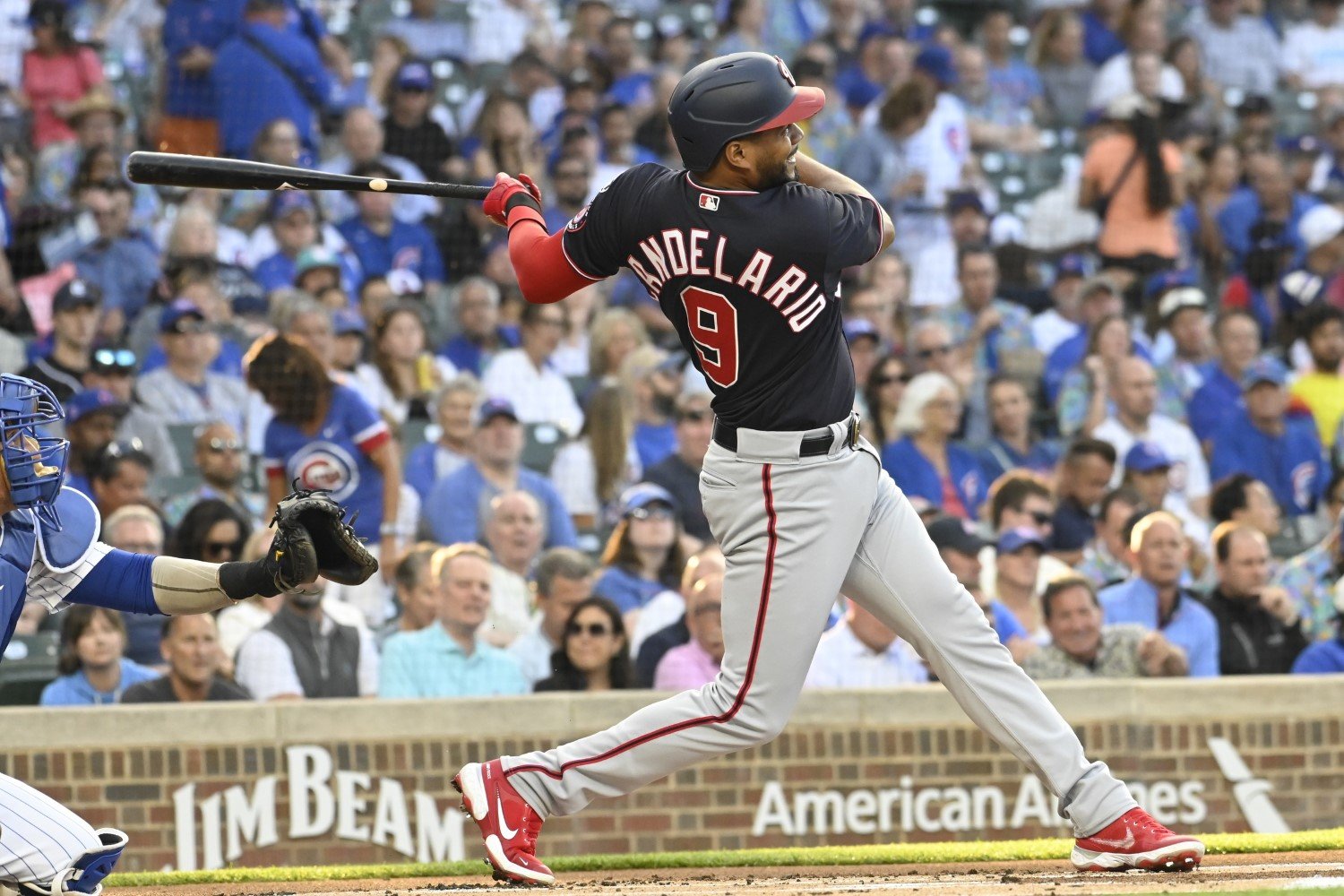 Image courtesy of © Matt Marton-USA TODAY Sports
Cody Bellinger hit so well over the last week and a half that he has simultaneously cemented himself as the best impending free-agent hitter who could be traded at this deadline, and decreased the likelihood that he actually will be. If we nix Bellinger (at least for the purposes of this discussion) as a trade candidate, then the guy who emerges as the top rental bat on the market is former Cub (and especially Cubs prospect) Jeimer Candelario.
Non-tendered by the Tigers after a miserable 2022, Candelario has regained the form he showed in 2021 this year with the Nationals. The Cubs saw just how dangerous he can be last week. He only collected three hits in 14 plate appearances during Washington's stop at Wrigley Field, but two of them left the park. On the year, he's hitting .254/.333/.474, with 27 doubles, two triples, and 15 home runs. In over 800 plate appearances in 2020-21, he batted .278/.356/.458, so this isn't a new level for him. It's just a return to what he's demonstrated the ability to do in the past.
Candelario's defense is always a bit of a Rorschach test. He gives you things to like and things to dislike, and even defensive metrics tend to give mixed or contradictory reports on him. In that way, he's not dissimilar from the Cubs' incumbents at the hot corner, Nick Madrigal, Patrick Wisdom, and Christopher Morel. By and large, though, he's looked better this year than in the last two, and he wouldn't in any way compromise the defensive phalanx the Cubs have strived to create.
Nor is it hard to see how Candelario would fit into the lineup. He's been consistently better as a left-handed batter, against right-handed pitchers, but he's not bootless against lefties, either. The batting orders in the wake of a trade for Candelario could shake out something like this:
| | | |
| --- | --- | --- |
|   | vs. RHP | vs. LHP |
| 1 | Tauchman - DH | Hoerner - 2B |
| 2 | Happ - LF | Suzuki - RF |
| 3 | Candelario - 3B | Candelario - 3B |
| 4 | Bellinger - CF | Swanson - SS |
| 5 | Suzuki - RF | Bellinger - CF |
| 6 | Swanson - SS | Happ - LF |
| 7 | Mervis - 1B | Gomes - C |
| 8 | Gomes - C | Wisdom - DH |
| 9 | Hoerner - 2B | Mancini - 1B |
The improvement in each of those, relative to the team's current options, is obvious and immense. Candelario isn't the transformational masher Cubs fans would most love to see the team find somewhere, but he's a superb lengthener of a lineup like this one. He'd give the Cubs the occasional home run, but also fit well into their perpetual plan to draw walks, hit doubles, and apply pressure by stringing together hits.
Of course, even after that encouraging weekend against the lowly Cardinals, it feels a bit odd to talk about the team landing a player who would be a true rental. Candelario will hit free agency after this season, and the Cubs would probably have to give the Nationals something commensurate with the value of a compensatory draft pick, because (like Bellinger) he's played his way from being cut by one team to being worthy of a qualifying offer from another one in less than a year. That's just to enter the bidding; the final price would have to beat the offers likely to come in from a handful of other contenders in need of an offensive boost.
Part of the price for Candelario could be one of the third basemen the Cubs have already used this year: Wisdom, Madrigal, or Morel. If it were the latter, surely, that would be all Chicago would be willing to give up, and even it would feel awfully rich. Morel's lack of a clear defensive home and his streakiness during long exchanges of adjustment with MLB pitchers make him risky to keep, but his power, speed, and overall upside make him risky to trade, especially for a short-term asset. He has five years of team control left after 2023, and won't reach arbitration eligibility until 2026 because of the Cubs' choice to keep him in Iowa for almost six weeks to start this year.
Wisdom, believe it or not, has some trade value, because he'll still have three years of team control (albeit as an over-30, arbitration-eligible slugger whose homers might inflate his earning power past his usefulness) left when this season ends. So might Madrigal, despite his ups and downs and even despite his relentless battles with injuries. Neither could carry a trade for Candelario on their own, though.
The Cubs do have a laundry list of players who make sense in a deal like this one, though. This winter, they face tough decisions about whether to add several players to their 40-man roster, or expose them to the Rule 5 Draft. These include Triple-A hitters Jake Slaughter, Luis Vazquez, and Yonathan Perlaza, and Double-A arms DJ Herz, Kohl Franklin, Richard Gallardo, Carlos Guzman, Porter Hodge, and Luke Little.
The Nationals would have to add any of those guys (or Michael Arias, whom I mentioned in yesterday's post about trading with the woebegone Royals for starter Brady Singer) to their roster this winter, too, of course, but they have much more deadweight and space on their projected roster to fit them. The Cubs could pair one of their controllable big-league pieces with one of those guys to put together a competitive offer, or go a step further and include B.J. Murray--a kind of mini-Candelario, who seems to be passing the Double-A test with flying colors in his second full pro season and who looks like an imminently useful big-league hitter. Murray doesn't need to be added to the 40-man until after next season, and would be an appealing trade chip for a Washington team trying to assemble a more competitive roster in the medium term.
That Candelario is only a short-term addition will hold his price down, even as teams vie for the right to land him. The Cubs wouldn't need to part with any of their top-tier talent to get him. Giving up Morel would really sting, but a package of Wisdom, Hodge, and Murray has some chance of getting the deal done. Again, it's bizarre to talk about trading for a rental player while trade rumors still swirl around Stroman, Bellinger, and others, but the Cubs earned themselves and their fans the right to think about it for (at least) a couple more days.