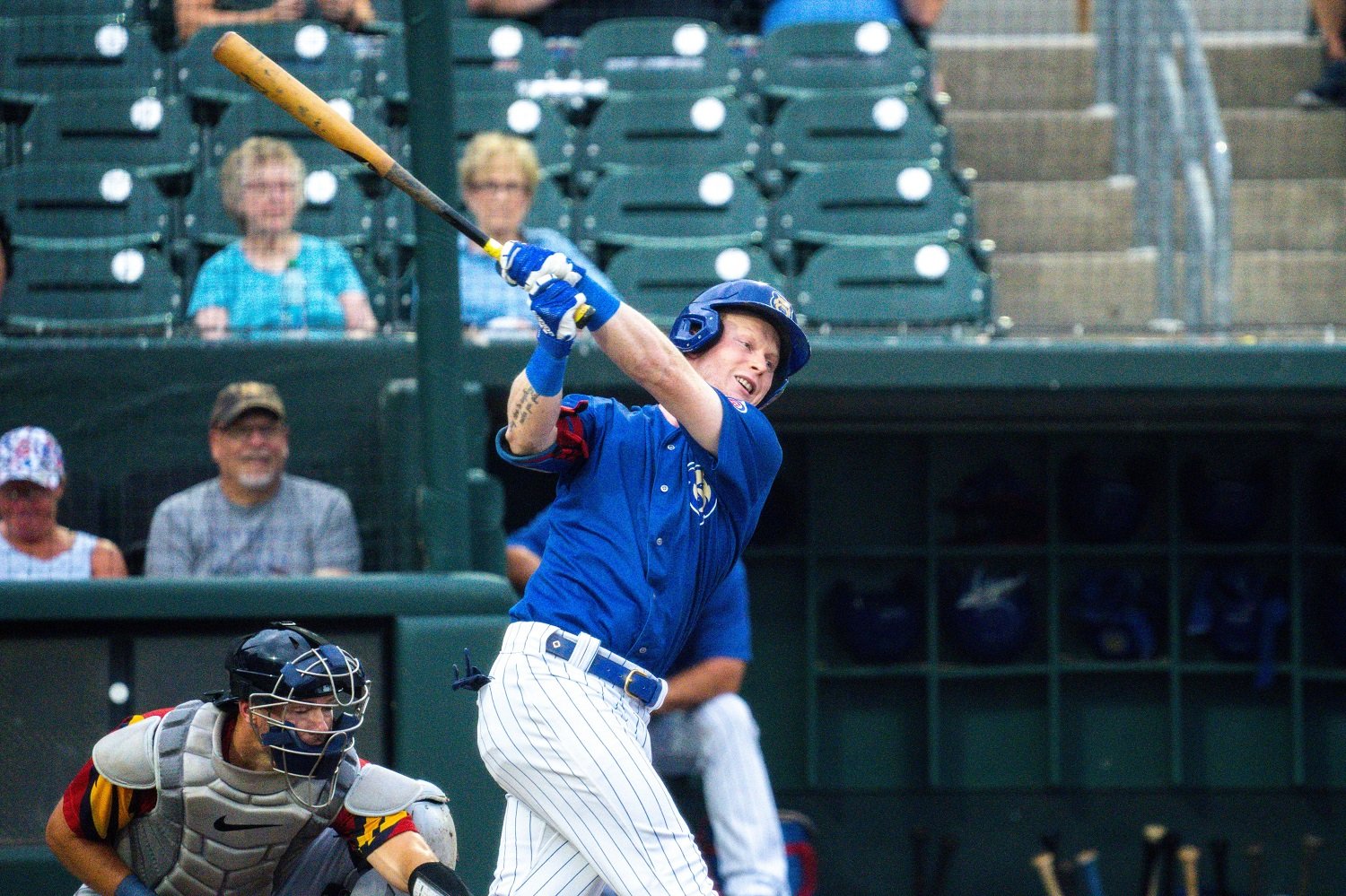 Image courtesy of Lily Smith/The Register / USA TODAY NETWORK
Pete Crow-Armstrong is the top prospect in the Chicago Cubs' farm system, and a consensus top-10 prospect in all of baseball. He's the most highly-regarded prospect the Cubs have had since the days of Kris Bryant and Javier Baez (for whom he was acquired), and seems destined to be the man who patrols center field at Wrigley for the next decade-plus. 
If you've been keeping up with scouting reports at all since the Cubs acquired him during the 2021 Trade Deadline Fire Sale, you know PCA's calling cards: defense and speed. According to MLB.com's scouting report (which merely corroborates the universal notion on PCA), Crow-Armstrong has true, top-of-the-scale 80-grade defense, and he receives similarly high marks for his speed and aggressiveness on the base paths. 
The 2023 Cubs are looking to make some noise in these final two months, indicated by their surprising deadline approach of buying the top rental bat on the market in Jeimer Candelario (and controllable reliever José Cuas). They're clearly serious about each and every roster spot—a fact highlighted by their willingness to designate Trey Mancini for assignment and swallow the remaining $10 million or so on his contract. So, assuming the Cubs remain competitive throughout August, would they actually consider using one of the two extra roster spots on their top prospect?
The last Cubs teams that were competitive certainly would have made a case for it. Before that core fell apart and was shipped off for the prospects that will define the next era of Cubs baseball, the team had an affinity for using that last roster spot on elite speed and/or defensive threats who could be used as valuable late-game substitutions. (Remember Leonys Martin in 2017, or Terrance Gore in 2018?) Crow-Armstrong fits both mini-role descriptions, and it's almost certain his bat would already be more playable than any of the other pinch-runners and defensive subs they've thrown out there in the past. 
However, there's also water to throw on this fire. Crow-Armstrong doesn't need to be added to the 40-man roster this offseason for Rule 5 protection, meaning that the Cubs can wait to do so until after the offseason to maintain maximum flexibility for their signings, trades and other prospect maneuvers over the winter. Moreover, he was only added to the Triple-A Iowa Cubs roster this week. It may be best for his development (and in the same vein, the future of the Cubs) to use this last month of the minor-league season to figure out what he needs to work on over the offseason to show up to 2024 Spring Training ready to compete for the center field job, rather than worrying about providing marginal value to a big-league team in the heat of a playoff push. All of that fails to mention that if the Cubs don't add Crow-Armstrong with one of the two extra roster spots that now constitute September call-ups, they can add another prospect banging on the door of the Major Leagues. (Luis Vasquez, Yonathan Perlaza, or Matt Mervis, anyone?)
It's probably also worth noting that this Cubs team is pretty well-equipped in center field already. Cody Bellinger is having a monstrous comeback season, and is on the heels of winning National League Player of the Month in July. He's an elite bat and defender out in center, and if Candelario is really going to take over first base full-time down the stretch, the need for Crow-Armstrong is probably mitigated.
Alas, there are different schools of thought to be applied here. There may be no player in the entire Cubs organization right now better-equipped to help this team at the margins, which becomes amplified as every game starts to mean that much more in the playoff race. But, Crow-Armstrong is still just 21 years old, and only two years removed from a major shoulder surgery that cost him virtually the entire 2021 season. 
Where the Cubs' season goes from here may ultimately answer the question on its own. If they remain competitive in the heat of the Wild Card and division race, perhaps Crow-Armstrong earns his cup of coffee in the big leagues. If the club falls out of it (or, alternatively and however improbably, if they run away with and lock up a playoff spot early), he'll probably remain in the minors until next season. Regardless, it speaks volumes to the success of this campaign—both for Crow-Armstrong and for the Cubs, as a team—that this is a discussion we'll be having for the foreseeable future.