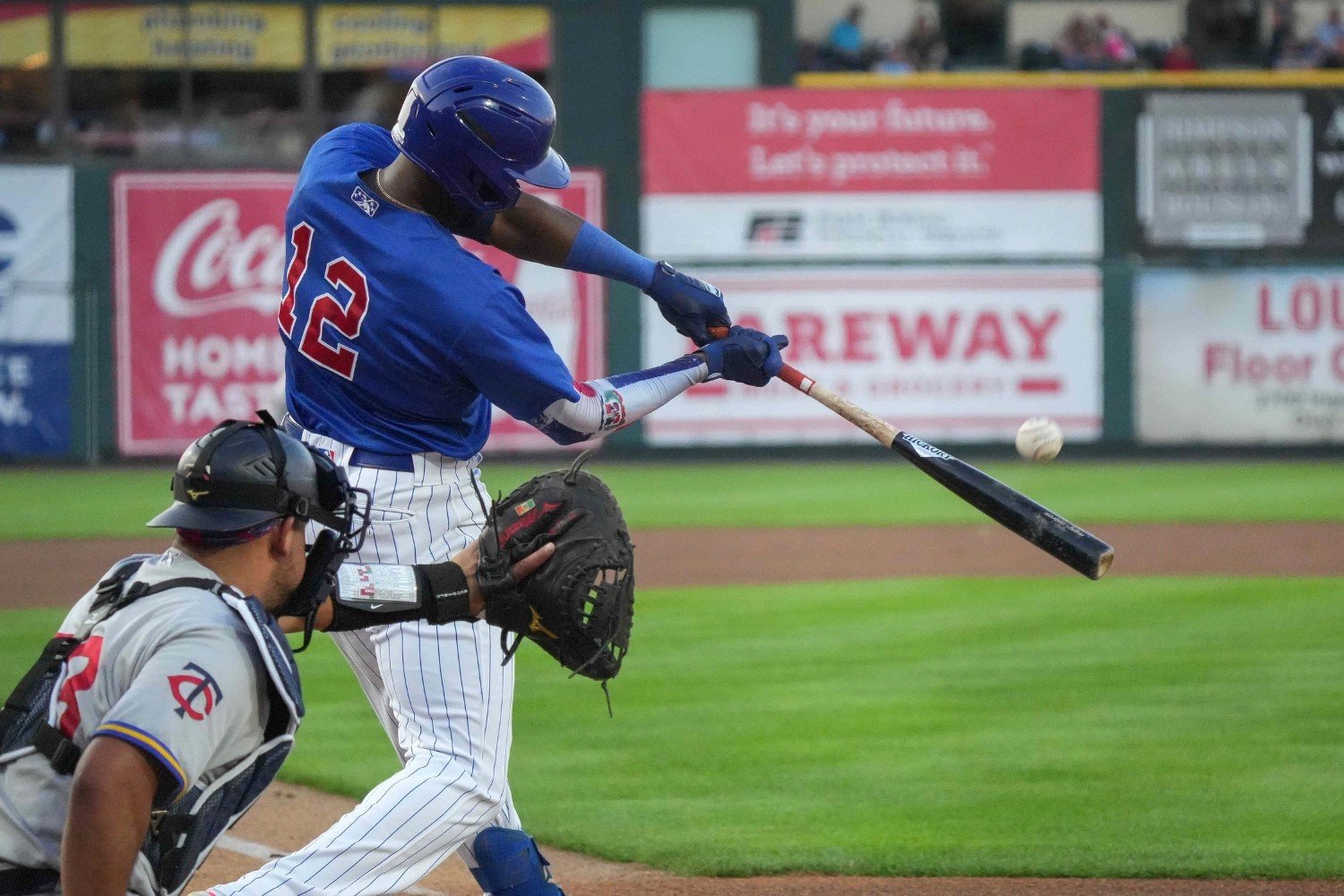 Image courtesy of © Bryon Houlgrave/The Register / USA TODAY NETWORK
Right off the bat, we should note that the Cubs will add one pitcher and one hitter once the calendar flips to September. Among the possibilities, there are some high-profile players currently on the injured list who may be healthy enough to return in time for the stretch run. That group is highlighted by a quintet of pitchers: Marcus Stroman, Brandon Hughes, Brad Boxberger, Nick Burdi, and prospect Ben Brown. The middle three in that list could prove exceptionally valuable to a bullpen that is already overtaxing its best arms, while Stroman and Brown have a chance to make some critical starts in the final series or two of the season. 
However, the 14th pitcher on the roster is not the focus for today. Instead, I want to hone in on the extra bat the Cubs will be able to add. Miraculously, the Cubs have no positional prospects on the injured list with any proximity to the major leagues at the moment, meaning that they should be able to choose among their treasure trove of talented bats at Triple-A Iowa (Brennen Davis is on the 40-man roster and currently on a rehab assignment, but he's lightyears away from his MLB debut as he tries to overcome the injuries that have plagued him this year and last). 
The case for Pete Crow-Armstrong has already been made (and in the comments on that article, the case for Matt Mervis was debated as well), and indeed, I do think PCA is the best option for the Cubs at the moment, given his elite defense, speed, and red-hot bat. However, this Cubs team isn't lacking in those departments: they rank 6th in stolen bases in the majors and have numerous gold glovers patrolling spots in both the infield and outfield. 
What these Cubs need is power. The team ranks 13th in home runs and 11th in slugging, though even those middling rankings are boosted by the 22-12 stretch the team has had since the All-Star break (which has featured more than a couple of pseudo-batting practices against opposing position players on the mound in blowouts). Assuming Mervis isn't getting the call with Jeimer Candelario blocking his path at first base, the Cubs will have a few options from among whom to pick. 
Both Yonathan Perlaza and Jake Slaughter lead the Iowa Cubs with 19 home runs, and Perlaza especially deserves a look following his breakout year (and .945 OPS). But what if the Cubs want to go for broke, throwing caution to the wind as they hunt down a Wild Card spot? I rise to speak for Alexander Canario, he of true 60-grade (or better) power and hitter of 37 home runs (across three levels) last season. 
If you've kept up at all with the farm system over the last 12 months, you know Canario's deal. He was engaged in a wicked race with Mervis for the home run crown among all minor leaguers last season, before a devastating injury in winter ball shelved him until the middle of July. There were myriad questions regarding how he'd look upon his return, as he tried to maintain the elite athleticism that generated so much easy torque and power in his swing while recovering from upper- and lower-body injuries. 
Those questions are still there, but there have been positive signs recently. Though he's posted a meager .753 OPS in 28 games (~125 at-bats) at Iowa, he's hit four homers, and they have certainly not been cheap ones. His power--his true carrying tool--is still there, even if he's working through plenty of rust and understandable timing issues. And the work he's putting in is already paying dividends: In August, Canario has hit three of his home runs and posted an .848 OPS in just 62 at-bats. 
Canario, like Perlaza, is a true corner outfielder, though his 60-grade arm (his other high-end tool) makes him better suited for right field than his Iowa teammate. PCA, meanwhile, is a center fielder through and through, though his immaculate glove will play well anywhere there's grass. 
The final consideration to this whole equation is the 40-man roster crunch: the Cubs currently have 38 players on the roster, with five more players (all pitchers) on the 60-day IL (who do not account for a spot on 40-man until they are activated off of the Injured List). Want to guess which of the three outfielders listed above is already on the 40-man? It's Canario. 
It may seem haphazard and a little short-sighted to bring a prospect who's only just returning from a career-threatening injury up to the big leagues in the midst of a playoff push, but come on. Have you seen what this guy does to baseballs? Even if only as a right-handed power bat off the bench, or a platoon or matchup protection for one of the everyday starters, Canario can offer this Cubs team some value in a space in which it's not particularly dominant. The Cubs already blew our minds by electing to buy at the deadline; why not keep the good times rolling? 
And by "good times", I mean bring moonshots like these to Clark and Addison.
1