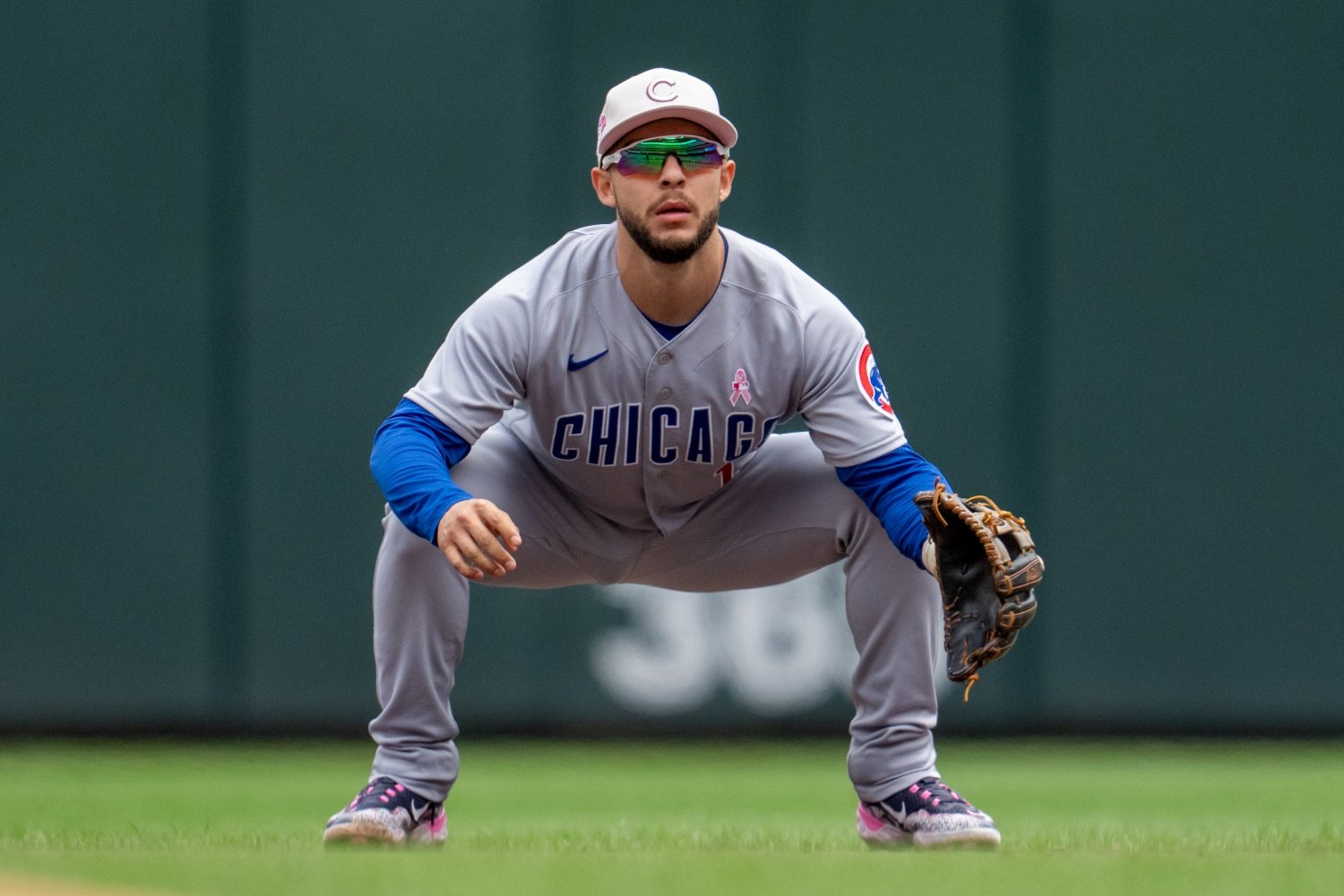 Image courtesy of © Matt Blewett-USA TODAY Sports
Nick Madrigal started the season a little bit hot. He had a .345/.387/.414 batting line through his first 31 plate appearances, and had struck out only once. Since then, though, he's batted only .203/.239/.250. In 67 plate appearances, he has eight strikeouts. That would be a fine strikeout rate for an average hitter, but Madrigal's profile relies on extraordinarily high contact rates. His dearth of power (and the resulting inability to draw walks, as pitchers hammer away at the strike zone) make every punchout a problem. 
Even as he's cooled off, though, Madrigal has played too often. During Nico Hoerner's stint on the injured list, David Ross even batted him leadoff. It's clear that Ross, perhaps due to the influence of the front office, is overly attached to Madrigal, who was the centerpiece of the trade that sent Craig Kimbrel to the White Sox in 2021. He won't stop using Madrigal. Jed Hoyer needs to take away the option. If Madrigal's playing time comes at the expense of that of Christopher Morel, Patrick Wisdom, or even Trey Mancini, it's not a well-spent resource.
Speaking of options, sending Madrigal to Triple-A Iowa is technically on the table, because he has not yet exhausted his minor-league options. The problem there is that the Cubs need 40-man roster space. They'll soon need to restore Codi Heuer to the 40-man, as he comes off the 60-day injured list. The team has too many players on the 40-man who need to be in the minors already. 
An organizational depth chart without Madrigal on it has much more room for players who have shown greater promise. Nelson Velazquez doesn't look like a replacement for Madrigal at first blush, but with Morel and Miles Mastrobuoni around to serve as utility infield options, Velazquez can take that roster spot and add better offense without hurting the defense. Alternatively, since it seems unlikely that the team will carry 24 hitters for long, they can just give Madrigal's playing time to those aforementioned hitters--including and especially Morel, whose hot streak since being called up really makes clear how redundant Madrigal is.
As impressive as Madrigal's progress as a third baseman was, he's ultimately no better there than Wisdom. He's not as good a second baseman as either Hoerner or Morel. With Cody Bellinger sidelined for a bit with his bruised knee, a plausible argument might have been made that Madrigal provided valuable infield depth, such that Mreol could patrol center field every day. With Mike Tauchman in the mix, though, that's far less important. Against most righties, in the short term, Tauchman should play center, leaving Morel to play third or be the designated hitter and keeping Mastrobuoni available off the bench.
Eric Hosmer is gone. Luis Torrens lasted less than a month. Wesneski and Keegan Thompson have been returned to Iowa to polish off their rough edges. It's clear that the front office at least wants to win this year, and to send the message that they're serious about performance and accountability. Letting go of Madrigal is a necessary step in that process.