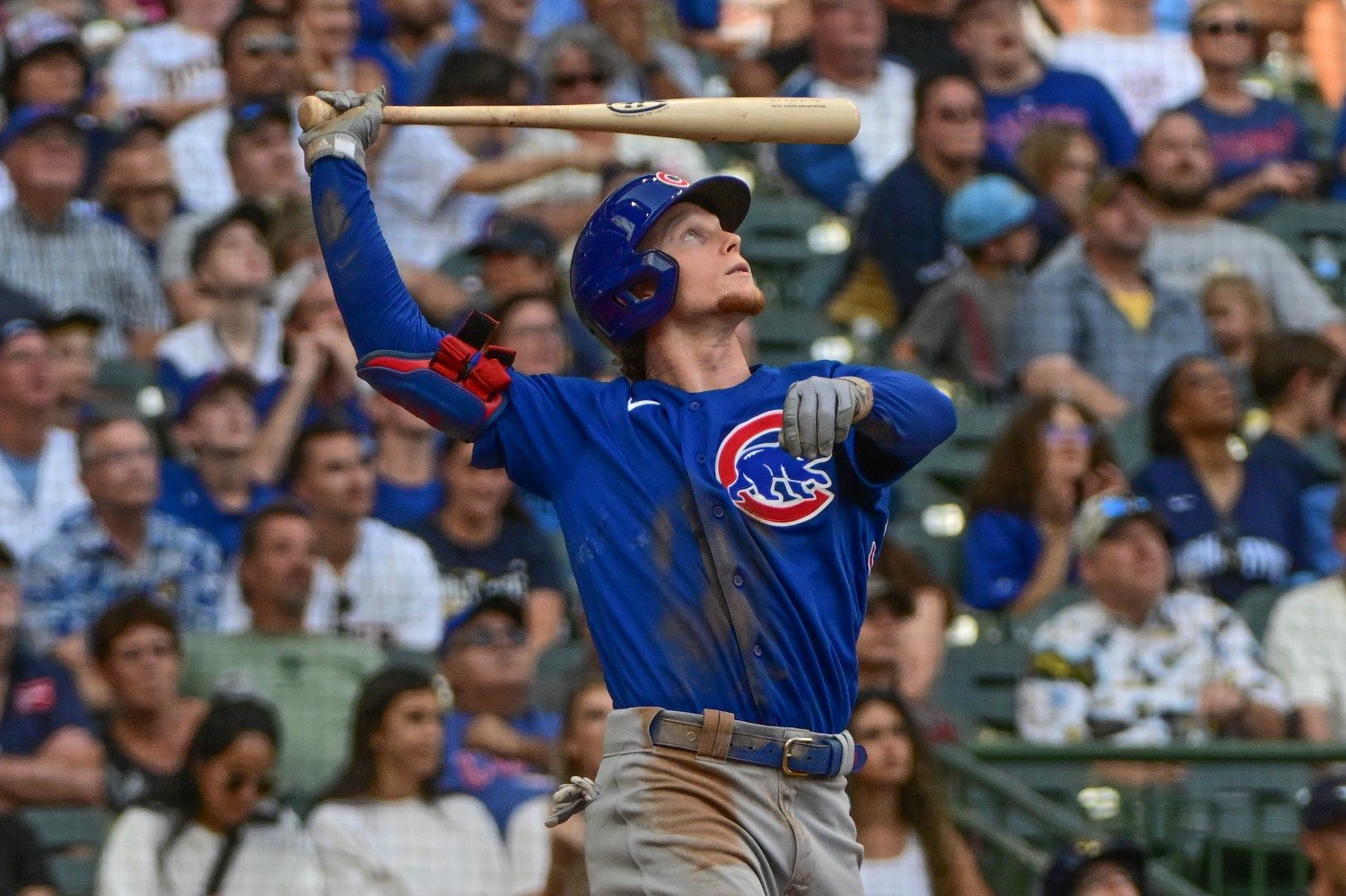 Image courtesy of © Benny Sieu-USA TODAY Sports
It's tempting to try to skip ahead, at this time of year. After the bitter disappointment of the Cubs' late-season collapse, the fan's impulse is to chase big names and start vicariously spending Tom Ricketts's ill-gotten money. That's a natural and sufficiently noble exercise, but it won't take you anywhere until you gain some clarity on what the Cubs have for 2024. Once we can say that with some confidence, we can better assess what they still need.
Here's the most plausible Opening Day lineup I can cobble together for next year's Cubs, making as few assumptions and adopting as few bold positions as possible. These are the incumbents at each of these positions, and in each of these lineup spots.
Again, there are a thousand ways to quibble with this, and it's not meant as a concrete projection of anything. It just gets us started. For instance: Can the Cubs possibly entrust Crow-Armstrong with a big-league job next spring, after he looked so overmatched and overwhelmed in his unhelpful September audition with the big-league team? It seems unfathomable that he would be batting first, at least. That, immediately, means that the team needs a hitter who slots comfortably into the top four of their lineup, pushing Crow-Armstrong down to ninth, where his defense can carry the rest of his profile.
Once you slide Crow-Armstrong down there, you can see how thin the rest of the bottom half of the unit is. Gomes is extremely likely to take a major step backward at the plate next season, given his age, his track record, and the inescapable vicissitudes of the catcher position. Madrigal's full-season batting line (.263/.311/.352) probably undersells his true talent a bit, and his contact skills and speed are valuable at the very bottom of the lineup, but you can't afford to prioritize defense at the expense of offense at this many spots, even to round out the batting order.
Some teams who have enjoyed a great deal of success recently (like the 2022 Astros and Yankees, or the 2023 Diamondbacks and Brewers) have had top-heavy lineups and glove-only guys to complete an excellent overall defense. Those teams each had at least one or two elite hitters in the heart of their order, though, and that caliber of bat is missing from the Cubs' right now. The X factor, in that regard, is Seiya Suzuki, who hit .350/.406/.667 over the final two months of the campaign. He can't be that good over a full season. If he can be anything akin to that, though, it does slightly change the equation.
At the moment, the bench would figure to consist of:
This group answers a couple of the questions about the projected lineup, but urges forward a couple of the lurking ones there, too. It sure doesn't seem like bringing back both Mastrobuoni and Madrigal for 2024 will make sense. Madrigal got hotter for longer in the middle of the season, but it's Mastrobuoni who owns the handedness edge in a potential utility role. If anything, he's shown slightly better versatility, though Madrigal's defensive chops at third base and Mastrobuoni's misadventures in limited opportunities in the outfield have closed that gap. Most importantly, Mastrobuoni has demonstrated a durability that continues to elude Madrigal. 
Amaya seems to have a safe place on the 2024 roster, and could even usurp Gomes as the starter relatively quickly. Down the stretch, it was clear that David Ross didn't really trust his rookie backstop, but they have the whole offseason and next year's convocation in Arizona to polish and instruct Amaya as a full-fledged catcher of the kind this organization prefers. 
The problem is that, the more Amaya plays, the more the Cubs will be deploying an all-or-nothing, strikeout-prone right-handed bat in the lower third of their order. That, at the very least, is a big problem for the staying power of Wisdom and Canario. The former will be arbitration-eligible this winter, with 76 home runs over the last three seasons bloating his projected earnings and an utter lack of defensive reliability narrowing the options for Ross to use him well.
In Amaya, Wisdom, Canario, Mastrobuoni, and Madrigal, the Cubs have a bunch of guys with exceptional skills in one or two areas and equally obvious shortcomings in others. That doesn't fit the construction of very many modern benches, and while our first inclination might be to shrug that off, there are a few factors militating against a specialist approach to building a supporting cast in this day and age.
The shallowness of benches. If there's a player you trust to get a hit in a big spot, but not in the field or even on the bases, you have to burn two of just four available bench options to get any utility out of that player. It was much easier to make those kinds of maneuvers in the days of seven- and eight-man benches. Those days are long gone.

Fewer position players play 160 (or even 155) games with each passing year. As a result, you want bench guys to have the capacity to step into a regular, starting role for a couple weeks or more at a time. That's much harder if those players have just one or two real strengths, and it can add an extra complication: the guy who needs a day off or a trip to the injured list might not match up with the positional competencies of the players available to replace him. 

The slow, inexorable squeeze on offense continues. The new rules that add an occasional hit on a ground ball and which have resuscitated the running game throughout the league are a nice counterbalance, but that's all they are. Strikeouts remain at an all-time high. Because of that high baseline of swing-and-miss, and because the overlong time since the last round of expansion has flooded rosters with talented pitchers who can throw strikes even with their good breaking ball, the ever-increasing athleticism of ballplayers has done more for team defense than for offense. You just can't be very valuable as even a semi-regular if you lack power, but you also can't sustain much value if you have holes in your swing, because pitchers will find them and your strikeout rate will skyrocket. The current shape of the game favors generalists, not specialists, especially among role players.
The Cubs will probably need to jettison at least one of Wisdom, Canario and Mervis this winter, just as they'll need to choose between Madrigal and Mastrobuoni. More dauntingly, they will have to replace those fungible role players with stars, or they'll continue to have an overall talent shortfall in their positional corps next season. 
Which of these fringe options would you most like to see them keep? Who do you think needs to be let go? Who else already inside the organization should figure into the lineup, barring external additions? Let us know what you're thinking, as we set the stage for the big conversations about this roster over the coming weeks and months.