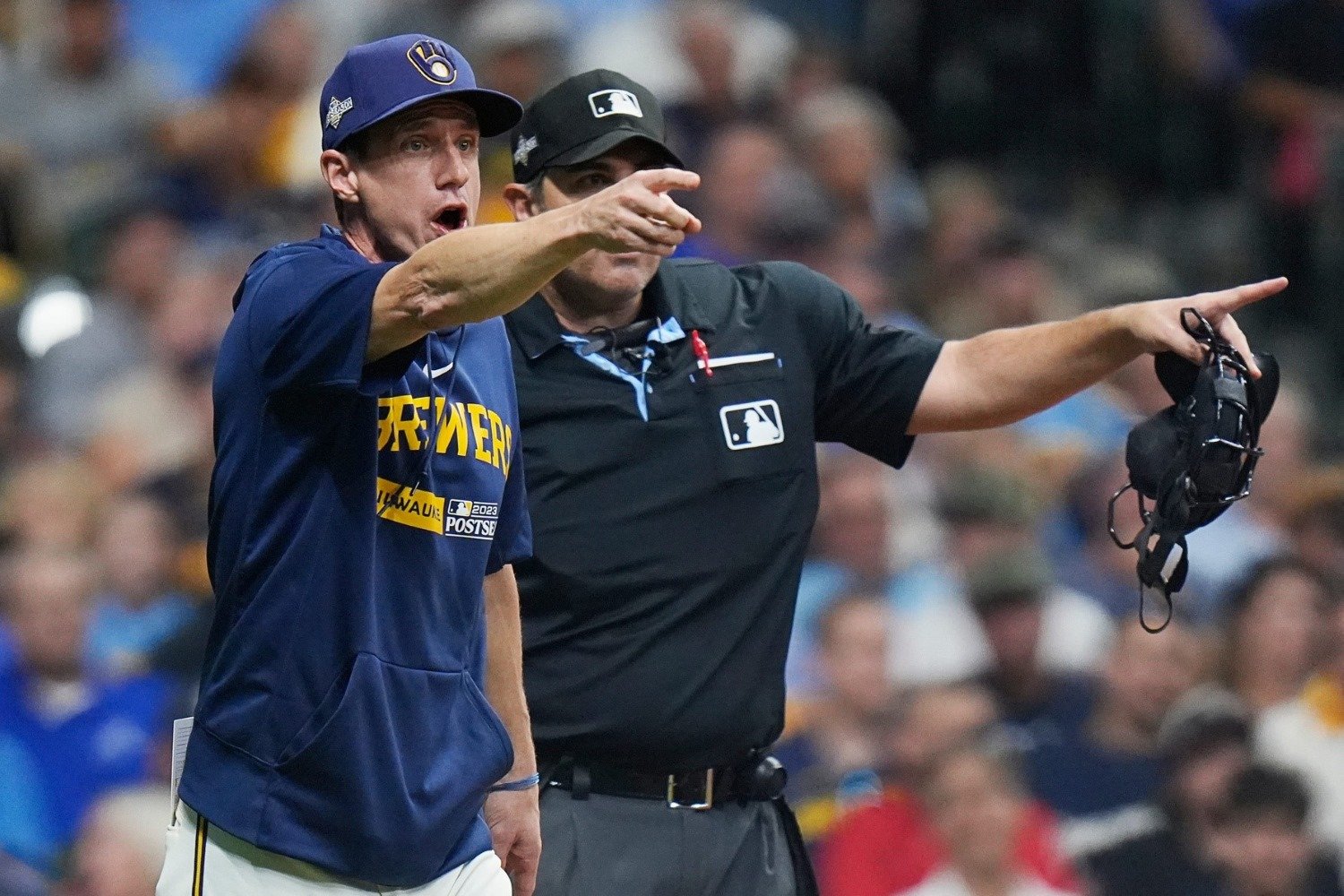 Image courtesy of © Jovanny Hernandez / Milwaukee Journal Sentinel / USA TODAY NETWORK
Jed Hoyer has, somehow, outdone and upstaged his longtime partner and mentor, Theo Epstein. When Craig Counsell became a managerial free agent last week, Hoyer quietly went to work, and he has now pulled off a managerial coup as big (in a vacuum) as the Cubs landing Joe Maddon nine years ago. Instead of plucking him from the Rays (by way of an RV park in Florida), though, Hoyer took Counsell from the Milwaukee Brewers. 
This is an enormous move, because the gulf in managerial nous between Counsell and David Ross is as wide as that between Maddon and Rick Renteria was. Year after year, the Brewers have overperformed their run differentials and their raw talent levels under Counsell. He's guided them to impressively strong finishes, and he manages the in-game decisions better than any other active skipper. Even without making material improvements to the roster itself (which are and should still be expected), this change makes the Cubs significantly better. They're now the favorites to win the NL Central in 2024, and with the right moves, they should be taken seriously as World Series contenders.
Admittedly, as was the case with Renteria, this is a somewhat cruel denouement for Ross. As we've discussed several times on this site in the last eight months, though, Ross just wasn't ever going to be the guy who got this team back over the hump. He's a great baseball person and an asset to a big-league organization, but not a good manager. Counsell is, arguably, the very best manager in baseball. This changes everything.
Ken Rosenthal reports that Counsell will make more than $40 million on a five-year guaranteed contract. That's an unprecedented combination of lucrative and lengthy, but it's exactly what we should have expected, based on the fact that the Cubs are actively displacing a low-grade franchise icon in order to land him and that he had the opportunity to sell his services to the highest bidders.
Counsell getting five-year contract from Cubs worth more than $40M, league sources tell @TheAthletic. Will be highest-paid manager.

— Ken Rosenthal (@Ken_Rosenthal) November 6, 2023
A move this grand can't help but have a massive effect on the plan for the rest of this offseason. The Cubs were already expected to spend fairly significant money and push past at least one tier of the competitive-balance tax thresholds. While Counsell's success all came in a market so small as to head off most major free-agent outlays, you have to think some high-profile stars will have interest in coming to play under a skipper with this much star power. It just got easier and more urgent that the team spend major resources to get better in the short and medium term, and it's unlikely that the team would have made this change if they didn't think it facilitates that kind of ambitious movement.
The Cubs didn't just beat the market, here. They're creating a wholly new one, as Counsell told confidants he wanted to do all along. We live in an era of persistently diminishing influence and prestige for managers, and that's been reflected in the fact that their pay hasn't increased as much as those of either players or front office personnel over the last 20 years. This goes some way toward changing that.
The Brewers offered Craig Counsell in the neighborhood of $5.5 million per season, which would have easily made him the highest-paid manager in MLB.

Everyone expected the Mets to throw $7 million per season (or more) at Counsell.

No one expected the Cubs to do so.

Wow.

— Todd Rosiak (@Todd_Rosiak) November 6, 2023
What moves does this make you hope to see? How many wins better did the Cubs just get, instantly? Can't wait to talk about it more.