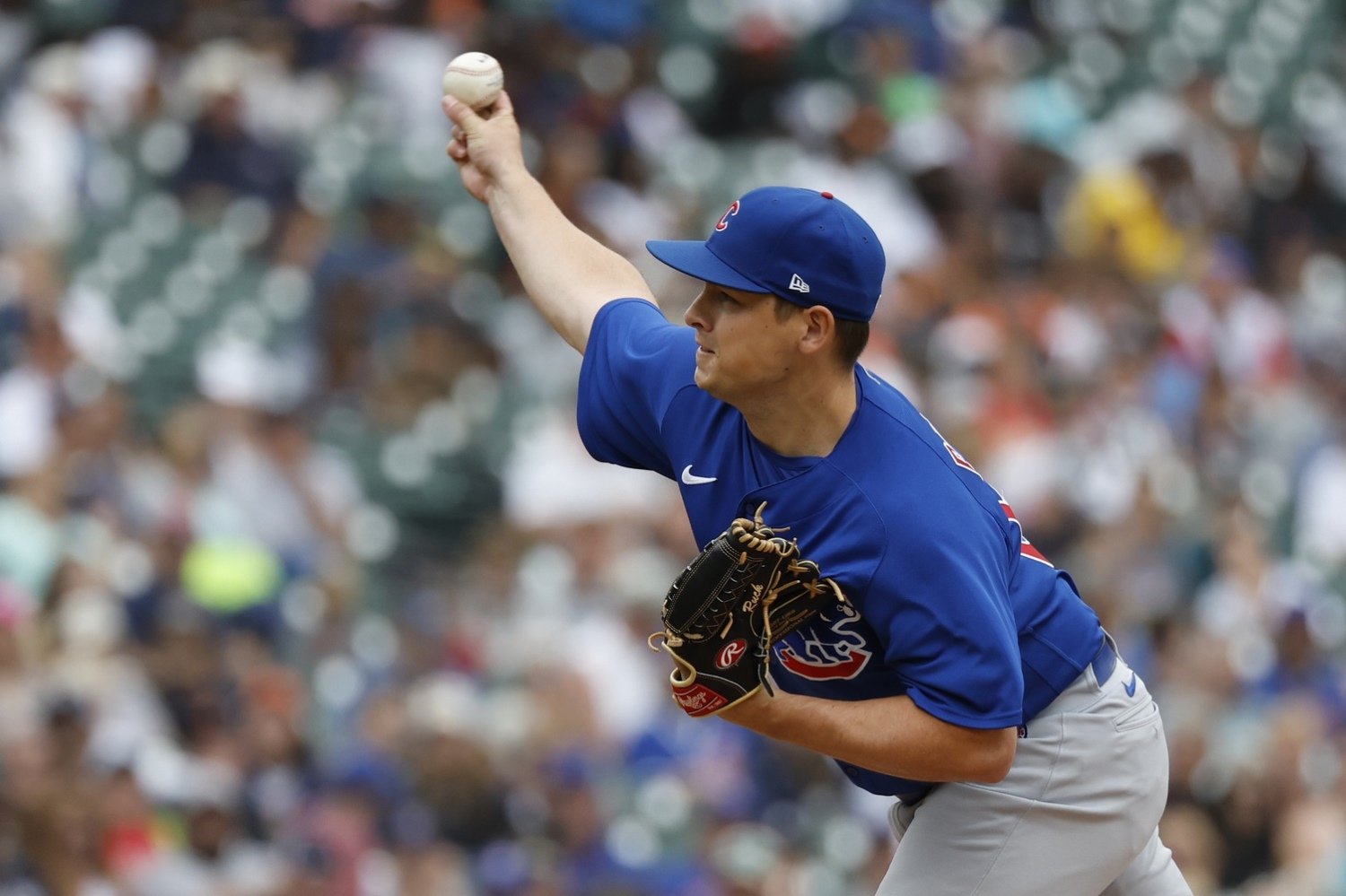 Image courtesy of © Rick Osentoski-USA TODAY Sports
It felt almost like David Ross quietly decided to make this week's pit stop in the Motor City a breather for a team breathlessly racing toward the finish in the race for the NL Central. Joe Maddon used to declare American Legion Week at roughly this time of year, with enforced late arrivals for the players and minimal pregame work. Neither Ross's personality nor that of the team he's leading this year quite jibes with that gimmick, but this was something close.
We've already discussed the decision to start Drew Smyly, at length. Just as much as sending him out there to open things, though, Ross's decision to let Smyly take the mound again for the fourth inning after the Cubs came back early on Tuesday night signaled that he was willing to lose that game in exchange for resting his bullpen a bit. He demonstrated the same thing Wednesday, when he brought Michael Rucker into a tie game in the sixth and let him face five batters, going into the seventh.
Using Rucker in such a pivotal situation drew some raised eyebrows, and rightfully so. Of the 175 pitchers who have made at least 31 relief appearances this year, Rucker has the lowest average Leverage Index (LI, a stat capturing the importance of various game situations, where 1.0 is average and higher means more important), at 0.343. We can safely say that Ross would not have called upon Rucker in such an important moment if he weren't operating somewhat outside his usual paradigm.
This is a good time to talk about the way Ross uses his bullpen again, because it's one of the places where he departs most strikingly from other managers--and one of the interesting ways that his tendencies interact with the roster the front office has given him this season. I wrote quite a bit about Ross and his relief corps in April and May, including pieces on how the team seemed to love multi-inning firemen; Ross's penchant for chasing wins by inserting high-leverage guys into games in which the team trails; and the unusual depth of Cubs relievers' pitch mixes. Much has changed since then.
Read those pieces from the spring, and Keegan Thompson and Brad Boxberger pop up often. Everyone was waiting for the return of Brandon Hughes (or the full-strength version of him, at least). Adbert Alzolay was not yet seen as a pitcher with a defined role, let alone the top job in the bullpen. Some of the decisions Ross has made with this unit, to be sure, have merely been responses to exigencies like injury and poor performance.
Nonetheless, we can say some things with confidence, now. One of them is this: Ross runs a flatter, less hierarchical bullpen than almost any other manager in baseball. Consider a quick comparison between the Cubs and their two rivals for the NL Central crown, the Brewers and Reds. In Milwaukee, Craig Counsell uses Devin Williams in every make-or-break situation, but reserves him in anything that doesn't quite rise to that level. Williams has the highest average Leverage Index in MLB. Joel Payamps and Elvis Peguero had to work their way from peripheral roles to their current high-leverage jobs, but even so, they rank 64th and 71st on the LI leaderboard. (Remember, there are 175 pitchers on the list, overall.)
David Bell and the Reds have been, if anything, even more aggressive. Alexis Diaz ranks third in LI, with Lucas Sims 20th, Ian Gibaut 56th, Buck Farmer 85th, and Alex Young 112th. That's five relievers with an average LI of at least 1.098. (If it seems odd to you to see an above-average LI at a below-average position on this list of 175, remember that it's only including guys who have made at least 31 appearances. For the most part, pitchers who can't be trusted in at least medium-leverage situations won't accrue that much playing time. They spend much of their season on shuttles to Triple A.)
Ross's Cubs make a sharp contrast with those two teams. Alzolay ranks 48th in LI for the year, and even if you eliminate the time before he became the closer, he'd still have an average that would fit around 20th on the list. Mark Leiter Jr. is 87th. Michael Fulmer is 98th. Julian Merryweather ranks 142nd, with an LI of 0.897. Part of that equation is that, on average, the Cubs have faced slightly lower-leverage relief situations than have the Reds or Brewers, but another part is that Ross simply doesn't have the same partitions between trusted and untrusted relievers that most of his brethren do. 
He still has a group in which he is most confident, and right now, it's the four named above. With Ross, though, those guys are going to get turns coming in even when the Cubs have a narrow deficit, rather than a narrow lead. He tries to keep close games close, in a way most modern managers eschew, even though it can mean that less talented, less trusted pitchers have to cobble together the innings to win a game every now and then. Rucker is as low-leverage a reliever as they come, but only if he's compared solely to other pitchers who have stuck in their club's bullpen for most of the season. 
This isn't going to change, in all likelihood, over the final six weeks of the season. It's just going to gently evolve. Smyly might return to the bullpen, having been soundly thwacked in his bid to re-join the rotation. Some of the injured guys whom the team has badly missed are poised to return. There could be more help coming from Iowa. Ross will fit the new pieces in, but he'll still seek matchups he likes, and he'll still ask the relievers he likes best to do some things they wouldn't be asked to do on other teams. If they meet the challenge, though, there could be considerable payoff for that gambit.