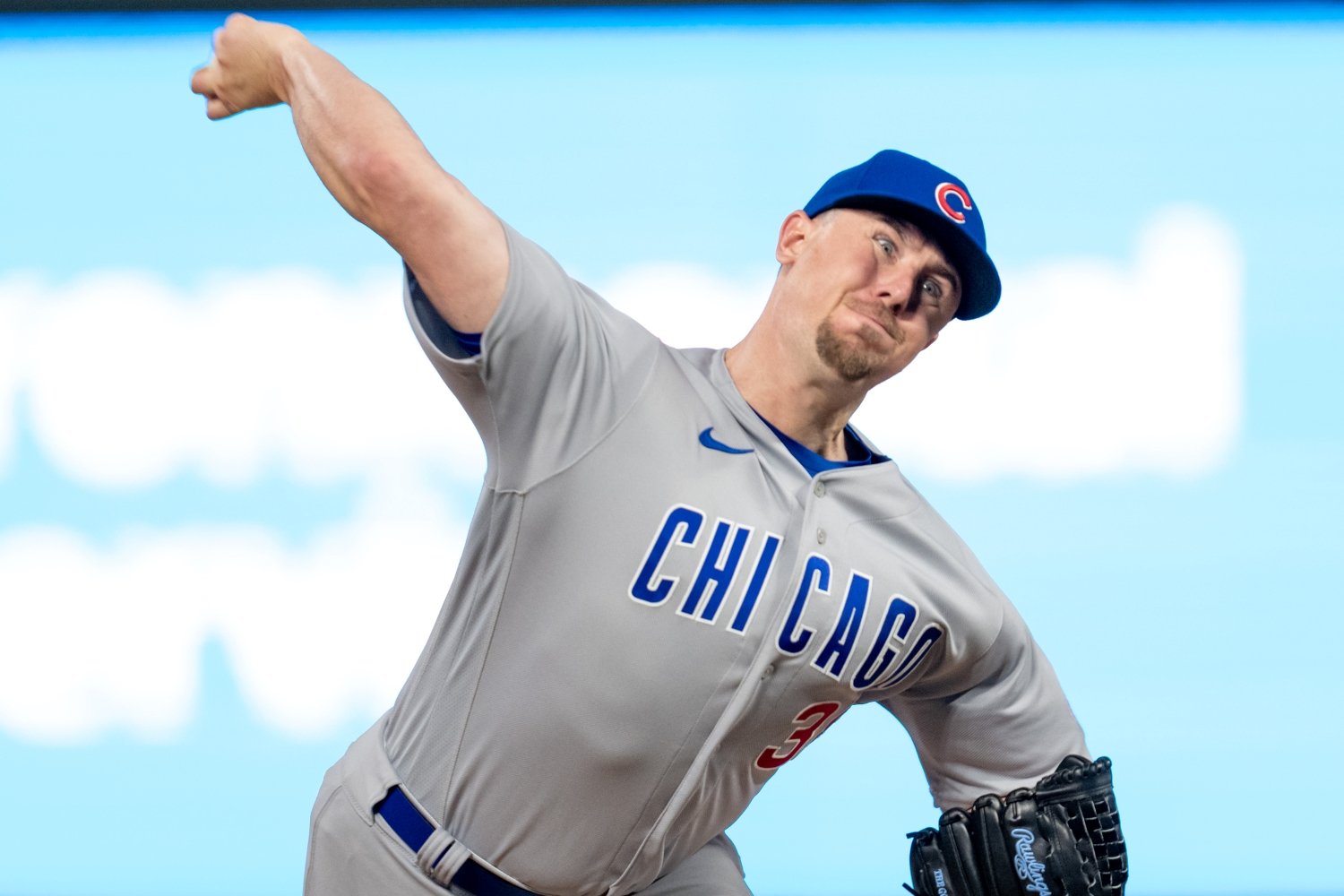 Image courtesy of © Matt Blewett-USA TODAY Sports
Watching the Cubs pitching staff in 2023 would give a novice fan all the wrong ideas about how the typical team approaches the craft. Friday night was a perfect example. For six innings, Drew Smyly stood out there and mixed spike curveballs with riding two-seam fastballs. He threw a small handful of cutters, but he efficiently carved through the Twins lineup using almost nothing but his unique fastball and curve. 
When Smyly yielded to Adbert Alzolay, though, things turned inside-out. Alzolay, the hard-throwing reliever, used five different offerings in his 22-pitch, two-inning appearance. Mark Leiter, Jr. closed out the 6-2 Chicago win, and needed only eight pitches to do so, but he still threw four different pitch types. This is the bizarre experience of facing the Cubs, for opposing teams. Smyly and Justin Steele are, give or take, two-pitch starters. Almost everyone in the bullpen, though, has a repertoire that would be considered deep even if they were starters.
Alzolay throws a four-seamer, a sinker, a cutter, a traditional slider, a sweeper, and (not seen Friday night) a changeup. Leiter throws his sinker and splitter most of the time, but mixes in a cutter, a four-seamer, and a big, slow curveball to keep hitters from sitting on either of those pitches. Keegan Thompson has virtually scrapped his changeup this year, which brings him down to a measly four-pitch mix: four-seamer, cutter, slider, curveball. Michael Rucker still uses his change, and has the same suite of other stuff as Thompson. Javier Assad goes cutter, four-seamer, sinker, slider, curve, and change. Michael Fulmer has the cutter, the four-seamer, the sinker, a new sweeper, and a changeup.
Yes, there are a couple of traditional relievers out there. The Cubs didn't get ahold of Brad Boxberger and immediately demand that he throw two new pitches, and Julian Merryweather is that archetypal fastball-slider guy--although he also leans on a changeup against certain lefties, and he's added a sweeper this year in lieu of his old curveball. Brandon Hughes, gifted with such an incredible slider, really is just a two-pitch guy, plus the occasional sinker to run in on the hands of a lefty and keep them from diving out over the plate after that breaking ball. As the season goes on, the team might call upon some hurlers currently at Iowa who would be more familiar in their styles to fans who observed the 2010s closely.
In reality, though, the age of that kind of reliever is slowly coming to its end. Hitters are getting too good. Only the few pitchers blessed with a truly devastating pitch or two will be able to get outs with sufficient consistency while using that limited an arsenal. Most guys, instead, will start to look more like the Cubs' relievers do. It will probably always be rare for a reliever to have five distinct pitches, as several of these arms do, but even in relief, you're often going to need three pitches you can throw to lefties, and three you can throw to righties. That's more true than ever because of the three-batter minimum rule, of course, but it would be true even without that constraint in place.
If I'm right about the direction of the game's evolution, then the Cubs are ahead of the curve. Every reliever is a failed starter, in some sense, but not every one of them gets to that point the same way. The Cubs have a handful of guys who, via their various paths, arrived at a certain readiness to work in relief, but who felt (correctly, it seems) that they would be better even in that role if they held onto most of their repertoire, or even added a new wrinkle to it.
This puts huge pressure on the team's catchers, and on Tommy Hottovy and the rest of the pitching support infrastructure. The knowledge of each reliever's repertoire that is necessary to get this particular unit humming and thrumming at full capacity is massive, and it speaks well of Yan Gomes and Tucker Barnhart (the latter of whom, for all we might malign his lack of any offensive value, seems to be a great fit for this particular challenge) that it's worked so well. If, as the season wears on, the Cubs call up Miguel Amaya for a longer stay and utilize three catchers in some kind of rotation (as they did in 2015 and 2016), we shouldn't be surprised. That might be the best way to use the final spot on their bench, in fact--making the parting of ways between the team and Eric Hosmer a little more likely.
The front office has caught some flak for the fact that they were less aggressive in signing established big-league relievers this winter than in previous ones. That's a fair criticism, given that the Cubs have lost some close games in the early going and that David Ross has not always used this farrago of a bullpen to its greatest possible effect. Still, especially considering the broader context of the offseason (where they spent over $75 million for 2023 alone on Dansby Swanson, Cody Bellinger, Trey Mancini, Jameson Taillon, and Smyly, in addition to other, smaller moves), it's equally fair to give Jed Hoyer and Carter Hawkins some props. They, along with their coaching and player-development staff, have found a creative new avenue to building a good bullpen: forcing the other team to roll a die in order to guess right on a pitch, instead of just flipping a coin.