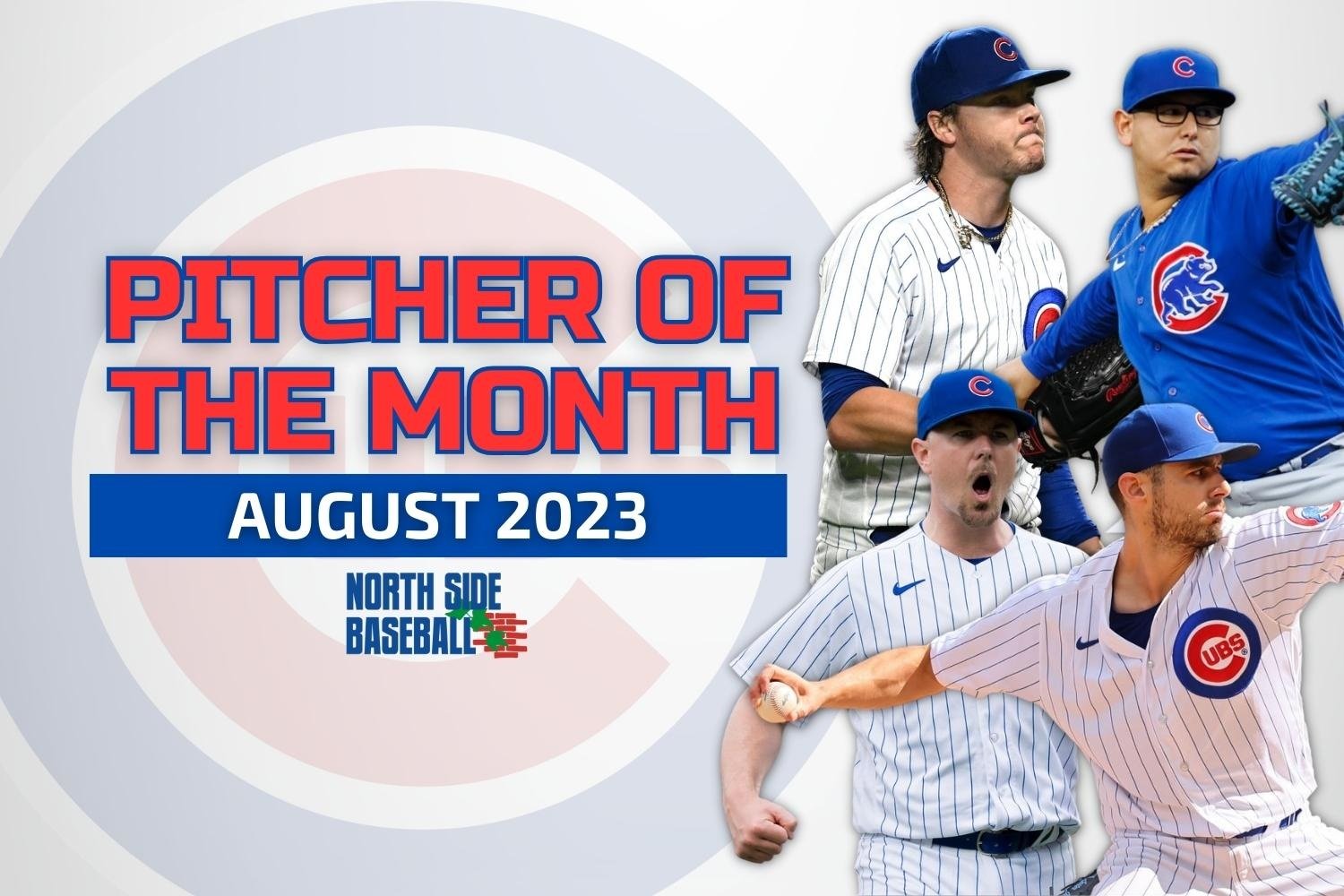 The Cubs went a scorching 18-9 in August, further solidifying themselves in the Wild Card race and garnering a legitimate shot at the division crown. The team also posted a 4.28 ERA throughout the month, good for 14th in the league. It wasn't a dominant month from the mound, but the pitching staff is doing enough to keep the team in games. 
While… ahem, certain players won't be appearing on this list, there were a number of candidates for the six slots below. Also note that, though they didn't appear enough times to deserve serious consideration, it was amazing to see the debut of Jordan Wicks and the revival of Keegan Thompson this month. Those two developments could prove to be as important as any down the stretch. 
Honorable Mention: Kyle Hendricks - 6 Games Started, 33 IP, 4.09 ERA, 26 Strikeouts, 8 Walks
Hendricks logged the second most innings of any pitcher on the staff this month, providing crucial competence to a rotation that is attempting to withstand the ebbs and flows of Jameson Taillon and the prolonged injury to Marcus Stroman (not to mention the utter implosion of Drew Smyly). He's not giving the team as many Cy Young-caliber performances as the Hendricks of old did, but at this point, he's probably the team's number two starter in a playoff series.
Honorable Mention #2: José Cuas - 10 Appearances, 11 IP, 0.82 ERA, 7 Ks, 10 BB
Cuas has been sneakily dominant this month, posting the lowest ERA of anyone on the team with at least three appearances. He's gotten it done despite a middling strikeout rate (5.7 K/9 in August) and alarming walk rate (8.2 BB/9 in August), but results are results. Nelson Velasquez has been doing well over in Kansas City, but so far this trade looks like a win-win for both sides. 
#4: Justin Steele - 6 GS, 34.1 IP, 3.41 ERA, 41 Ks, 7 BB
The fact that this was a "down" month for the Cubs' homegrown ace should tell you all you need to know about the season Steele is having. He probably cost himself a real shot at the Cy Young over the last 30 days, but that's more by virtue of how crowded the field is than a reflection of any true struggles on Steele's end (though that recent shutout performance against the Brewers may have reopened the door). 
Yet again Steele made all six of his scheduled starts and the Cubs posted a flawless 6-0 record in those games. He may not fit the bill of a traditional rotation leader, but Steele has been the most dependable starter on this team since Opening Day (save for maybe a brief hot stretch early in the year from Marcus Stroman). He'll start Game 1 of any playoff series the Cubs make it to - and given the way things have gone this year for Steele, the Cubs have to like their odds when that game rolls around. 
#3: Julian Merryweather - 13 App., 14 IP, 1.93 ERA, 21 Ks, 4 BB
With Michael Fulmer on the IL, Merryweather is now the set-up man to Adbert Alzolay. That may not be the most comforting sentence in the world, but Merryweather has been nothing short of excellent since April, and he's got his season-long ERA down to 3.30 in 60 innings. He's the most prolific strikeout artist the Cubs have out of the bullpen, and his steadily improving walk rate (2.6 BB/9 in August) is turning him into a true weapon.
It remains to-be-seen just how much David Ross trusts Merryweather as his workload skyrockets and the games become more and more important, but he's clearly one of the best relievers on the team. If anything should happen to Alzolay, Merryweather should be next in line for the closer's gig. 
#2: Mark Leiter Jr. - 14 App., 12 IP, 2.25 ERA, 17 Ks, 4 BB
Good lord - is this guy good or what? Just another stellar month in the bag for the man who is simply unstoppable right now, as I dove into more here. His season ERA is down to 2.84, and he's working a healthy 3.89 K/BB ratio to back it up. 
Leiter Jr. is nails against lefties, and his season slash line against them this year is something to behold: lefties are hitting just .148/.223/.261 against Leiter Jr. in 2023. His splitter is among the best pitches in baseball right now, and the Cubs have helped unlock the rest of his arsenal that plays off of it. The only reason he isn't treated as a more traditional set-up man is because he's really the bullpen's only weapon against left-handed hitters (at least until Luke Little is called up), but make no mistake that's he as crucial to this team's success as any reliever they have. 
Oh, and enjoy some highlights while you're here:
#1: Javier Assad - 5 GS, 29 IP, 2.48 ERA, 20 Ks, 9 BB
What else can you say about Assad at this point? He won our Pitcher of the Month last month for his work in long relief, and now he's done it again as the team's best starting pitcher in the month of August. 
He's doing it on the back of extraordinary contact management (.198 batting average against in August) and limiting walks (2.8 BB/9 in August). There's no one pitch in his arsenal that's carrying him, but the repertoire is so diverse that everything plays up anyways. The Cubs will want to watch his workload (already at 79 innings pitched this year) as they enter the final month of the season, but Assad is too important to the entire operation to be limited in any meaningful way. There are a ton of players having big seasons for the Cubs on the mound (Steele, Leiter Jr., Alzolay, etc.), but it's the emergence of Javier Assad that stands above the rest again. 
What do you think? How would you rank your top Cubs pitchers of August? Comment below.