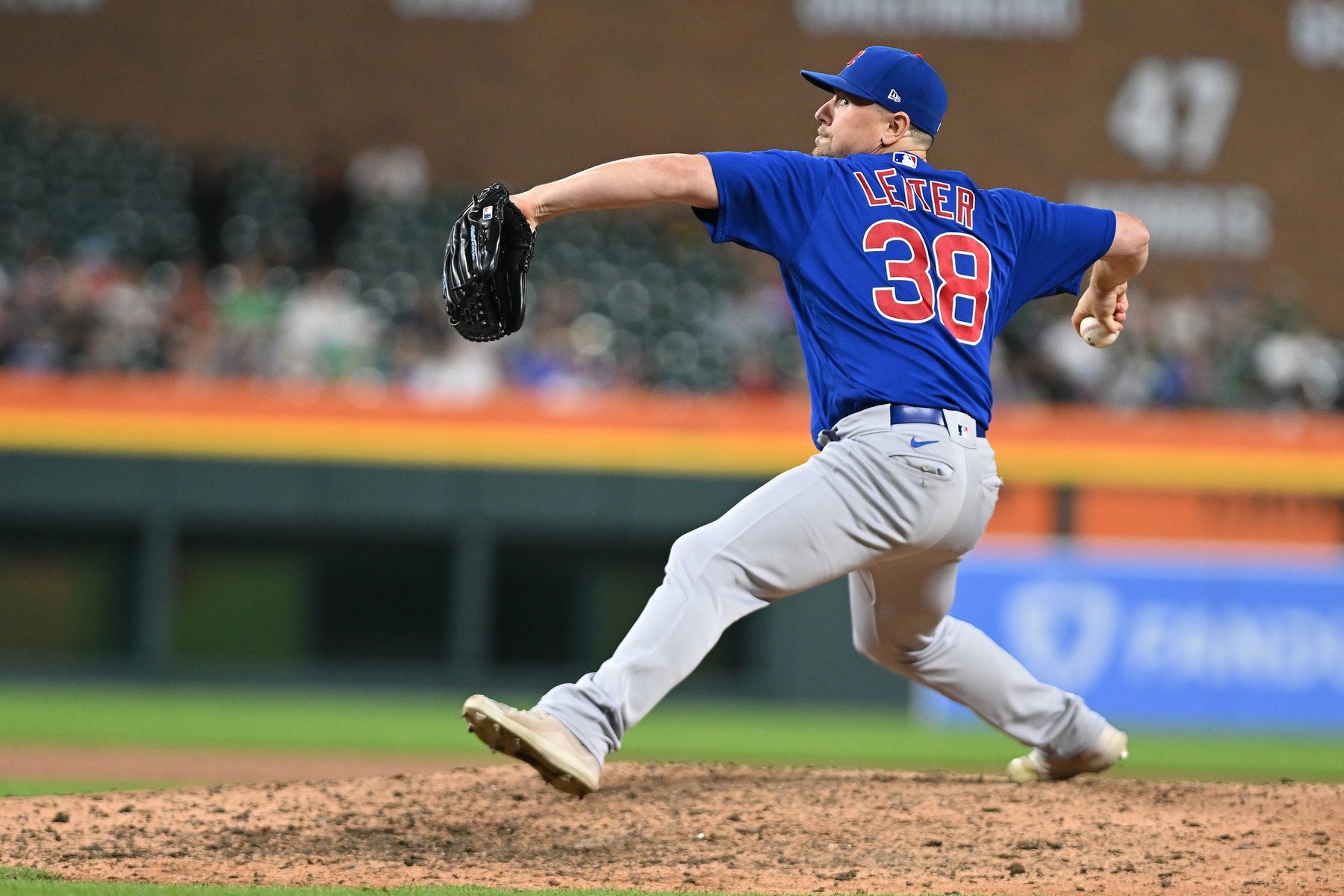 Image courtesy of © Lon Horwedel-USA TODAY Sports
If you've been watching Cubs games over the last three months - or if you bothered to read the headline of this article - you know the answer is Mark Leiter Jr. The son of an 11-year MLB veteran (Mark Leiter Sr.) and the nephew of two-time World Series champion Al Leiter, Leiter Jr. comes from an impressive baseball lineage. Like his father and uncle before him, Leiter Jr. was a starting pitcher early in his career. Initially, he was a prospect with the Phillies after they drafted him in the 22nd round in 2013. He was then called up in 2017 without much fanfare, expected to fulfill a swingman/fifth starter job for as long as he could keep throwing strikes. 
Yet, he scuffled early and often as he tried to make a name for himself in the league, posting an unsightly 5.91 ERA across 137 innings in 2017 and 2018 with the Phillies and Blue Jays. In turn, he fell out of the league for a few years before attempting a comeback in the Tigers organization, which earned him a minor league deal with the Cubs heading into 2022. 
Leiter Jr. made six largely unsuccessful starts at Triple-A Iowa in 2022 (5.32 ERA in just 22 innings) before being recalled to the major leagues, where he made four fill-in starts for various members of an ailing rotation. The struggles continued, and the talented but miscast righty once again found his career on life support. It wasn't until the Cubs made the move to have Leiter Jr. emulate his father's late-career transition to the bullpen that the results finally started to come. 
Now, the younger Leiter is dominating major league hitters as a reliever. He's been doing it on the back of perhaps baseball's best split-finger fastball. This pitch is generating some truly mind-boggling advanced statistics: in 311 splitters thrown in 2023, Leiter Jr. has produced a .108 expected batting average against (xBA), a .212 expected slugging against (xSLG), a .195 expected weighted on-base average against (xWOBA), and an utterly preposterous 52% whiff rate. The pitch is averaging 84.7 miles per hour, which, when combined with its 33.0 inches of vertical drop (roughly league average for splitters) and only 6.2 inches of horizontal movement (~50% less than league average), makes Leiter Jr.'s splitter almost a facsimile of a power curveball but with more fade. It's truly among the best singular pitches the Cubs have had since the days of Aroldis Chapman's legendary fastball. 
His repertoire goes deeper than just one pitch, though, as both his sinker and cutter have generated positive run value so far in 2023 (he also has a curveball and four-seam fastball, which have generated zero, or league-average, run value this year). It's a starting pitcher's mix with the out-pitch of a great reliever, which makes Leiter Jr. as versatile as anyone in the bullpen.
If you've been watching late into Cubs games this year, odds are you've noticed that, for the most part, they haven't had a lefty available in the bullpen. Anthony Kay has been up and down between the majors and minors, and Drew Smyly is in there now, but for most of the season, it's been Leiter Jr. as the nominal "lefty out-getter." And, surprise, it's a role he's thrived in, giving up a paltry .145/.217/.261 slash line against 152 opposing left-handed hitters (he's allowed a .250/.356/.433 line against 73 opposing righties this year). As you'd imagine, it's the splitter that is such a weapon against lefties, as the pitch has generated an unfathomable .095 xBA against left-handed hitters in 2023 (the whiff rate is 54.6%, just in case you were wondering and needed a laugh). 
With Adbert Alzolay firmly entrenched as the closer and Julian Merryweather and Michael Fulmer (when he's healthy) crowned as the traditional set-up men, Leiter Jr. has been utilized more loosely than his late-reliever brethren, often being asked to clean up messy innings with inherited runners or shut down the two best left-handed hitters the opposing team has. It's a job that may not be as ceremonious as the fist-pumping highlights the closer's role creates, but Leiter Jr. is as important to this team's success as any pitcher on the roster. 
It's quite a story for a guy who cleared waivers in January.