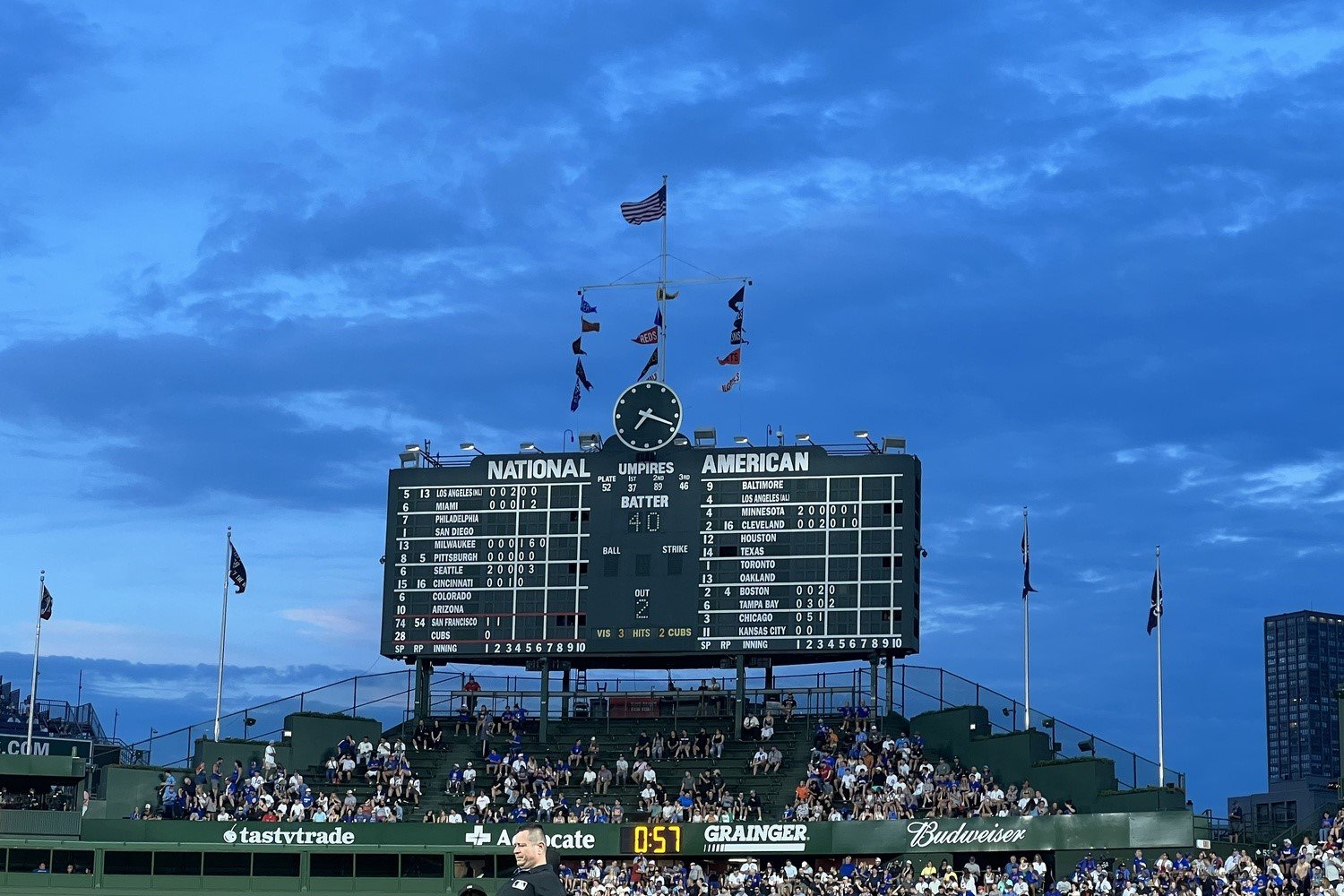 Image courtesy of © David Banks-USA TODAY Sports
Firstly, let's be clear: I don't wish to question or impugn the authenticity or enthusiasm of anyone who has attended Cubs games at Wrigley Field recently. The crowds have been lively, and the team has given them ample opportunities to stand, roar, and sing. They've done it with all the gusto the playoff race demands of them. The fans are doing their jobs.
That said, we need to reconcile the lacuna that exists between the encomiums lavished on the fans by announcers, players, coaches, and each other, and the pesky number at the bottom of every box score. Here are the official attendance figures for the Cubs' last five home games--last week's series against the Brewers, and the first two games of their current set with the Giants:
Monday, Aug. 28: 35,097

Tuesday, Aug. 29: 33,294

Wednesday, Aug. 30: 31,769

Monday, Sep. 4: 39,452

Tuesday, Sep. 5: 28,684
Those are highly respectable numbers, compared to how most teams draw for weekday contests just before and after most students' school terms begin. Obviously, the penultimate one is much inflated by the fact that it was Labor Day, but it's still a great number, and the others are fine.
Compare them, though, to a very similar set of contests in 2007:
Tuesday, Aug. 28: 40,884

Wednesday, Aug. 29: 40,512

Thursday, Aug. 30: 40,790

Monday, Sep. 3: 41,070

Tuesday, Sep. 4: 37,834
That was a weeknight series against the Brewers, and the first two of a set starting Labor Day against the Dodgers. Obviously, that year, that meant the team's chief rival in the division, and then a big, well-traveled West Coast fan base coming in on a holiday. It's as close to apples-to-apples as such comparisons can be, although the apples aren't exactly the same variety. 
The attendance drop is huge, and it's not a lie. It's not fake. The crowds recently at Wrigley have been plenty enthusiastic, and the new lights there certainly bring them into clearer focus for both players and cameras than they were in the past, but it's an irrefutable fact that they are also markedly smaller. (For what it's worth, by my less scientific reckoning, they're also less loud, despite the many players who have talked about how loud they are. I suspect the ambient ballpark noise, including much louder stadium sound over improved speakers, is being baked into that discussion in a way that doesn't really reflect fan engagement.)
Over the decade and a half between this season and that one, the Ricketts family has bought the team, and they have massively overhauled the fan experience at Wrigley Field, to the detriment of all but the richest and most powerful. That's by design. The attendance figures are lower, not because fans are less excited about the team, but because the owners have consciously remade their park to let fewer of them in, and to ensure that whoever does get in has already paid so much that they'll gladly fork over the exorbitant secondary costs associated with the experience. 
Were the 2007 Cubs, fresh off a winter spending spree and with a new manager at the helm, a bit better-marketed than this year's team? Sure. Are Cubs fans now, inevitably, a bit less hungry for a champion (and thus less deliriously devoted to a team with some chance of becoming one)? Yes. Still, I don't think the fact that there are fewer fans in the stands reflects those realities, or that it mirrors broader trends in baseball's overall attendance or in America's economy. I don't think there's a whole lot more to this story than the bleakest and most infuriating facts: The owners of this team want the ballpark experience to be reserved for those who will pay an astronomical sum for it.
They've succeeded in crafting the most profitable version of a good team, at the expense of the version that would be the most fun or best serve the community of which a good team should be such a delightful part. They stand to gain handsomely, though, by continuing to sell the fans on the idea that Wrigley is every bit the communal experience between players and fans that it has ever been, so count on continuing to hear the crowds trumpeted on Marquee as mind-blowing and special.
I don't want to bicker about whether the players are imagining things when they say the atmosphere at Clark and Addison is electric. I think many of them, having only been in professional baseball since about 2015 or later, simply don't have a frame of reference for what big baseball crowds used to look like. The Ricketts' model is not their own. Most of the league is doing this. Few owners care to invite or encourage a broad swath of their fan base into their parks anymore. Having made all of their expenditures back before the first click of a turnstile (thanks to real estate investments, TV rights deals, and the appreciation of their franchise), they don't court in-person fan experiences as a way to build their brand and engender generational loyalty. They just maximize the supply-and-demand equation in their own favor.
Thus, there are vanishingly few places and few occasions where a large crowd that looks like the community of which it is ostensibly a part can really gather--and most of the time, even when they do, it's at a modern park that ensures a certain remove from the players. It's great that Justin Steele and Nico Hoerner find Wrigley Field to be a thrilling place to play in 2023. I think Carlos Zambrano and Ryan Theriot would find it a bit less exhilarating.
You can choose whether to believe that Wrigley Field's renovations under its new stewards have diminished it or not. You can choose whether to believe that the fans who regularly attend are, in some measure, fundamentally changed, because they're selected and cultivated differently. I wish to cleave only to the assertion that Wrigley Field is as it is--whatever it is--solely because the Ricketts family wants it that way. In some measure, that has always been the privilege of team owners. Now, though, it feels much more like their place, and less like a place the fans have made and defined for themselves.