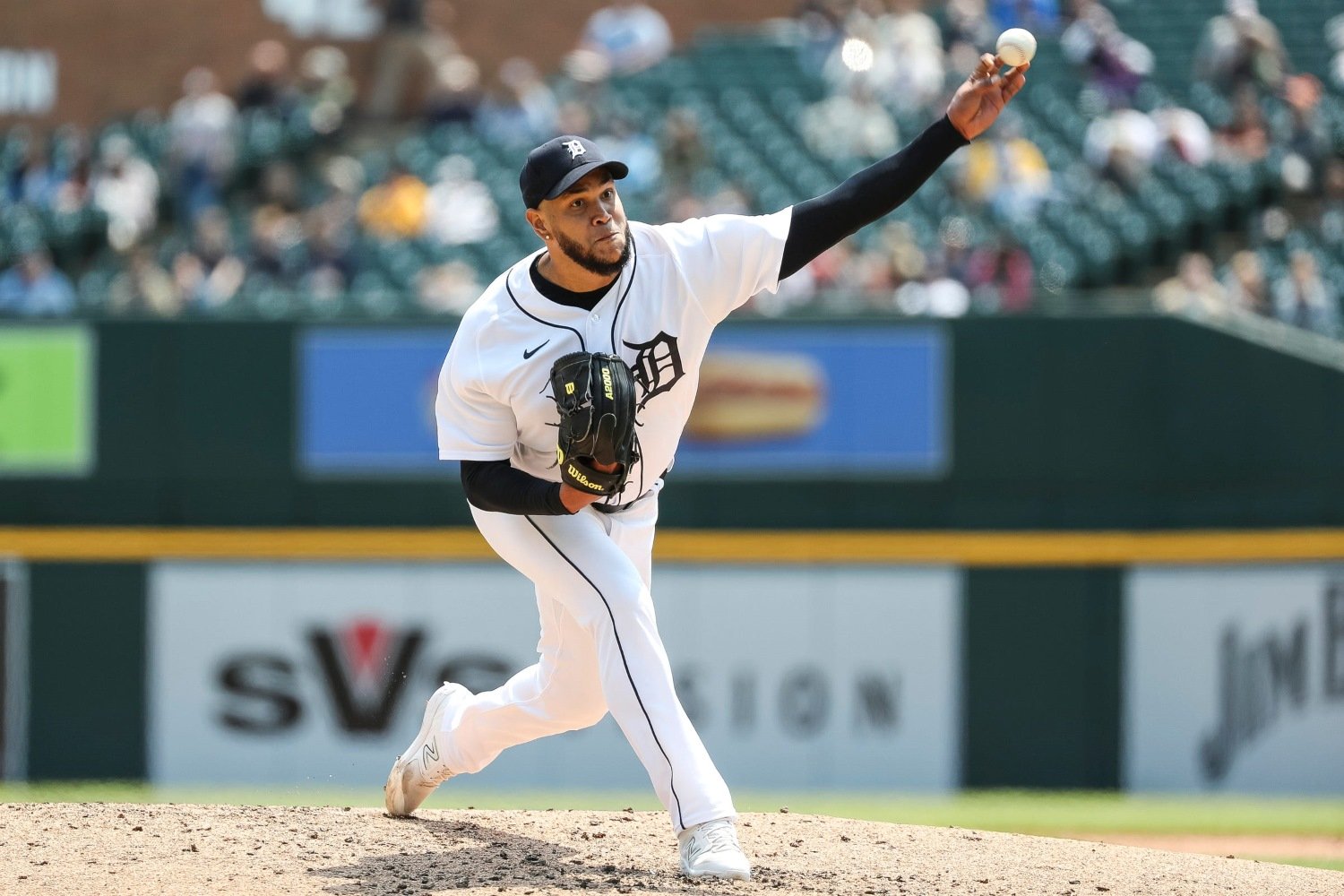 Image courtesy of © Junfu Han / USA TODAY NETWORK
One thing is becoming increasingly clear, as the Cubs approach the deadline: they're not the team we thought they were. Two months ago, it could not have been clearer that this team's strength was its starting rotation. The offense was inconsistent, the bullpen was uncertain, and the defense was insufficient, but the starters were in good shape.
That's no longer clear, at all. In fact, the identity of this team is very much up for debate again, even as they play their best baseball of the season. Already this week, we've documented the woes of Drew Smyly over the past several weeks. Jameson Taillon is getting right, but it's clear that he's not going to be more than a mid-rotation guy for the balance of this season. Since the All-Star break, and even in the few starts before it, even Marcus Stroman and Justin Steele have looked less impressive. Stroman's showing Wednesday night, a second consecutive clunker when the chips were down, is especially concerning.
Hoyer still needs to go find a bat to add to this group, but perhaps the more pressing need is on the pitching staff. Javier Assad's reemergence as a versatile relief option is a welcome development, and I've already stated my belief that Smyly would be effective in a short relief role from the left side. Still, this team needs a high-leverage reliever, and they need a starter, too.
The Detroit Tigers have plenty of pitching on offer. They're one of the few sellers left on the landscape, and are in need of a further infusion of talent for a merely average farm system that needs to feed a below-average roster. The Cubs could bid on either of two members of the Detroit rotation, and even tie in rental reliever Jose Cisnero as part of any potential deal.
The more famous name of the Tigers' trade candidate starters is Eduardo Rodriguez, the former Red Sox southpaw who signed a five-year deal two offseasons ago. Rodriguez can opt out of the balance of his deal at the end of the season, and barring an injury, he's almost certain to do so. He's posted a 2.95 ERA in 15 starts this year, with a strikeout rate right around 26 percent and a walk rate of just 6 percent. With the zip that was missing from his fastball last season back and with excellent command of his cutter to both sides of home plate, he's regained his All-Star form.
Earlier this year, I wrote multiple pieces about the Cubs' damaging deficiency in missing bats within the strike zone--especially their starters. Rodriguez is a potential balm for that condition. Of the 153 starters who have induced 300 swings on pitches within the zone this year, every Cubs starter ranks 84th (Jameson Taillon) or lower in whiff rate on such swings. Rodriguez ranks 36th. He fills up the zone, but hitters don't relentlessly put the ball in play when he does.
Rodriguez would be a costly acquisition, and a modestly risky one, because should he get hurt or collapse down the stretch, he'd be able to opt in for $49 million over the next three seasons. That very risk might mitigate the acquisition cost a bit, but the Cubs would probably need the Tigers to cover a portion of Rodriguez's 2023 salary in order to stay under the luxury-tax threshold, so count on paying full freight for him if that's the avenue the club pursues.
A cheaper (in terms of both money and the talent he could command in trade) alternative might be Michael Lorenzen. On a one-year deal worth $8.5 million, Lorenzen has been a revelation for the Tigers. After a brief misfire early in the season during which he was trying to throw the kitchen sink at everyone, Lorenzen has simplified his approach and found terrific success. He doesn't strike batters out at nearly the rate Rodriguez does, but Lorenzen is pounding the zone more consistently than he ever has before, and he's honed a unique pitch mix that has hitters on the defensive.
For some pitchers, the sweeper is a weapon against same-handed batters, and the slider is a different one, needed only against opposite-handed ones. For others, the two pitches are really just slight variations on one another--a bit more depth on one, a bit firmer with the other, that kind of thing. Lorenzen has done something highly unusual, though. His sweeper and his slider are both key to his attack against righties, and they're totally distinct pitches. Their spin directions, and the movement variation from what one would expect based on that spin, are different.
Adjusting from one batter to the next, Lorenzen will sometimes pair his sinker with his sweeper, and sometimes use the same four-seamer and slider duo that works for him against lefties. It's a new approach for him, but he's shown admirable feel for it.
Against lefties, Lorenzen has found the best way to utilize his extraordinary changeup. He doesn't kill spin on that pitch, the way most pitchers do. The ball doesn't move in an unexpected way based on the direction of his spin, either. He just manages to cut down velocity, without an obvious change in arm speed, and deception does all the work for him.
Lorenzen lacks Rodriguez's pedigree. He's also already thrown 101 innings this season, which has to make any acquiring team nervous, because he last topped 115 total innings pitched in 2015. Still, he'll command something valuable, because the market for starting pitchers is always robust and because his improvements seem legitimate.
To justify the likely cost of either Rodriguez or Lorenzen, then, the Cubs are going to need to do some one-stop shopping. Jose Cisnero, like Rodriguez and Lorenzen, can become a free agent at the end of this season. He'd be a good fit for the Cubs, with his unusually deep reliever's arsenal and the ability to induce relatively low-value contact most of the time. He's fanned 25.7 percent of opposing batters this year, and he has reverse platoon splits.
It's a seller's market. The Cubs would have to give up a better package than we're likely to be comfortable with, no matter which starter is tied to Cisnero. Still, the Cubs' depth on the farm allows us to ponder some very plausible deals. The right range depends on what the Tigers prioritize, but the cost would probably have to include a prospect in the bottom half of the team's top 10 list, as well as a flier further down. That could mean someone as high-ceiling as Owen Caissie, and it could take a bite out of the team's depth at lower levels--pitchers like Michael Arias, Drew Gray, and Brandon Birdsell. 
Whatever move the team makes on the pitching side needs to leave a little bit of room (especially financially) for a hitter who can supplement the roster. With Nico Hoerner heating back up and the lineup feeling fully functional again, though, the highest-impact move might be to deepen both the rotation and the bullpen for what could be a grueling stretch run.