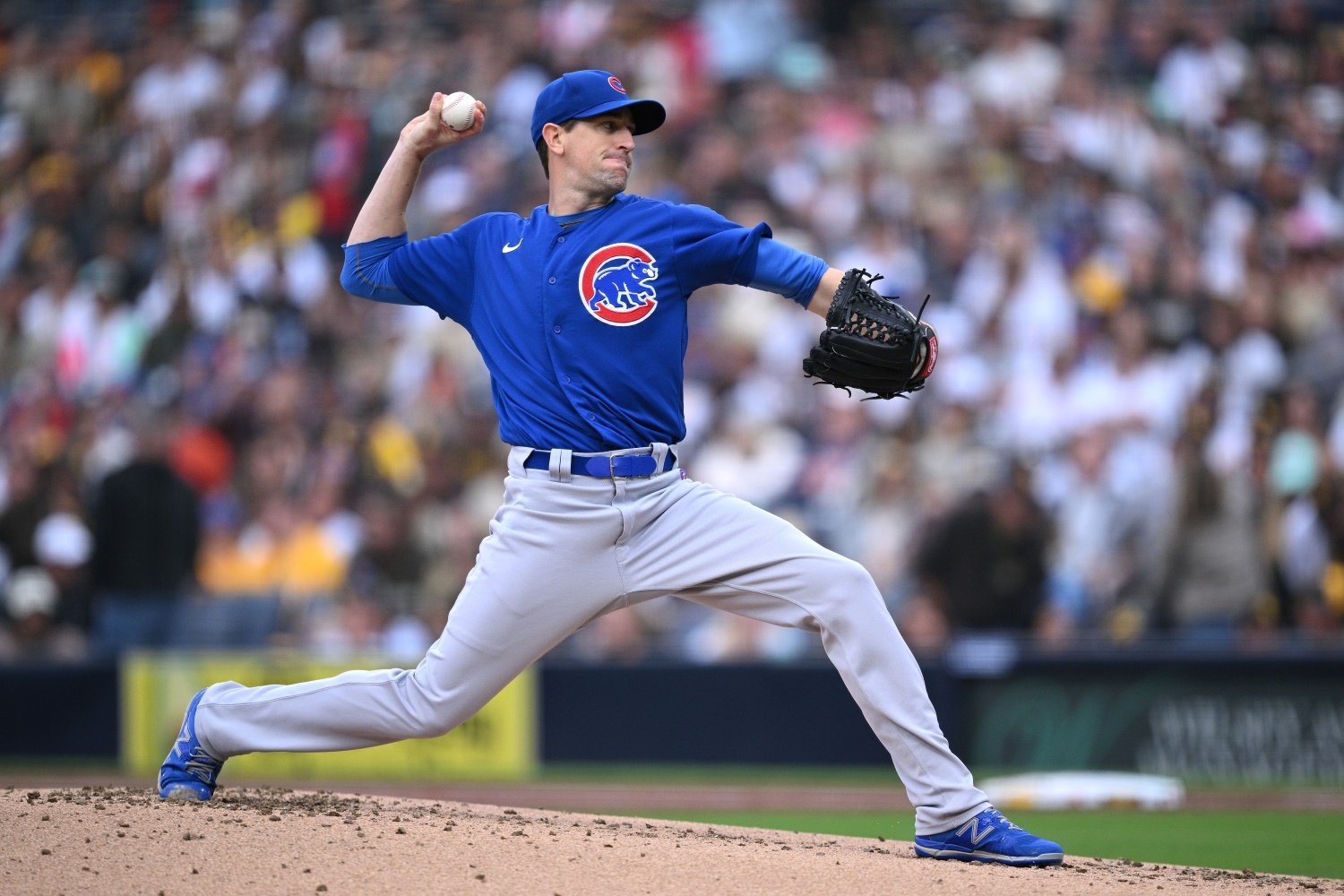 Image courtesy of © Orlando Ramirez-USA TODAY Sports
When home-plate umpire Phil Cuzzi gave a slightly generous outside corner to Padres southpaw Blake Snell early Monday, the trouble started bubbling up quickly. Cuzzi's calls helped ensure that nothing came of an early Cubs rally. Then, in the bottom of the second inning, Cuzzi did not make the same mistakes on a couple of Kyle Hendricks pitches just off the plate. David Ross blew up, earning an ejection for arguing balls and strikes, but that was as ineffectual as it almost always is. Three pitches later, Gary Sanchez hit a two-run home run, and the Padres were off and running.
Fans obsessing over umpire zones is one of the most tired things about the culture of baseball in 2023. Often, the strike zones shown on TV broadcasts are misleading (though more often vertically than horizontally, where the conflict arose Monday night). More importantly, the actual impact of a missed call here and there is much smaller than fans have come to believe, and the errors balance out to a much greater degree than most people realize. Then, too, there's the fact that certain pitchers and catchers can significantly influence the way the umpire sees some offerings on the edges of the zone. 
When teams argue with umpires, though, it's something different than when fans do so. Politicking and fighting over the zone by players and coaches isn't just a matter of relentlessly airing grievances and pressing selfish interests. Different teams rely on winning at the edges of the zone, and specifically on getting calls there, to different extents. Unfortunately, it's become a perennial part of the Cubs' identity that they depend more on those calls than almost anyone else. That leads to more bickering, more frustration, and the risk of losing games because of the distraction that ensued when the umpire becomes the center of anyone's attention. 
Why is this so? It's a byproduct of the well-known weakness of the Cubs pitching staff, which is an inability to miss bats. In 2023, only the Rockies have induced whiffs on fewer opponent swings on pitches within the strike zone than have the Cubs. As has been often documented, the Cubs don't have as many hard-throwing hurlers as other teams, and they don't throw as many of the pitches (especially sliders and four-seamers) that induce whiffs as most other teams do.
In the modern game, hitters do too much damage when they make contact for a pitching staff to survive long with a below-average strikeout rate. Thus, since the Cubs can't get whiffs within the zone, they need to either induce a lot of swings outside the zone or get a very high number of called strikes. Alas, they have a below-average O-Swing %, according to Pitch Info, ranking 20th in MLB.
Hendricks only got six swings and misses against San Diego Monday night. Marcus Stroman only got five on Sunday, though he still managed to have an excellent outing. In a four-game series, Cubs starters combined for just 34 swings and misses, be they on pitches inside or outside the zone. When that element is missing from your game, you become more dependent on umpires and on catcher framing, and since one of those things varies more from one night to the next than the other does, it becomes an unhealthy area of focus.
Cubs hitters have a similar problem, though. Overall, the lineup has hitters who make contact at about an average rate, but some of that comes from guys who make a lot of contact when they expand the zone. As a team, the Cubs rank sixth in MLB in out-of-zone contact rate, but they're 24th in making contact within the zone. They also swing less often than an average team, both inside and outside the zone. In short, the offense is forcing umpires to make a lot of calls, and they can't afford even the occasional miss on a ball off the edge, because they whiff too often within the zone (and don't have the power to consistently score enough without winning the battle for the strike zone). 
On the pitching side, this is clearly a problem of roster construction. The Cubs have tried to live too long without the velocity and the strikeout stuff that define the modern game. They have to zig back toward the league, because their years-long attempt to zag has only cornered them into needing an elite defense, an elite defensive catcher, and a friendly umpire to win more often than not.
It's less clear whether the offensive problem is also one of talent identification and acquisition, or one of approach. Maybe the team just needs to better grasp the situations in which they need to be dialed into a certain part of the zone, versus those in which they need to seek contact wherever it can be found. Maybe they're not adequately anticipating what pitchers will try to do against them. Watching them, it often feels as though that's the case, but it's a hard thing to quantify or falsify. It could be that the hitters just aren't good enough to execute a relatively sound plan.
It's fine to have a few pitchers on the staff who depend on getting called strikes more heavily than most. When virtually the entire staff leans on that, though, it makes the team vulnerable to especially good or patient offenses; a bad night for the umpire behind the dish; or plain old bad luck. Worse, when one of those things does pop up and the team has a tough game, they end up tied in mental knots. Fighting with umpires is counterproductive, even when it's necessary, because it externalizes the team's locus of control and sets them up for failure.
Phil Cuzzi didn't beat the Cubs Monday night. Gary Sanchez, Manny Machado, and the rest of the Padres did. If there were any culprits in the loss beyond those in the home whites, they were in the Cubs dugout, and back in Chicago in their offices. It's important to understand that this team's exposure to umpire influence is its own fault, and that they won't win anything when they let themselves believe that umpires are winning or losing the game for them.