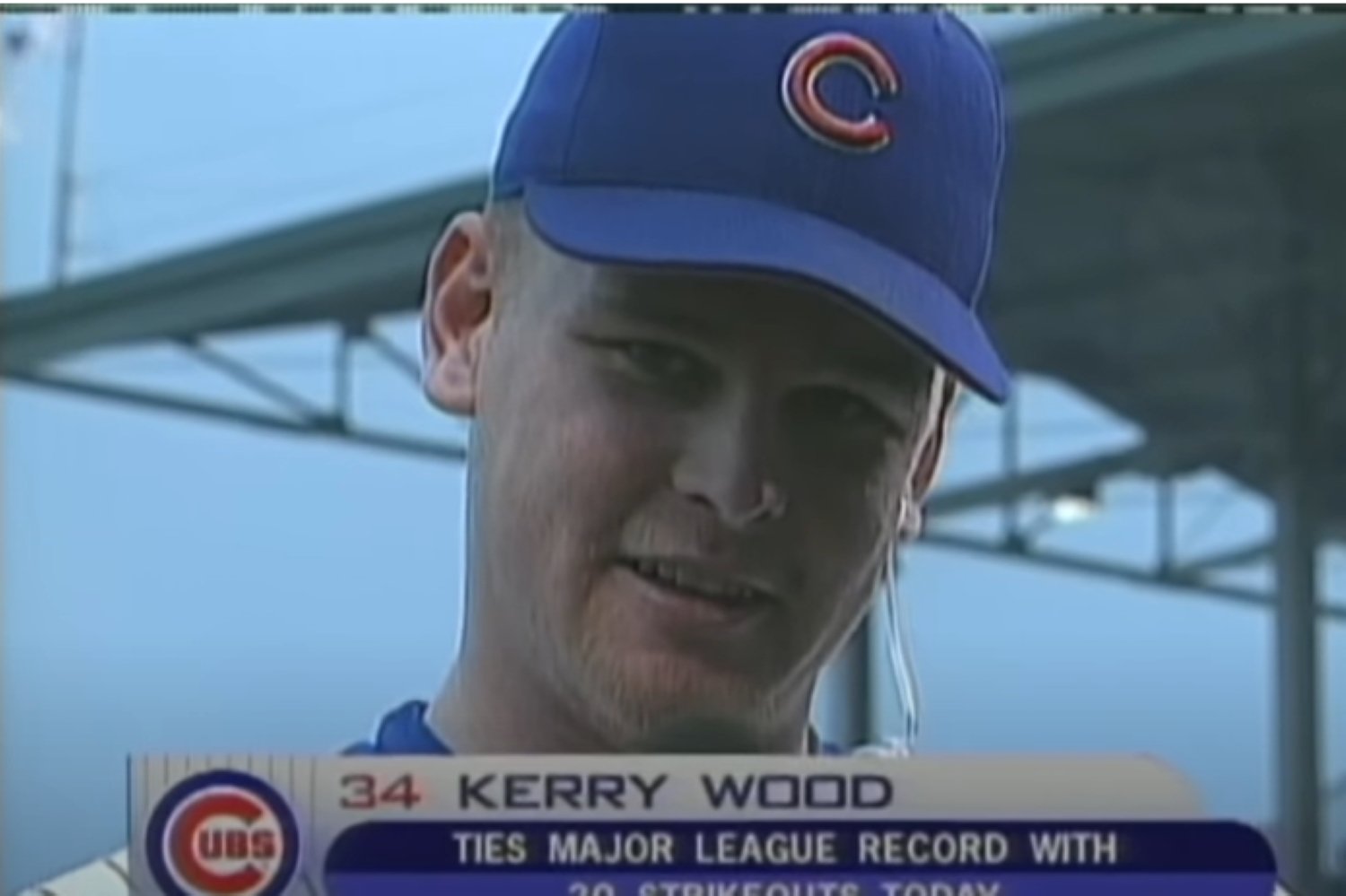 Image courtesy of Chicago Cubs via YouTube
I've already written nearly 4,000 words about this historic performance, in two pieces (Part I and Part II) that broke down the first 17 thoughts I had while rewatching the carnage on YouTube this week. In today's finale, I have eight more notions to share, as we all continue to (try to) make sense of how good Kerry Wood really was that day.
18. The ivy on the outfield walls was already fully verdant. Generally, we see the ivy turn from brown to green over the course of a week or two (or, if the team goes on a well-timed road trip, we simply perceive that some magical switch was flipped between home games) during mid-May. There are some years when it's nearly Memorial Day before the ivy really comes in and gives the Friendly Confines their feelings of both friendliness and confinement. Before that, when everything is brown beneath the wire of the baskets and the grey of the skies, Wrigley doesn't look especially inviting, and it doesn't seem to enfold you the way it does once summer comes. 
The winter of 1997-98, though, is still the warmest one Chicago has seen since 1932. The spring was one of the 10 warmest the city has experienced since data collection began in 1873. Thus, by May 6, the ivy was in bloom, and the juniper bushes that made up the batter's eye in center field were lush and lively. Much more than it usually would, the game already had that sense of enclosure and separation from the city's noise and busyness that comes once Wrigley trades in its winter coat for its summer finery.
I'm not sure whether that affected the action on the field. There were far too many other things going on to say so, anyway. I only know that it had a major effect on the aesthetics and the beauty of the thing, both in real time and upon revisitation. What Wood was doing felt surreal; it felt uncanny. The light and the color of the environment, altered by the strange weather patterns of the previous several months, only heightened that feeling.
19. In the seventh inning, Wood showed real fatigue. With just over 80 pitches thrown through six frames, there was plenty left in Wood's tank, overall. Still, he had to face the heart of the dangerous Astros batting order for the third time in the seventh, and his mental and physical inexperience with this kind of challenge began to show. He'd experienced a systematic mechanical problem in the previous frame, as I wrote about last time. In the seventh, though, he started to genuinely spray the ball around the strike zone a bit. Pitches weren't just missing because he was slightly mistiming his release; they were ending up in places that those offerings never should have gone.
In that moment, though, his sheer stuff took over, and the Astros crumpled in the face of their mounting adversity. Wood's fastball still had both run and carry. He wasn't making mistakes in the heart of the zone, but nor were his misses so ugly that they could simply give up on them out of the hand. He started varying his pitch mix more, sprinkling in the breaking balls he'd reserved for one handedness of batter the first two times through to the other type of opponent. He worked backward a bit more. Sandy Martinez noticed his pitcher beginning to struggle, and brought him back from the brink by challenging him to do some things differently even in the midst of a run of success. Wood, to his credit, trusted both his teammate and his talent.
20. It absolutely poured throughout the bottom of the seventh inning. Without trying to--indeed, at times, despite consciously trying not to--I've developed a minor theme in this revue: How could this game have turned out to be a little bit more remarkable than it already is? We've discussed the infamous ground ball that eluded the distracted, headwrecked Kevin Orie, and we've discussed the overcompensation for one mechanical problem that generated another and precipitated the Craig Biggio plunking. We've already touched on a couple of the ways he might have gotten to 21 strikeouts, surpassing even Roger Clemens.
This is one instance in which I want to consider the opposite. It would have been very easy, and it might even have been more safe and proper, to stop this game in the bottom of the seventh inning. The rain began some time in the sixth, grew a bit heavier as the Astros feebly battled with Wood in the seventh, and came down hard during the Cubs' turn at bat in that inning. If there weren't already a whiff of history in the air, I think the umpires probably would have called for a rain delay, even on a getaway day for the Astros. The game could well have ended 1-0 Cubs, with Wood getting credit for a complete game but just 15 strikeouts, which is what he had at the end of seven frames. 
Does that mean the umpires erred by allowing the game to continue? I don't think so. The field held up reasonably well. The rain stopped (very briefly) and seemed to fluctuate considerably in its vociferousness throughout the rest of the game. There were only about two innings where it was mostly raining, and raining hard enough to merit serious consideration of a stoppage. Again, though, it never even seemed to be entertained, which speaks both to the changing standards for what will truncate a game 25 years later and to the umpiring crew's awareness that something special was in progress.
21. Wood had thrown 102 pitches in seven innings of work in his previous start. In the top of the eighth, en route to striking out the side, he eclipsed 110 pitches. At the time, this was quietly unusual, but it would be another few years before such a scenario would prompt announcers to openly consider whether the pitch count might dictate the pitcher's exit. To have any 20-year-old in your starting rotation was atypical, even then, though (as I documented in part one) much less so than it would be now. To have one consistently throwing over 100 pitches in a game, regardless of their level, is now unthinkable.
That's the other weird thing about this game--about the fact of it, and about rewatching it. It's a bit like watching Better Call Saul, or (if you don't care much for prestige TV) a movie like Lincoln. You know, even as you watch a character experience some stirring triumphs and some seemingly dazzling breakthroughs, that tragedy lurks ahead. Wood didn't blow out his elbow, or embark on an injury-plagued career as a whole, because he threw a ton of pitches in the pursuit of this one accomplishment. The frequency with which the team asked him to work deep into games and fight through lineups even on days when his command was spotty, though, contributed enormously to that fate.
Ultimately, Wood had a great career. Many pitchers who suffered similar injuries at young ages were unable to come anywhere close to matching his longevity and overall value. Still, there's something heartbreaking and unsettling about the fact that this game was the best he would ever have. He might have happier, even more important baseball memories--like his victory in Game 5 of the 2003 NLDS, or closing out the division-clinching win in 2008--but he was never again as truly brilliant as he was in his rookie season. That's an indictment of the way the Cubs handled him.
22. In the eighth inning, Wood prefigured Carlos Zambrano's no-hitter in 2008. Because of that Ricky Gutierrez ground ball, this game did not stop the Cubs' no-hitter drought, one that dated back to Milt Pappas in 1972. The man who slayed that dragon was Wood's eventual teammate (and another hurler the Cubs abused with overwork at a very young age), Carlos Zambrano. That no-no was not, by any means, a performance on par with what Wood did in this game, but it was a stellar example of the concept of effective wildness. 
Zambrano struck out 10 that day, and in the late innings, he was getting whiffs from Houston hitters on balls that made no sense. The offering at which Darin Erstad flailed to finish the thing was, famously, about a 58-footer. It didn't matter. Something about his motion, his demeanor, the movement and velocity on everything he threw, and the energy of that game made the Astros Silly Putty in Zambrano's hands. 
So it was for Wood, by the time the top of the eighth came in this contest. In fact, "contest" is too strong a word for the matchup by that point. Whatever wrestling there was to do was only between Wood and himself. The Astros had been beaten. Third baseman Jay Howell, a lefty batter, took an Erstad-caliber three-quarter swing at a pitch Wood threw by him. It wasn't the fastball, and it wasn't the big-breaking curve. It was a sweeper, which (both then and now) is a pitch best reserved for same-handed hitters. It was almost non-competitive. If he'd held very still, it might have hit Howell. He'd seen so many good heaters from Wood, though, that he tried desperately to catch up to one, only to find himself way ahead of a pitch that was nowhere near his lumber.
At that point, precision didn't matter. Wood wasn't really hitting his spots, but he was around the zone enough to force the Astros to keep swinging, and they were so bumfuzzled that no swing was likely to end well for them. 
23. Those Last Three Non-Strikeouts, No. 3: Craig Biggio, Top 9. In part two, I talked about the only three of the last 17 outs Wood recorded that involved contact. As I mentioned above, it's a small acknowledgment of the fact that there exists some frontier not yet explored. Wood, Clemens, Randy Johnson, and Max Scherzer have fanned 20 in a game, but on one has struck out 21, and Wood did have a couple guys get away from him (in that they put the ball in play) after reaching two strikes.
Biggio didn't even let things get that far, in the ninth. Wood struck out pinch-hitter Bill Speiers to start that frame, giving him 19 for the game. He was falling behind hitters increasingly often by that point, though, due to the fatigue and the mounting challenge of showing hitters something they hadn't already seen and measured. Biggio took ball one, then grounded out to shortstop on the second pitch.
That's a compelling reminder: to do what Wood did that day also requires the cooperation of one's opponent. A team with a very aggressive approach might not put itself in any better position to score runs or win the game, but they certainly do decrease the likelihood of racking up strikeouts. Swings help a pitcher who's not throwing strikes, obviously, but they carry an inherent risk of contact, and contact ruins the pursuit of 20 strikeouts in a game.
The Astros were very helpful, though, at least in the early and middle innings. Wood actually got more called strikes (30) than whiffs on the day. Houston tried to wait out the occasionally wild rookie, and he made them pay. 
In the final couple of innings, though, the lineup tried to change tack. They got much more aggressive, which imperiled Wood's chase for 20 strikeouts. In the ninth, Wood threw 12 pitches. Three of them were balls, but Speiers, Biggio, and Derek Bell swung at the other nine. They were trying to deny him immortality, and Biggio did manage to make him merely one in the pantheon, rather than the standalone god of strikeouts. As a unit, though, they were unable to stop the inevitable.
24. At the end of the game, the Cubs didn't seem at all sure of how to celebrate. When Bell went down swinging for strikeout No. 20, Wood turned his back to the plate and gave a small but earnest fist pump. Then he turned back and shook hands with the elated Martinez. He didn't act like, for instance, Zambrano at the end of his no-hitter, with gesticulations and hollering. Nor did the rest of the Cubs.
Yet, it wasn't an ordinary postgame high-five line. Mark Grace threw his arm around Wood in a jocund bit of celebration. Players clustered closer to the pitcher and slapped him harder on the back than would be typical. It was a funny little reinforcement of the strangeness of what had just taken place. Everyone knows how to celebrate a no-hitter, because every time a pitcher takes the mound, they dream of throwing a no-hitter. A one-hitter with a historic number of strikeouts is different. It's not something anyone can anticipate until it comes very close to active fruition. It's also not exactly a no-hitter. 
Players don't mob their pitcher and celebrate raucously every time they throw a complete game. That celebration has been reserved, by custom, for the special case of no-hitters or perfect games. Thus, the immediate vibe when Wood finished his masterpiece was slightly awkward. As we can still feel all these years later, it was so amazing as to be disorienting, and no one knew quite what to do with their hands.
25. In a very hurried postgame interview, Wood said he didn't know he'd struck out 20. I remember listening to the full radio broadcast of a no-hitter thrown by Cleveland twirler Sonny Siebert, in 1966. (This is how I spend my time; it's why you're getting this series of posts.) One of the most stunning things, I thought, was how quickly they managed to grab Siebert after his moment of triumph and hold him still for a few reportorial questions. The modern model is to let the announcers contextualize the moment a bit and vamp for a minute or two, so that an on-field reporter has time to grab an interview subject, get them the necessary equipment to be heard, and set up a camera position. Obviously, with Siebert, that last thing wasn't an obstacle, so maybe it was easier to quickly conduct an interview.
Wood, though, was escorted very, very quickly from his uncertain celebration to the dugout area on the third-base side, where WGN had him on a headset with Chip Caray and Steve Stone in moments. The interview felt abrupt, and Wood seemed sheepish, and the reason for the latter became clear when Caray and Stone asked when he became aware of chasing the strikeout record. Wood said he hadn't--not that he hadn't realized it early, or that he hadn't focused on it, but that he was just learning he'd struck out 20 Astros from the men interviewing him. 
I don't know whether to believe him. I don't know what it says about that game if he really was unaware of the implications of his relentless dominance. If it's true, it certainly makes the feat more impressive, because what he definitely did know was that he'd allowed an early hit. That much information was on the scoreboard out in center field. If Wood really sustained the concentration and the conviction that he showed through the final out without the carrot of a record ahead of him, he was a mental giant that day. If he was engaging in a bit of false modesty, in an interview that was thrust upon him exceptionally quickly, that's fine, too. It's still telling, and endearing. It's just that those two possibilities and their implications are opposites of one another--and we'll probably never know which was the reality.