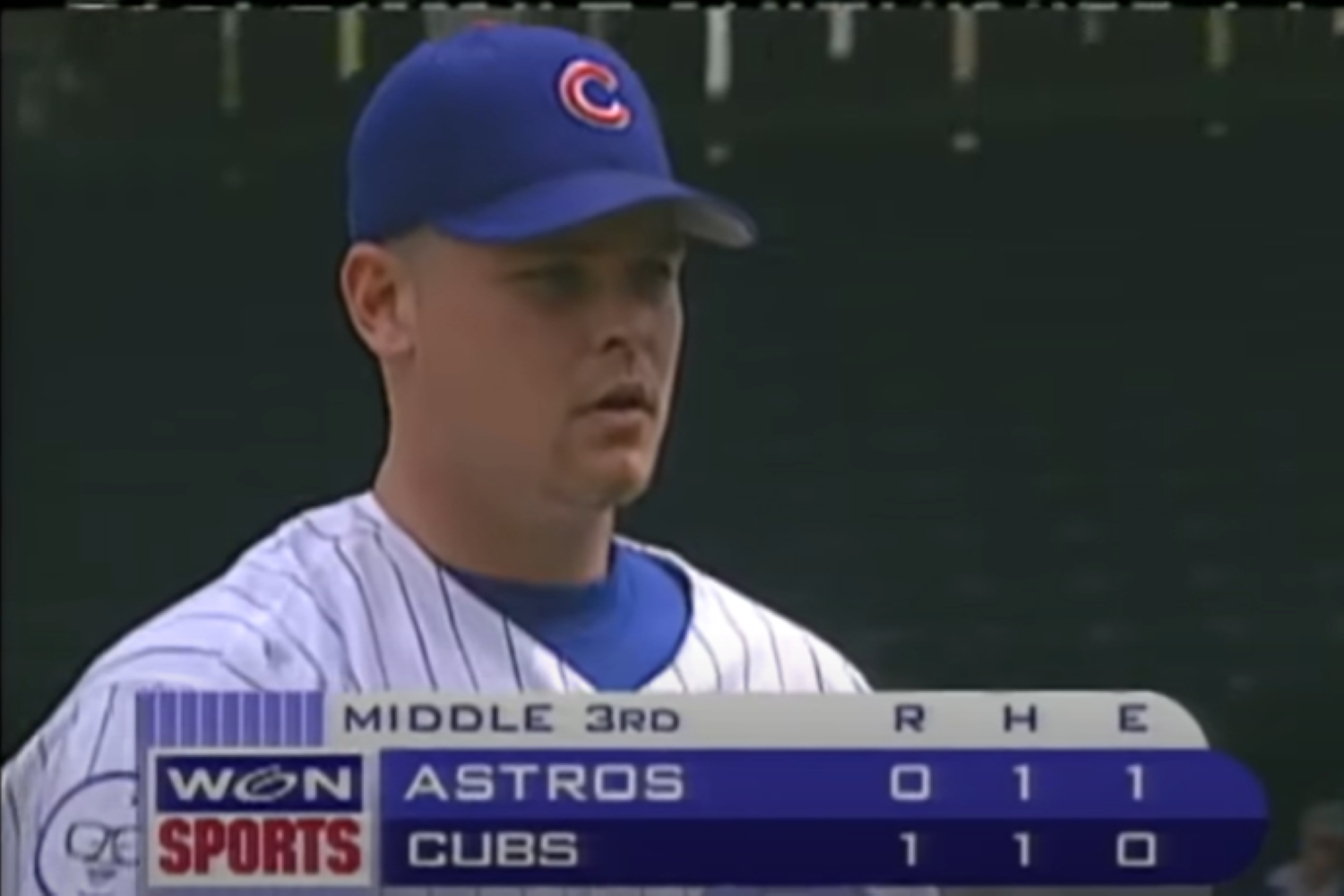 Image courtesy of Chicago Cubs via YouTube
The idea here is to marinate in the nostalgia and the thrill of that day, but also to see the bigger picture and tie the receding past to our present a bit. Our very first thought is in that latter vein.
Kerry Wood had a sweeper. This spring, the talk of the baseball world has been the sweeper, which has been sold as an innovation on the slider. It's even been reclassified as a distinct pitch. That's a flawed idea. Hardly anything in baseball is truly new, but more importantly, the word 'slider' was never meant to describe just one type of pitch. Big-league pitchers have thrown sliders with varying shapes and speeds ever since the pitch evolved into something concretely different from the curveball.

Since the concept of the sweeper is here to stay, though, it's worth noting that Wood was absolutely throwing one on May 6, 1998. He had two or three breaking balls going that day, but one of them was reserved (almost; a topic for later) for right-handed batters; was firm enough to fool hitters into thinking fastball; and had exceptional, mostly horizontal movement, especially given Wood's three-quarters arm angle. That's a sweeper, by the new definition. We just didn't have that word for it then, and the Astros also didn't have an answer for it.
The Unlikely Partner in Crime. Those 1998 Cubs are an indelible memory, to fans of a certain age. That was the first year in almost a decade that the team had been relevant, and they wouldn't be again for a few years. You can probably name most of that lineup, even though it was a bit of a hodgepodge.

The team had two catchers for most of the season. Sandy Martinez wasn't either of them. Scott Servais and Tyler Houston got the bulk of the work. Martinez only made 20 starts behind the plate, and it turned out to be the last time he would even get 100 plate appearances in the majors in any season.

On that Wednesday afternoon, though, Martinez was Wood's batterymate. In one of those funny things that happened a lot in that era, a narrative had crept up that Wood was unable to control the running game. Over his first four starts, he'd actually only allowed one steal, and one runner had been caught stealing. Nonetheless, that was the justification Chip Caray and Steve Stone gave for Martinez starting over Servais.

This game was never going to be about Sandy Martinez. He did a fine job, though. Wood shook him off just twice all day, and even on those occasions, the two ended up agreeing on the pitch Martinez originally called. Also, his peculiar catching stance (with his knees collapsed way inward, his feet set wide, and his backside nearly on the ground) makes for some unforgettable images from the game.


A stirring opening salvo. Wood's first pitch of the game, to Craig Biggio, was the kind of thing that ensures everyone is fully awake on a sleepy spring afternoon. It seemed to cross up, or at least overwhelm, Martinez. It terrified Biggio. And it hit Jerry Meals, the home-plate umpire for the day, right in the mask.


In hindsight, that was the perfect way to announce what was coming. Wood would be too much for everyone to handle for the rest of the day. Even before a small crowd, on one of those forebodingly pleasant early afternoons in May during an unusually warm Chicago spring, Wood was amped up, and his fastball had the proverbial extra yard on it. 
It's still wild to consider Wood's age that day. Wood didn't turn 21 until six weeks after this game. Even then, it was exciting and rare just to have a starting pitcher take the mound in the majors at age 20, but it happened. Somewhere in the majors, it happened, every year. In every season of integrated baseball prior to 2012, at least one start was made by a 20-year-old hurler.

Since then, it's been about as common as not to go a whole year without a starter that young. No one under 21 started a game in 2012, or from 2014-16. No one has done it since the start of 2021, and even in 2020, the only start by anyone that young was a five-out appearance by the Padres' Luis Patiño. Wood was a phenom then. Now, he would be an impossibility,
Wood worked from the middle of the pitching rubber. One of my pet fascinations, when watching any pitcher, is where they set up on the pitching rubber. The factors that dictate that decision–their arsenal, their mechanics, and their objectives–are some of the most important information we can have about any moundsman.

Later in his career, Wood moved way over to the first-base side of the rubber. That left room for the run on his fastball, and because his breaking ball was more or less 12-to-6 during his second and third acts, it worked fine from that angle.

The youthful Wood didn't need to accommodate armside movement on the fastball, though. His heater was a high-rise pitch that, without being at all a cut fastball, held its lane. He also had that sweeping slider, and to make sure it looked like it was coming in over the plate (before darting away), he pitched from the center of the mound. 
Jerry Meals had an extremely generous strike zone. Before the top of the first was over, it was clear that Jerry Meals would make it a good day to be a pitcher. The outside corner to right-handed hitters, especially, was open for business, and Martinez got several strikes out there as the day progressed. Sometimes, he would set up to receive the pitch off the corner, in a way that would be obvious and unconscionable to an umpire today, but Meals was permissive, as long as Wood hit the spot his catcher set. This doesn't diminish the show Wood put on, by any means. It's just one of those things that would be foolish to forget. As is true of wunderkinds being on the mound at all, a different, slightly less efficient, much more freewheeling sporting culture at the time made wider the spectrum of possibilities on any given afternoon.
The plan was to attack all four quadrants of the zone with his fastball. One of the tricky things about looking back at baseball prior to when we began to have PITCHf/x data is trying to tease out which things were different precisely because we didn't have PITCHf/x data. One result of being able to precisely track and map every pitch thrown by a given hurler has been to see where guys' combinations of arm slot, spin, and movement tend to carry the ball when they don't hit their spot perfectly.

As a result, if you watch carefully, there are few pitchers in modern baseball who try to attack the entire zone with any of their pitches. You're far more likely to see a guy aim for one or two spots with a given offering, and another one or two with another, and another one or two with a third. Pitchers, catchers, hitters, coaches, and analysts all understand the throwing motion and the likelihood of executing various pitches in various locations. They mostly eliminate the idea of trying to throw a given pitch to an area of the zone in which the data suggests they're unlikely to have success.

There were people who, with only hand-drawn charts of pitch selection and location, had already figured this out by 1998. Tom House was talking about it in public as far back as the early 1990s. Still, it wasn't the prevailing mindset. One reason why pitchers throw harder now than they did then is that they have swapped a bit of the touch and the body control required to use the whole zone with their fastball. Wood, like most pitchers of the 1990s, made that tradeoff only occasionally. He sought to use both edges and work up and down on each side, all with his fastball. That day, he had command to all of those spots.
Shane Reynolds had it going that day, too. A great pitching performance is always elevated slightly if the opposing pitcher is also sharp. Reynolds might have been the most underrated starter of the late 1990s, and he showed what he could do against the Cubs, although it was immediately clear he couldn't quite keep up with Wood. Reynolds allowed an early run, although it was unearned, and the Cubs managed a few hits and a walk. Through four innings, though, Reynolds had eight punchouts, matching Wood K for K. He'd worked hard to harness his breaking stuff during the spring of 1998, and was enjoying the fruits of that labor. His curve and slider were both biting, and they allowed him to really toy with Cubs hitters who were trying to spot his forkball out of the hand.

The home halves of each inning were fairly quick. Reynolds's strong work kept the game in rhythm and ensured that Wood, working with the narrowest possible lead, would stay locked in.
Kevin Orie committed his infamous non-error because he took his bat to the field with him. If you're reading this, you probably know that this game ended up a one-hitter for Wood, and that the one hit was a medium-speed ground ball off the bat of Ricky Gutierrez. Leather even scraped leather, as the ball skipped past a reaching Kevin Orie. The official scorer's call was hit all the way, and it was probably the right one. Still, Orie should have made the play.

He probably would have, too, except that Kevin Orie was having a miserable time already. Houston was unavailable to catch for much of May, not only because of a hamstring injury that would eventually shelve him for a month, but because the Cubs were starting to view him as a potential replacement for Orie at third base.

Orie had been fine in his first taste of MLB in 1997, and he got off to a hot start in 1998. Just after the midway point of April, though, he fell into a slump from which his career would not recover. By May 6, he was 4 for his last 46, without an extra-base hit. When he struck out with a runner on base to end the bottom of the second, he was visibly frustrated. Gutierrez was the leadoff hitter of the top of the third, and Orie had yet to clear his head when the ball was hit just a hair too far to his left.
Here, we'll stop for today. I'll offer 16 more thoughts in two more parts this weekend, to round out a full reminiscence about the fateful game. For now, I leave us all something to consider. If Orie makes that play, Wood is chasing a no-hitter, at least into the middle innings. No-hitters are much less rare than 20-strikeout games, though. If Wood had managed a no-hitter (or even a perfect game; that's for next time), would we remember the game much differently? Is it almost more special, more poignant, because it was not perfect in that broader way, but merely in terms of the dominance Wood inflicted on the Astros? It's an interesting counterfactual, one way or the other.