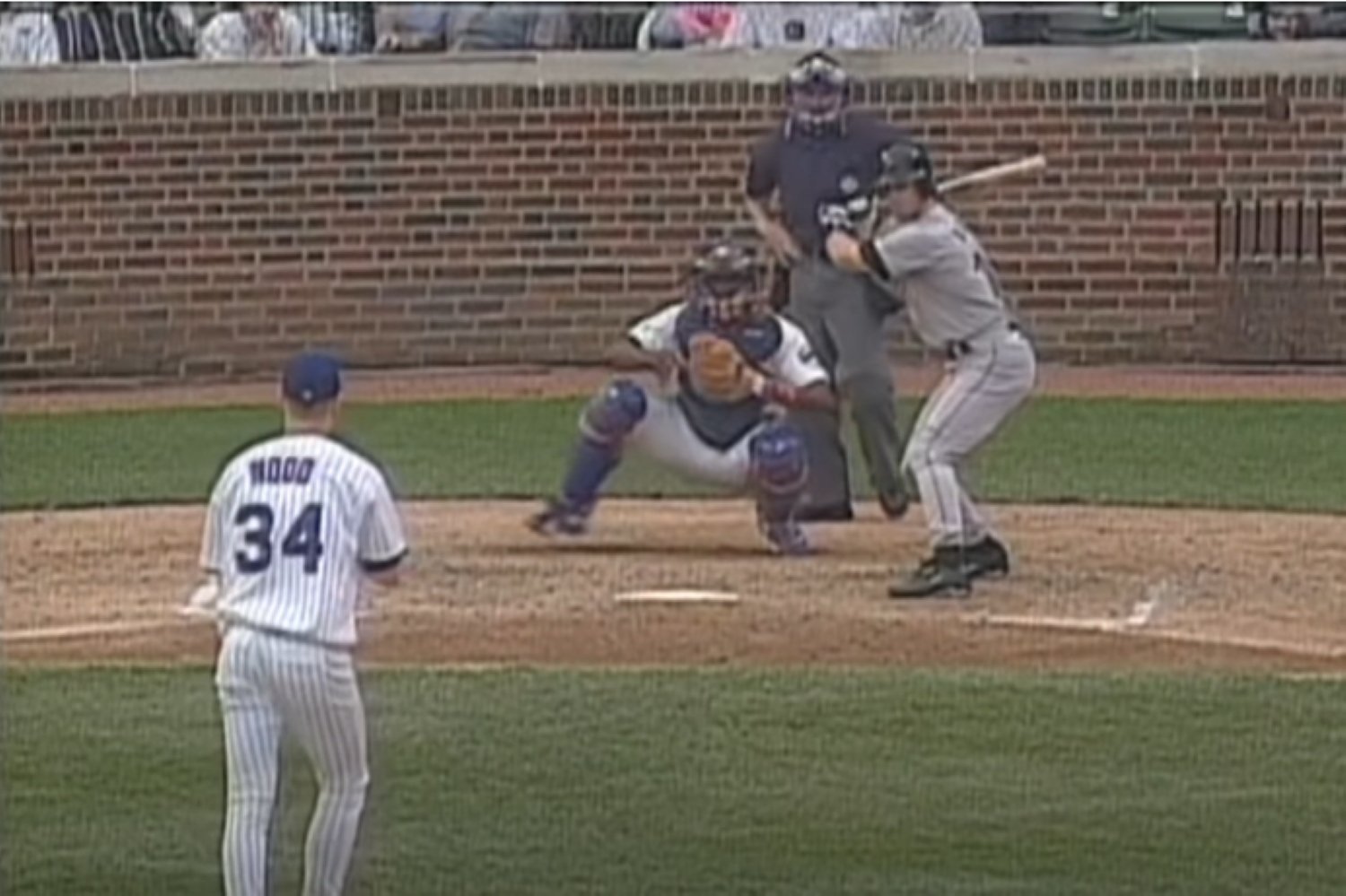 Image courtesy of Chicago Cubs via YouTube
As I wrote in part one, I went to YouTube and rewatched the entire game in which Kerry Wood did the almost unthinkable to the Astros. That installment contained my first nine important thoughts as I watched. Today, we'll run through the next eight.
10. "Only" six of his first 10 outs came via strikeout. Wood struck out the first five batters he faced, but only one of the next five out he got came that way. After Ricky Gutierrez hit his cheap single past the distracted and distressed Kevin Orie, the flow of the inning led to a Shane Reynolds sacrifice bunt. In that early phase of the game, of course, Wood wasn't chasing 20 strikeouts, by any means. but as we view the thing in hindsight, even one sac bunt makes the ultimate achievement seem more miraculous.
It sounds silly on its face, then, but it's actually salient. To get to 20 punchouts by the end of the day after recording just six of the first 10 outs that way, he had to fan 14 of the final 17 he set down. Back then, we only intuitively understood the difficulty of doing something like that. Given the concrete understanding of the times through the order penalty that we have now, it's even more incredible that he managed it.
11. Wood's windup would make you double-take in 2023. Without runners on, Wood utilized a full windup. It's funny how jarring that is, visually, just a quarter-century later. For years now, even starters have tended to work exclusively out of the stretch. More pervasive still is the drop step. Most windups are primarily about starting the counterrotation of a delivery. The pitcher steps to their glove side with the front foot, rocking into a motion that turns them away from home plate to load up for the violent unwinding of the pitch itself.
What Wood did was not wholly uncommon at the time, but it looks bizarre to a modern eye. He was much more linear. He set up with his shoulders square to the batter, and his left foot didn't move to the side and then swoop or twist around. It went straight backward. Then, he pushed off from a place just behind the rubber, and the resulting delivery did involve rotation, but it seemed much more geared toward getting his bodily momentum going toward the plate. Watching him, it's easy to see both the value and the downside of that style. Mostly, though, it's just arresting because of the way the state of the art has changed since.
12. His curveball was a game-changer. There's a peculiar parallel to be drawn between Wood and Clayton Kershaw. Because one is left-handed and one is right-handed, it's not often you'll see Wood compared with Kershaw. Their deliveries are not similar. Wood wore 34, and after this game, the natural comparison for him was Nolan Ryan, whereas Kershaw (the lefty who came up to the Dodgers) was naturally compared to Sandy Koufax.
Yet, there's something to it. Both are from, more or less, Dallas. Both were top-10 picks in the first round, and debuted with considerable fanfare at age 20. More importantly, though, they shared a repertoire. Neither man ever had much success finding a changeup. Instead, they each learned to bully same-handed batters with their rising heat and wicked slider, and they each realized they could just use their big, slow, 12-to-6 curveball as a change of pace to neutralize opposite-handed ones.
In the fifth inning, Wood struck out Dave Clark on three absolute yakkers. As Chip Caray and Steve Stone noted, Clark had a well-earned reputation as a guy who tagged fastballs. He'd hit a ball almost to the warning track in his first at-bat. He posed a challenge to Wood. That second time through, though, Wood showed that he would have stuff enough to meet that kind of challenge. The curve was as devastating as his slider, but shockingly different from it. Most pitchers who throw two breaking balls (many recent Cleveland starters, like Carlos Carrasco and Corey Kluber, are good examples) clearly get there by using some shared building blocks. Wood, like Kershaw a decade later, had such disparate breakers that they almost seemed to belong to two different pitchers living in the same body.
13. The lights went on in the fifth inning. This game began under sunny skies, but it would end very differently. Ominous clouds rushed in, and the lights were more than a prophylactic measure by the middle of the game. Ordinarily, during an afternoon game at Wrigley, the shadows become an obstacle for hitters as the game reaches the later innings. In early May, that moment can come as early as the sixth inning. In this one, Wood wouldn't have any shadows to help him out. 
On the other hand, of course, the Astros had to cut the gloom of a day that was about to get nigh unplayable. The Wrigley lights at that time weren't especially strong. By the sixth inning, and especially later on, there would be actual rain with which to contend. Was that a greater challenge for Wood, who had to find a handle on the ball even as it got wet out there, or for Houston batters? Ordinarily, I might call it a wash, but on that day, it was clearly only adding to the bewilderment of the Astros. Wood could be even more effective via wildness, once they got uneasy about seeing the ball out of his hand.
14. We have no velocity readings on him, save a few spare mentions. It seems as though, somewhere in the park, Wood's pitch speeds were being posted. Caray alluded to the kid's 98-mile-per-hour heat in passing early in the game, and that might have been the kind of thing pulled from a scouting report or discussions with Cubs personnel before the game, but late in the going, he makes reference to Wood's previous pitch having been 98, too. 
Yet, Caray doesn't feel compelled to repeatedly make note of that number. The WGN cameras never show us a number on a ballpark scoreboard--let alone the idea of putting the figure on a chyron. This was even a year or two before the permanent score bug took up residence in the upper corner of the WGN Cubs broadcasts. One could see the score, inning, outs, and baserunners only every so often, when there would be a quiet moment and the truck would throw that information up for a few seconds. 
This was before high-definition, so a useful score had to be of a decent size. It was also in a different age for aspect ratios and average TV sizes, so every pixel was valuable real estate on the screen. It makes sense that broadcasts waited a while before beginning to constantly display the score and other information. Still, it's disorienting. The modern baseball fan has learned to use the score bug as a reliable and perpetual crutch. To keep up throughout Wood's masterpiece, one needed to keep the count in one's head much of the time. 
The same close attention was required to judge the umpire's zone, or to gauge whether Wood was adding or subtracting on his fastball, or whether he had reshaped that last breaking ball to give the hitter a new wrinkle. I'm not pining for those days, but they invited a different, more tactile and intimate engagement with the action than does the modern game, with so much valuable information positioned for easy reference and another gold mine's worth just a few keyboard taps away.
15. Those Last Three Non-Strikeouts, No. 1: Brad Ausmus, Top 6. As I watched, I found myself increasingly engrossed by what-if scenarios. Don't get me wrong; I'm not pleading for this game to have somehow been even more majestic or historic. I just can't help wondering about whether it could have been. To that end, we'll spend a moment with each of the remaining hitters who did manage to put the ball in play against Wood. The first came when Ausmus led off the top of the sixth inning. Wood had him in a two-strike count, but he was beginning to battle the command of his slider. On 2-2, feeling that Ausmus was seeing that pitch too well to chase it far outside the zone, Martinez and Wood chose a fastball on the outside corner. Ausmus stung it, but right to Mickey Morandini at second base. It was an easy out, but not a strikeout, when perhaps it could have been. 
16. Wood started to tire and overthrow in the sixth inning. The most fragile moment of the game, by far, was the top of the sixth inning. Wood started pulling stuff, especially the slider, as his command cracked a bit under the strain of working deep into the game. That showed up in Ausmus's at-bat, but also to Craig Biggio, who came up with nobody on and two outs. An overcorrection to that problem led to Wood hitting Biggio, the second and final baserunner of the day.
This is another one of those small moments that make me wonder whether and how the game could have been even more exceptional. Biggio, with his customary Kevlar-looking elbow guard, had no compunction about letting the ball hit him. As we've already established, Gutierrez's hit was a cheapie--correctly categorized, according to the rules and customs of scoring, but a should-be out. If we embrace the idea that that hit shouldn't count against Wood in the enclosed green fields of the mind, the only thing left to make this a non-perfect game is that Biggio plunking.
I think it's good that it happened, though. It stands as a lone reminder of the fact that Wood did have to work through something. He did experience some adversity, even in the midst of one of the best-pitched games ever. Hitting Biggio was a result he deserved, because he lost his control within that frame and his attempt to fix that led to a misfire. Even a few months later, maybe he could have made an easier, smaller adjustment, and avoided that. But the same wisdom that might have permitted that tweak probably would have come at the cost of the intensity and the lethalness of his stuff.
17. Those Last Three Non-Strikeouts, No. 2: Derek Bell, Top 6. You can't do something as astounding as what Wood did without a little help from a lot of people. The Cubs played good defense that day. Jerry Meals had an oceanic strike zone. Crucially, though, the Astros also helped him out.
Right after that plunking of Biggio, Derek Bell swung at the first pitch. It's one of the worst swing decisions in baseball history. Wood was working out of the stretch for just the second time that day, and the first time since the third inning. Biggio represented the tying run, and he had good speed. Why not force him to throw a few more strikes, given the shakiness of his command during the sixth? If Bell thought he might pounce on a get-me-over fastball and hit a go-ahead homer, he was immediately and resoundingly thwarted. He hit a lazy foul pop fly, to end the inning. He did avoid striking out, but in multiple ways, Bell only nudged Wood along the path to the eventual peak he reached.
That'll do it for another batch of thoughts about this wonderful game. I want to hear your own memories, experiences, and observations, too. Drop them here, and come back tomorrow for part three.