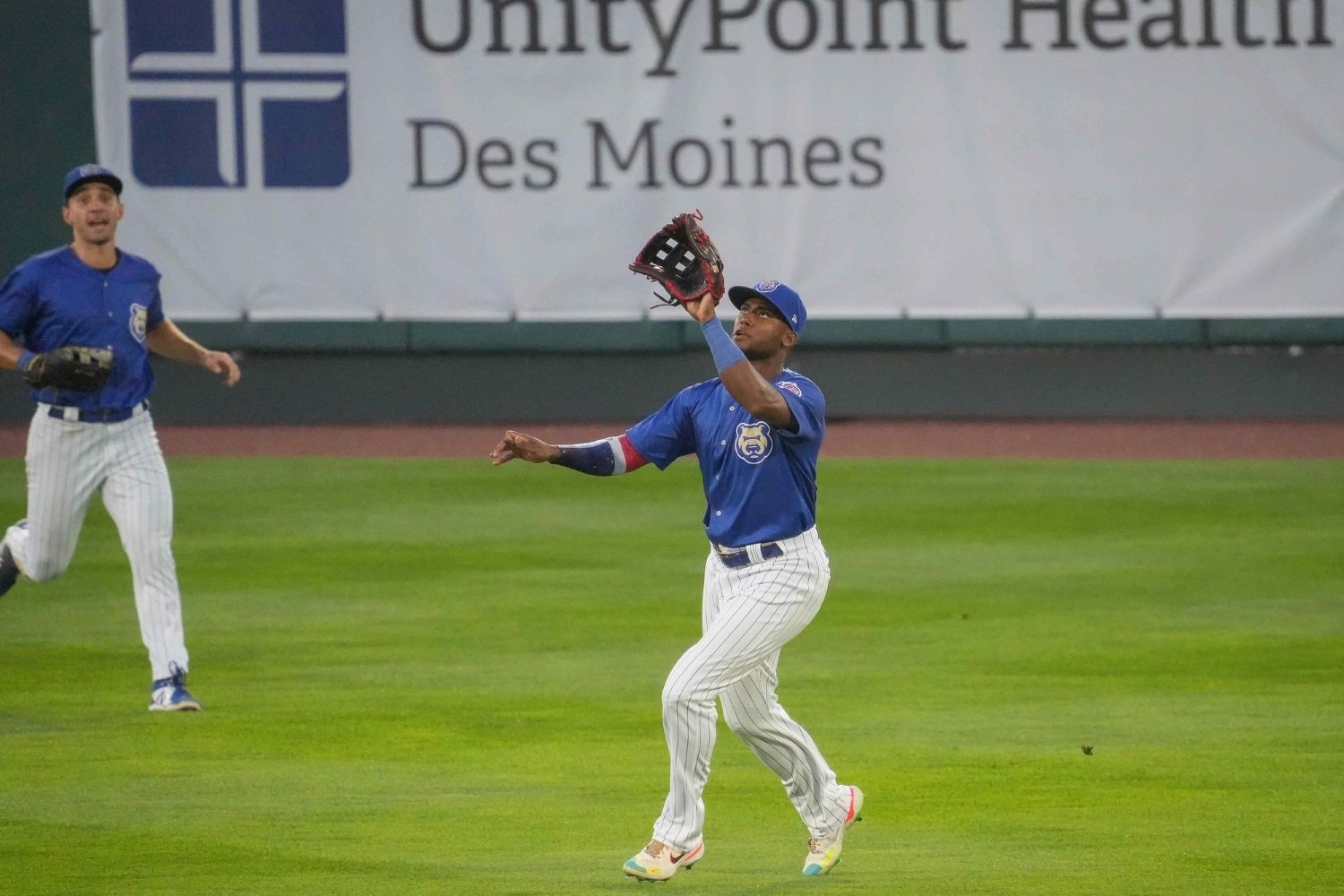 Image courtesy of © Bryon Houlgrave/The Register / USA TODAY NETWORK
As one of the people banging the drum for Alexander Canario to get called up when he went on his recent heater at Triple-A Iowa, I was ecstatic to see the Cubs opt for the high-risk, high-reward outfielder when the September roster expansions came. He fills a void on this team--namely, monstrous, gargantuan power--that should, at the very least, position him to be a valuable pinch-hitter and platoon option. Instead, Canario has all of one at-bat since being recalled on September 1: a strikeout in a meaningless plate appearance in a blowout, against one of the most dominant closers in the sport today (Camilo Doval). Why isn't the kid getting any playing time?
To hear it from the boss himself, David Ross attempted to explain his rationale behind sitting a prospect who was scorching hot for three weeks: "Look, we're in a really good position to win. The guys that got us here are going to play. And the guys that are on the bench, if they've got roles, they'll fill in those roles. Canario got called up for a September call-up. He'll play when he's needed and [he] fills in nicely or the game gets out of hand one way or the other–get some at-bats, get in the outfield. I think the future is bright for a lot of our minor leaguers that are coming up, but now's not the time that I'm trying to get those guys at-bats."
Now, there's a lot of validity imbued in that familiar Rossy stubbornness. Seiya Suzuki is on an absolute tear right now (1.077 OPS over his last 26 games), and Ian Happ is playing really nicely as well (.840 OPS in his last 100 at-bats). Those are the two everyday guys at Canario's primary positions, left field and right field, and there's not much sense in sitting them when they're just as hot as Canario was. No one is advocating for Cody Bellinger to take a day off, and Canario only has limited experience playing center field in the minor leagues, anyway. 
Beyond them, though, a lot of the Cubs' regulars are struggling badly. Jeimer Candelario, the big trade deadline acquisition when the Cubs surprisingly bought this year, has a paltry .600 OPS over the last month, with an equally egregious 29% strikeout rate to match. Dansby Swanson has been even worse at the plate, with a .595 OPS in the last 30 days brought down by an ugly .295 slugging percentage. The list keeps going: Nick Madrigal (.638 OPS in the last 30 days), Christopher Morel (.454 OPS), Miguel Amaya (.595 OPS) and others are all in prolonged cold stretches with the bat right now. None of those guys play positions Canario is suited for, but there's enough positional flexibility on this roster to at least get the top prospect in the lineup against lefties. 
Now, I need to make it clear: no one is (or at least, no one should be) advocating for Canario to see everyday playing time. Ross is absolutely correct that the Cubs are in position for the playoffs for the first time since 2020 because of their regular starters. Those guys need the chance to work through funks and slumps. However, wins right now are more important than they've been in a long while for this team, and willingly playing guys who are producing negative value at the plate isn't exactly "Manager of the Year"-level coaching. 
Canario, by the way, is also an important factor in this whole equation. Yes, the needs of the major-league team come first and foremost, but this is a guy who was on his way to being a blue-chip prospect before the freak injuries in winter ball set him back. He needs to be playing (nearly) every day for the sake of his development, not to mention continuing to get his legs back under him, and having him sit on the bench for weeks at a time while Mike Tauchman slashes .178/.294/.205 over his last 23 games played is organizational malpractice. If Canario isn't going to sniff the field--because of front office dictation, Ross's hard-headedness, or simply because he isn't ready--then send him back to Iowa. Let the kid play and keep developing, so that he can, one day, actually contribute to the major league team (and use his roster spot on a guy who will actually contribute right now!). 
Despite all of this, the Cubs are still winning. Canario isn't going to be the reason the team makes or misses the playoffs. However, Ross has a habit of grinding his "circle of trust" guys into the dust (gee, wonder where he learned that habit from), and getting a couple of the normal starters a few breathers before the playoffs would kill two birds with one stone, assuming he actually puts Canario in the lineup in those players' places. Hopefully, the ridiculously powerful outfielder can find himself in a few more games before the regular season ends, lest the Cubs convince themselves that the "Mahomes development plan" is the best way for prospects to learn.