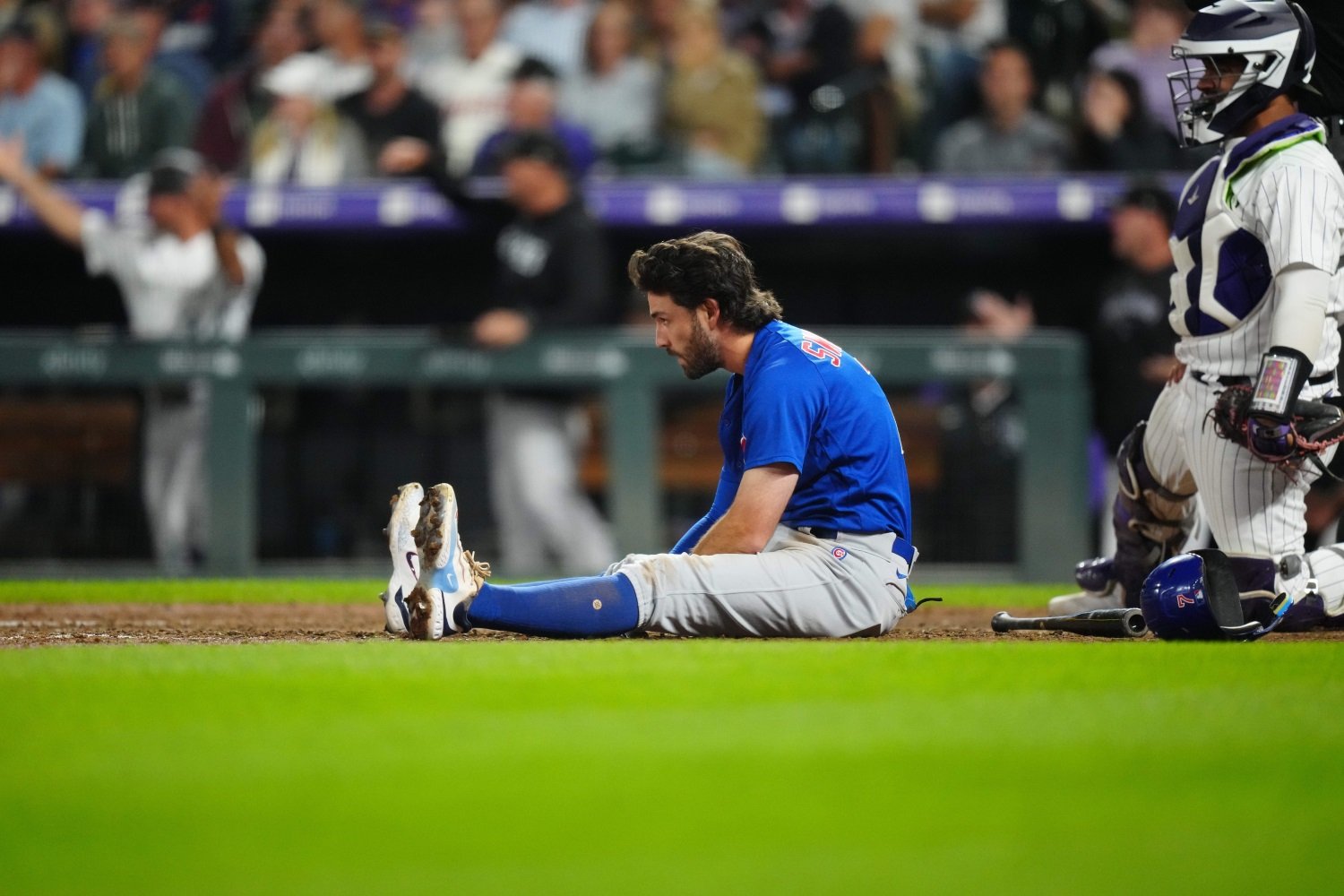 Image courtesy of © Ron Chenoy-USA TODAY Sports
No one wants to feel badly about Dansby Swanson's first year with the Cubs. He's been awesome. He's been delightful. His defensive play at shortstop is even better than advertised, and his leadership is surely one reason why the team even reached September in position to play meaningful games. He's one of the unqualified success stories of this season. If we're going to properly diagnose this team's inability to come up with the hits they need to win close games, though, we have to talk about this: Swanson has been dreadful in important at-bats, all year.
Swanson has come to the plate 81 times in Late and Close situations this year, according to Baseball Reference. (That means it was at least the seventh inning, and the tying run was at least on deck, or else the Cubs led by no more than one.) He's batted .151/.235/.192 in those situations, without a home run. He's hitting .235/.309/.378 in 110 high-leverage plate appearances. He owns a .640 OPS in innings 7-9, and he's 0-for-7 with a walk in extra innings. He's got a .660 OPS against relievers, overall.
It's not fair to Swanson to pull out these numbers and blame him for the Cubs' undoing, here. After all, that might not even be what this is. It might merely be the last trial of the insanely resilient, impossibly impossible 2023 Cubs. They might roar back, lock up a Wild Card berth, and even make a run into the postseason. Nor is it likely that this says anything permanent about him as a clutch hitter. The samples here are quite small. They could change with one mighty hot streak to close the season, and if he had such a clutch heater, it would probably be the thing that put the Cubs over the top and into the playoffs.
Nonetheless, these numbers (and the much more visceral reality they describe) are an important part of the story of this season, at this point. Swanson is, by far, the player on the roster in whom the team has the most invested. He wasn't brought in to anchor the offense, and his overall production has been adequate, but if we don't at least acknowledge his futility in crucial at-bats, we'll end up placing blame somewhere else--and it's likely to be somewhere even more unfair, because it will be less rooted in objective truth. Cody Bellinger hit into a devastating double play in the third inning Sunday night, but Bellinger has been the engine of the team's offense. He owns a 2.8 Win Probability Added (WPA) for the year. His at-bats have, on balance, added that many wins to the Cubs' ledger, relative to an exactly average theoretical outcome for each of them. That leads the Cubs by a wide margin.
Swanson doesn't quite take up the rear in that statistical category, but it's fair to say that he keeps dubious company. Three Cubs hitters have hurt the team's Win Probability more than Swanson (-0.6) this year: Trey Mancini, Miguel Amaya, and Tucker Barnhart. Amaya's offensive struggles down the stretch have been very unfortunate, but he's a rookie playing infrequently, trying to manage the responsibilities of being a backup catcher for a contending team with a thinning pitching staff. You know what happened to Mancini and Barnhart.
I can recommend adjustments, mentally and physically. Swanson pulls off the ball too often when he comes up in important situations. Trying to pull the ball and play the hero, ironically, he thwarts that very objective. I covered that aspect of things in the piece I wrote 10 days ago about Swanson's struggles. It runs deeper than just getting pull-happy, though. Swanson also seems overly aggressive, in general.
He has a .631 OPS in plate appearances in which he swings at the first pitch, which is 28 percent worse than the league does when they do so, on average. When he takes the first pitch, his OPS is .812--21 percent better than average. Yet, he swings at 33.5 percent of first pitches, which is solidly higher than the league average. He needs to take a more patient tack. Even if he falls behind on called strikes, he might get a better look and a better idea of how to square up the next pitch. The payoff of early-count swinging for him this season has been miserable, so he needs to adjust.
Neither of those changes are as easy to make as they are to prescribe, though, and even if he made them, he might be no better off. A lot of this is bad luck, or at least bad luck frosting on a cake made of imperfect process. There's no easy five here, and there's no value in vilifying the man who every Cubs fans hopes has another half-decade of fruitful time in Wrigleyville ahead of him. It just has to be out there. The Cubs keep losing, and inarguably, this is a significant reason why.