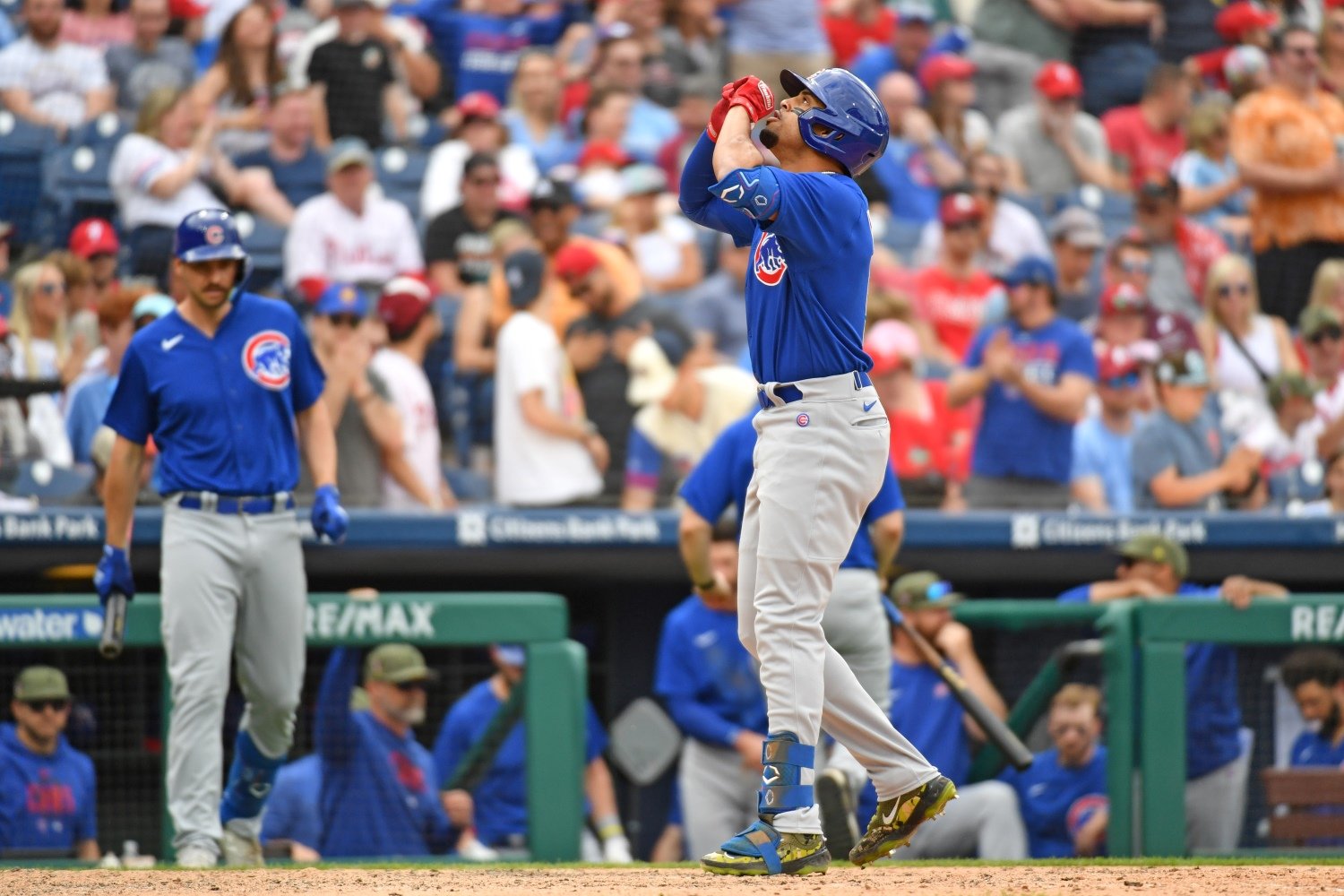 Image courtesy of © Eric Hartline-USA TODAY Sports
Last Tuesday, Danny Rockett (on Twitter at @SonRanto, one of the deans of the metaphorical delegation from the real-life Wrigleyville to its digital counterpart) ran a Twitter poll asking fans of whom Christopher Morel most forcefully reminds them. He gave three options, and invited other suggestions. The responses were quite evenly mixed, including many people who took advantage of that offer to identify their own comps.
Who is Christopher Morel?

— Danny Rockett (@SonRanto) May 16, 2023
With all due respect to Danny, these weren't especially compelling comparators, in my opinion. Morel doesn't have anything approximating Aramis Ramirez's hit tool. He doesn't have the plate discipline or the defensive skills that allowed Ben Zobrist to first find a foothold, then blossom into a true superstar. Yet, his power is a louder tool than Zobrist ever had, and he's better able to make real use of his athleticism on the diamond than Junior Lake ever was.
Morel probably isn't a long-term, everyday infielder, but he's also unlikely to be a well-rounded utilityman with value in all facets and on both sides of the runs ledger. What Morel looks most like, as he comes up on 500 career plate appearances, is a rough-edged, toolsy outfielder with top-shelf power. What he looks like is Sammy Sosa, and while I'm not projecting that he'll hit 600 big-league home runs, that's an awfully exciting comparison.
Here's the cruel twist, though: For much of his career, Sosa was a dazzling, enlivening star on soporific Cubs teams. His flaws made him ill-equipped to be the best or second-best player on any serious contender for the first half of his Chicago tenure, and the obnoxious egalitarianism of baseball rendered him unable to singlehandedly lift them very far for much of the second half. Watching Sammy Sosa was always fun, but it was empty calories. That's not a commentary on the substance or the style of Sosa, but on the fact that too often, the Cubs were so relentlessly and (sometimes) inexplicably bad that one could have exactly as much fun by checking the highlights on SportsCenter to see Sosa homer as by watching the whole game.
That's the vibe of the 2023 Cubs right now. Morel is not a force on par with peak Sosa, of course, but he's been a burst of sizzle and spark in his first fortnight with the parent club. Alas, he's just the latest guy taking a turn. Nico Hoerner has had a similar stretch during which he put on a really fun show. Patrick Wisdom's power binge was every bit as thunderous as Morel's. Cody Bellinger showed us a glimpse of his considerable former glory, early on. Roughly twice every time through the rotation, a starter has a wonderful start that makes most of an entire game fun and watchable.
It's not adding up to anything. The maddening reality is that a lot of things have gone right for the Cubs this year, but they're 20-26, and they're watching a lot of the teams over whom they grabbed what felt like a potentially critical early edge get right and sail right past them--often at their direct expense. Somehow, for the fifth straight season, this team is less impressive and less consistent than it ought to be. The familiarity of the players, the makeup of the front office, the man on the top step of the dugout, and many things about how the organization tries to win have changed in that time frame, and they've had very different levels of expectation going into each of those seasons, but the results seem obdurate. 
That's why it feels like it did 20 or 30 years ago, right now. Even the team's successes feel a bit like hiccups. Just when they begin to feel almost trustworthy, the page turns, and Cinderella turns back into a franchise forever selling hope. The farm system is on the upswing, but fans old enough to remember $4 bleacher seats know that when the big-league product is on the downswing, the farm system is always on the upswing. Jed Hoyer and Carter Hawkins are superficially smarter than Ed Lynch, and even than Andy MacPhail, but they seem no closer to resolving the perpetual extra gravity that drags the Cubs downward than those men got. Ownership was bad then, and ownership is bad now, but ownership changes far less quickly and easily than front-office or on-field personnel. If it's bad owners holding the Cubs back, there's no way to tell when a light might emerge at the end of the tunnel for the Cubs and their fans. If the Ricketts family is the kind of ownership group that can at least be overcome by better front-office work, Hoyer and Hawkins need to start doing it.
There is too much talent and too much money on the field every day for the Cubs to be excused for their recent play. Fans can do little to improve the situation, but the standard the franchise is setting is too low. Coming into this season, the baseball world had relatively low, muted expectations for the team. To see them demonstrate that they have the talent to prove those people wrong, yet consistently fail to actually do so, makes it feel like the bad old days are here again. Given that the charm and the affordability of Wrigley Field have been irreparably damaged by the Ricketts's myopic cash grabs throughout the last decade, fans can't even fall back on something ineffable and separate from winning as solace during times like these. Just at this moment, it feels like the Cubs' owners successfully got rid of everything that made the Cubs unique, except for the mysterious, constant losing.  
1