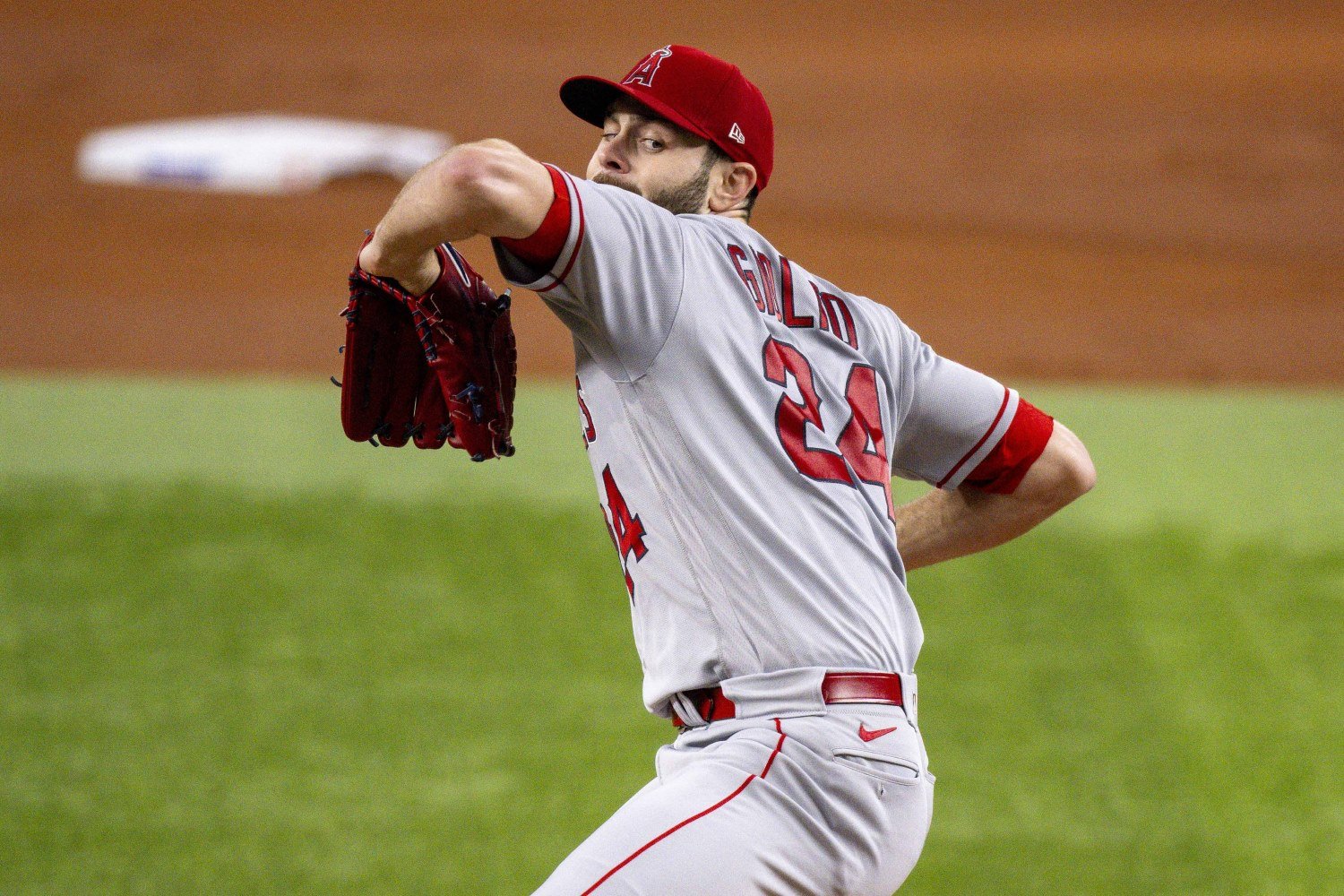 Image courtesy of © Jerome Miron-USA TODAY Sports
With Shohei Ohtani headed for the open market at the end of this season, the Angels tried everything they could think of to get themselves over the hump and showcase Ohtani in October for the first time. Being the Angels, they failed miserably. Thus, on Tuesday, news broke that they've put six players on waivers: pitchers Lucas Giolito, Dominic Leone, Reynaldo Lopez, and Matt Moore; and outfielders Randal Grichuk and Hunter Renfroe.
Any team can now claim those players, and of those who claim each, that player will be awarded to the team with the worst record. The Cubs are, alas, far from the driver's seat, then, but they have a decent spot in the line of contenders who might step up to this particular feeding trough. A lot of talent just became available, for nothing but money, and how much pause the money involved will give to each of the teams involved will be a fascinating insight into how teams value the chance of claiming a Wild Card berth under the still-new playoff format.
The Cubs' position is somewhat fraught, but perhaps less so than has been generally assumed. By all accounts, the team does not want to spend beyond the lowest threshold of the competitive balance tax bracket this year, so that they're not treated as tax payers next year or as repeat payers in 2025 and beyond. The soundness of the decisions they've made with that in mind until now can be debated, but it makes ample sense to stick to that stance at this point. No one on the list above can effect so great a difference in their chances of either reaching the playoffs or having success there that it's worth altering long-term franchise plans, especially given how hard it can be to onboard a new player in the modern game. 
Still, I'm not sure there's any actual dilemma here. The same thing that mutes the value of these potential acquisitions somewhat (the fact that there's only one month left in the season) also limits the amount still owed to any of them. Giolito will cost $1.9 million or so for the balance of the campaign. Moore will cost just under $1.4 million. Renfroe is the most expensive of the group, and is only owed another $2.2 million or so. According to both Roster Resource (housed at FanGraphs) and Cot's Contracts (at Baseball Prospectus), the Cubs' current CBT tax figure is $227.7 million. That means they can spent as much as another $5 million and still sneak in under the threshold, which is set at $233 million.
Our outside estimates of teams' CBT figures are inexact, and because of bonuses and escalators that could still come into play, it's better to guess that the Cubs really only have $2 million or so in wiggle room. Even then, though, either Giolito or Moore could fit under the line. Lopez will only make about $630,000 the rest of the way, and Leone will be cheaper still. The team could put in claims on two of these four without seriously risking being on the wrong side of the line at the end of the year.
Obviously, it's unlikely that more than one player the Cubs want gets to them in the line, at this stage. The Diamondbacks, Red Sox, Reds, Marlins, Twins, and Giants all have reason to want at least one of the group, and all of them have priority over the Cubs. That just means, though, that the Cubs need to be aggressive in making some claims, without overbalancing and ending up saddled with salaries that would cause them rules-based headaches for years to come. Let's talk about the guy who should be the priority for them, even though that changes only whether and whom else they also claim. 
After Justin Steele's masterful but lengthy performance Tuesday night, and in light of the fact that the Reds are now two full games behind the Giants, it's a safe bet that the Cubs will use the upcoming off day in their calendar to push Steele back to start on Labor Day against San Francisco. That's going to require them to find a sixth starter for at least one turn through the rotation, but because of the doubleheader in Cincinnati Friday, that was going to be necessary anyway. In an ideal world, the team would have a sixth starter more than once down the stretch, because that might allow them to skip Jameson Taillon if he continues to struggle, and it should also help them restrict the sheer volume of innings Steele accumulates by the end of the year.
Giolito would solve several problems at once, then. He'd also be a fairly familiar addition, even if his only connection to the Cubs is an accident of geography. If nothing else, he's not going to get lost or overwhelmed navigating the city during his brief stay with the club.
Lengthening the rotation would only be part of the benefit of landing Giolito, of course. His numbers have been disappointing over the last year and change, but he still has both a slider and a changeup that he can comfortably throw against righties and lefties alike, and he still misses bats with both pitches. He would take pressure off of Jordan Wicks and Javier Assad, as well as Steele, and could very plausibly start a playoff game if the Cubs get that far.
While the value of Giolito is obvious, the injury that shelved Michael Fulmer makes it equally easy to see why Lopez or Moore would be a boon to the bullpen. Moore seems especially appealing, since Brandon Hughes still isn't all that close to re-joining the roster, but he's not just a matchup lefty, either. He manages contact so well with his changeup that he could slot right in alongside Julian Merryweather and Mark Leiter Jr. as part of the Cubs' setup corps. So could Lopez, but in order for that to work, the Cubs would have to fix the walk rate that has nearly trebled from 2022 to 2023. Lopez's fierce fastball-slider combo would make them even more overpowering, though, in terms of stuff, and would certainly reduce the short-term pressure on guys like Daniel Palencia and Jose Cuas.
It's wildly unlikely that any of these three get as far as the Cubs. The Reds and Giants have glaring needs in the rotation, The Diamondbacks and Twins have similarly clear ones in the bullpen. Unless a bunch of teams get squeamish about a late-season change to their bottom line, the Cubs will be lucky even to snatch up Leone, the slider monster whose fastball command comes and goes too often for him to be more than a serviceable middle reliever. Thus, they should make claims aggressively. If they were to land all of Giolito, Moore, and Lopez, it would probably push them over the CBT threshold, and that would be frustrating. On the other hand, it would provide the kind of impact none of them can impart alone. Consider this potential October staff:
Justin Steele

Lucas Giolito

Javier Assad

Matt Moore

Julian Merryweather

Reynaldo Lopez

Mark Leiter Jr.

Jordan Wicks

Jose Cuas

Michael Fulmer

Jameson Taillon
This group doesn't include the untrustworthy Drew Smyly or Hayden Wesneski. It's a credible rotation, even for a playoff team, and that's without Marcus Stroman. This group, supported by a very good collection of position players, could make a deep postseason run. That would be worth violating the tax threshold and accepting the unanticipated costs that come with that. Of course, we can never know whether successfully claiming them all actually will pay off that way. We can only say that the probabilities of all that would increase with their arrivals. On that basis, the Cubs should claim each of these guys, and take whatever small steps are necessary to accommodate them if they happen to win one or more waiver period.