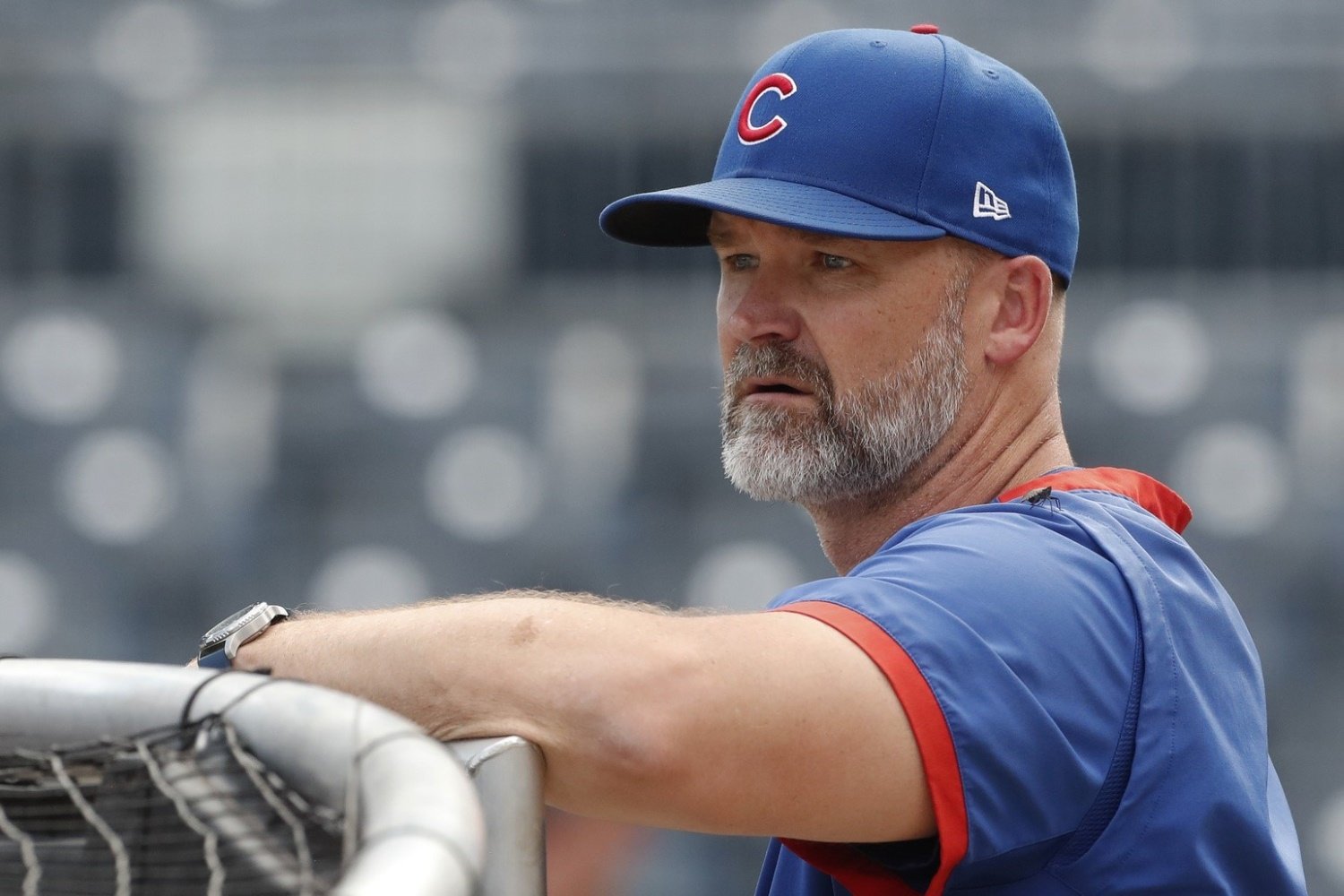 Image courtesy of © Charles LeClaire-USA TODAY Sports
This is effectively a part two to my article advocating for the Cubs to fire Ross following their embarrassing September collapse, though clearly the people in charge of our favorite franchise skipped over that piece (or disagreed with my argument). In case you didn't see it, Jed Hoyer confirmed in his annual end-of-year conference that David Ross will be back for the 2024 season. You can view Hoyer's entire press conference here.
Hear from Cubs President of Baseball Operations Jed Hoyer following the conclusion of the 2023 regular season. https://t.co/09BlvcQElj

— Chicago Cubs (@Cubs) October 3, 2023
The decision was expounded on in an article at The Athletic by Patrick Mooney and Sahadev Sharma: "A manager has to have those rare interpersonal skills, a feel for the clubhouse and the ability to connect with analysts, support staff, the media and corporate partners. Ross took the job with that kind of confidence and charisma. The relationships within the organization are meaningful. The emotional connection to Wrigley Field is genuine."
All of those intangible qualities that Ross brings to the table are exceptionally important. There's a ton of characteristics that Ross has that are never seen by the fans, from managing big personalities to gauging player fatigue and injuries. As a long-time big leaguer himself, Ross understands better than most the ebbs and flows of a full season, and the tolls it takes on a player's mind and body. Those are valuable traits for a manager to have, and Ross apparently has them in spades. 
It's what Ross lacks that should frighten Cubs fans. There has been a startling lack of growth in the quality of his in-game decision-making, as Ross has infamously halted the momentum of Cubs rallies with ill-timed calls for bunts or bringing relievers into the game on no rest while keeping fresh arms seated in the bullpen. He kept well-regarded rookies like Pete Crow-Armstrong and Alexander Canario on the bench, even as everyday starters were struggling badly at the plate (or playing through injuries) during the stretch run this year. There is a stubbornness in his managerial mindset that has been hurting the Cubs for years, and he has shown no evolution with it, even as he's had to navigate historical events like the 2020 pandemic season and 2021 Trade Deadline fire sale.
Joe Maddon, Ross's predecessor, was fired after the Cubs collapsed in September 2019, in very similar fashion to what happened this year. The team collectively realized that core had run its course, and Maddon was shown the door so Ross could be brought in early enough to mature through the upcoming rebuild. That rebuild, however, is over. Ross is not the right guy for what is going to be the Cubs' next competitive window--and as we saw with the last core back in 2016, that window of World Series contention can slam shut fast. 
There's precedent for all of this. A decade ago, during the first rebuild under Theo Epstein, Rick Renteria was brought in as manager to help guide the Cubs through some lean rebuilding years. Then, Maddon was made available by the Rays, and the Cubs capitalized and brought him in despite previously promising that Renteria would return for the 2015 season. The move worked quite well, as the Cubs went to three straight National League Championship Series under the stewardship of Maddon. There may not be a free agent coach of that caliber available this winter (unless Craig Counsell spurns both the Brewers and new Mets' boss David Stearns to join the Cubs), but there are better options than Ross. 
Perhaps an analogy to another sport could help illustrate the urgency of the problem at hand. People around here know the situation with the Chicago Bears, with Matt Eberflus looking utterly incompetent as a head coach and Luke Getsy seemingly having a personal vendetta against Justin Fields's development as a quarterback. Yet it's the Yinzers in Pittsburgh that I think mirrors the Cubs' situation most. A talented team that just brought in a lot of free agents and has drafted well (in recent years, but also seemingly in perpetuity), the Steelers have had one of the most stable coaching positions in the history of sports. In the Super Bowl Era (since 1969) the Steelers have had only three head coaches: Chuck Noll, Bill Cowher, and Mike Tomlin. 
That kind of stability is a virtue--but only when the ship is on course. If you're out of the loop with them this year, the Steelers have a second-year first-round quarterback in Kenny Pickett, who is struggling badly. A lot of that blame is falling on offensive coordinator Matt Canada (who, indeed, is an atrocious play caller), but also Tomlin, who has enabled and defended Canada at every turn despite being in charge of the hiring and firing process of his coaching staff. Tomlin cited "continuity" as his reason for holding onto Canada through this past offseason, despite mounting evidence that he was a detriment to the team. That decision has backfired and is now destroying the Steelers' hopes, not only for this year, but also beyond, as they will have to reset yet again at quarterback with Pickett's development taking a nosedive. 
Now, it's not an exact one-to-one comparison, but the Tomlin-Canada relationship is very similar to the Hoyer-Ross one. The Cubs are built to win. Next season is the beginning of their World Series window. Wasting one of those years on Ross won't just hurt them in 2024; it'll set them back for years to come. Ross won't negatively affect the development of the Cubs' top prospects like Canada has ruined Pickett, but "maintaining continuity" isn't good enough for a team that fell apart at the end of the season and missed the playoffs despite having a 92% chance to make it early in September. 
Much like Tomlin handpicked Canada to be his OC, Hoyer and the front office specifically chose Ross as "their guy". They have a vested interest in seeing him develop into the manager they've been swearing to Cubs fans that he can be. Ross deftly guided this team through some emotionally difficult years; that doesn't mean he knows how to win as a manager in the biggest moments. In fact, this year proved he's still got a ways to go on that learning curve. 
I hope I'm wrong about this. I'm a Cubs fan and I'm ready for them to win again, just like all of you are. Hopefully, Ross is the guy, and 2024 sees the Cubs not just make the playoffs, but also make a deep run once there. If that doesn't happen, articles like this won't have to be written next season: Ross will be ousted, but not before having wasted a prime year for the Cubs to win.