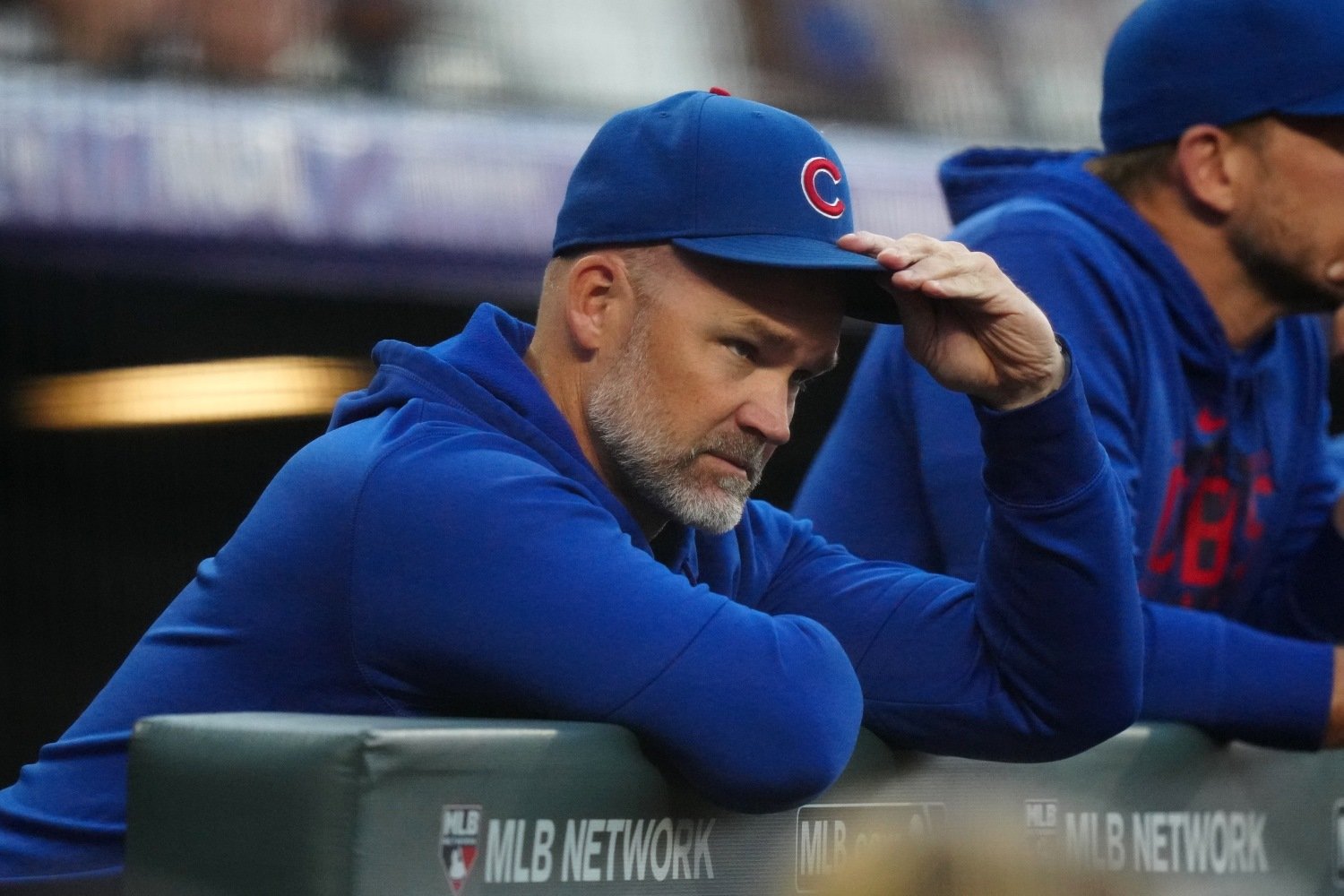 Image courtesy of © Ron Chenoy-USA TODAY Sports
Before I get into the meat of this piece and go all scorched-earth on who I consider the main culprit in this difficult end to the season, it's fair to note that there has just been some unusually bad luck baked into what's happening to the Cubs lately. It's hard to explain in detail if you haven't been watching the games, but this is a pretty good representation of the last two or so weeks for the squad. 
There are many people at fault for what's happening right now. Star players are struggling, the bullpen is ailing and collapsing, and there's simply not enough major league-ready depth capable of helping to weather the storm. For those of you who want to blame Dansby Swanson for his horrific struggles at the plate in the second half (and, alas, some untimely defensive slipups), or Mike Tauchman's magic wearing out, or the Adbert Alzolay and Michael Fulmer injuries, or the deep struggles at the back end of the rotation, go ahead. It's all fair game. 
But there are two main people to whom I think most will point: Jed Hoyer and David Ross. 
Now, I am unequivocally not a Jed Hoyer apologist. I have been among his biggest detractors since he took over for Theo Epstein, and would have been standing in the front row of the angry mob calling for his job if the Cubs had not been competitive again this year. 
However, the Cubs have been competitive this year--more so than even some of my wildest expectations. They were in the division race until the beginning of September and primed for a top-two wild card spot until Game 150 (with a chance, still, to climb back into that position). That, following two years of a lean rebuilding period, is a success, especially when you consider that so much of this team's identity is directly tied to moves that Hoyer made: the Cody Bellinger reclamation project, the surprising buy-side Jeimer Candelario trade (even if he's struggled), the Swanson signing and more. 
Admittedly, a lot of Hoyer's moves haven't worked out. We all know what happened with the Eric Hosmer/Trey Mancini first base experiment. Jameson Taillon is somehow in contention with Tyler Chatwood and Edwin Jackson for the worst contract the Cubs have given a free-agent pitcher over the last 20 years. Tucker Barnhart is going to be collecting really nice paychecks from the Cubs over the next year and a half to sit on his couch. Yet, despite all of those failed transactions and more, I struggle to blame Hoyer. He spent a lot of money in free agency, bought at the trade deadline and was aggressive in calling up prospects this year. He gave this team a real chance to win. 
Any long-term job security questions for Hoyer will be answered in time. Most of them will depend on the success of the farm system he has so carefully rebuilt since that fateful 2021 trade deadline fire sale. For now, though, I'm willing to say that the boss of the front office has been satisfactory in his job performance here in 2023. 
That leaves us with one David Ross, current manager of the Chicago Cubs. 
I have a soft spot for the man affectionately called "Rossy"; his home run in Game 7 of the World Series in 2016 is arguably the greatest final at-bat in a career ever. He signed my Anthony Rizzo jersey at a 2015 game in Cincinnati where rookie Kyle Schwarber hit home runs in the ninth and thirteenth innings to steal a win for the Cubbies. He's beloved in the clubhouse, and has been a Chicago legend since signing on to be Jon Lester's personal catcher. 
None of that excuses what is setting up to be an all-time choke job, late in the 2023 season. There is no excuse for the blatant mismanagement of both players and important moments he's displayed in his fourth year on the job. From ill-timed bunts to running his best relievers into the ground, Ross has followed in the footsteps of his predecessor, Joe Maddon, and his infamous 2016 playoff run. Indeed, any winning the Cubs are doing right now is despite their manager, not because of him.
Here's a particular quote that Ross gave following his inexplicable refusal to use Alexander Canario for two weeks following his initial call-up: "Look, we're in a really good position to win. The guys that got us here are going to play. And the guys that are on the bench, if they've got roles, they'll fill in those roles … Canario got called up for a September call-up. He'll play when he's needed and fills in nicely or the game gets out of hand one way or the other–get some at-bats, get in the outfield. I think the future is bright for a lot of our minor leaguers that are coming up, but now's not the time that I'm trying to get those guys at-bats."
Now, admittedly, Hoyer may have pulled the trigger on calling up Canario in particular too early. It's more than acceptable to argue he wasn't ready for the majors following his gruesome offseason injuries. What isn't acceptable is that Ross would rather play Mike Tauchman, he of the .220 batting average since August, in the leadoff spot and in center field when he has literally one of the best defensive outfielders in all of baseball in Pete Crow-Armstrong just sitting on his bench. 
Loyalty is a valuable thing in baseball and life, and seeing it from your manager can do wonders for your confidence when you're struggling. Ross knows this as a long-time player, and it's part of why the Cubs have given him such a long leash to develop as a manager. But that loyalty has eroded into pure stubbornness, with Ross so clearly convinced in his ways that he is unable to see that his regular starters need a rest more than a vote of confidence. 
The team is paying the price now. Off to the IL are overused and taxed late-inning relievers Alzolay and Fulmer. Candelario is similarly unable to play with a back injury, and now Nick Madrigal is dealing with hamstring problems. Bellinger hasn't looked all the way back in center field defensively since his leg injury in Houston in May; Swanson hasn't looked right at the plate in weeks. Whatever momentum Canario and PCA were bringing to the majors following their hot stretches at Triple-A Iowa has all but vanished. 
The Cubs are ready to be competitive again, right now. Hoyer has put together a roster that has a window that's in the process of being propped open. The time for Ross to improve as a manager is up. If he's not ready now, then the Cubs need to move on.
Over the next two weeks, Ross will be managing for his job. If he can't get out of his own way, the Cubs need to make sure he stays out of theirs.