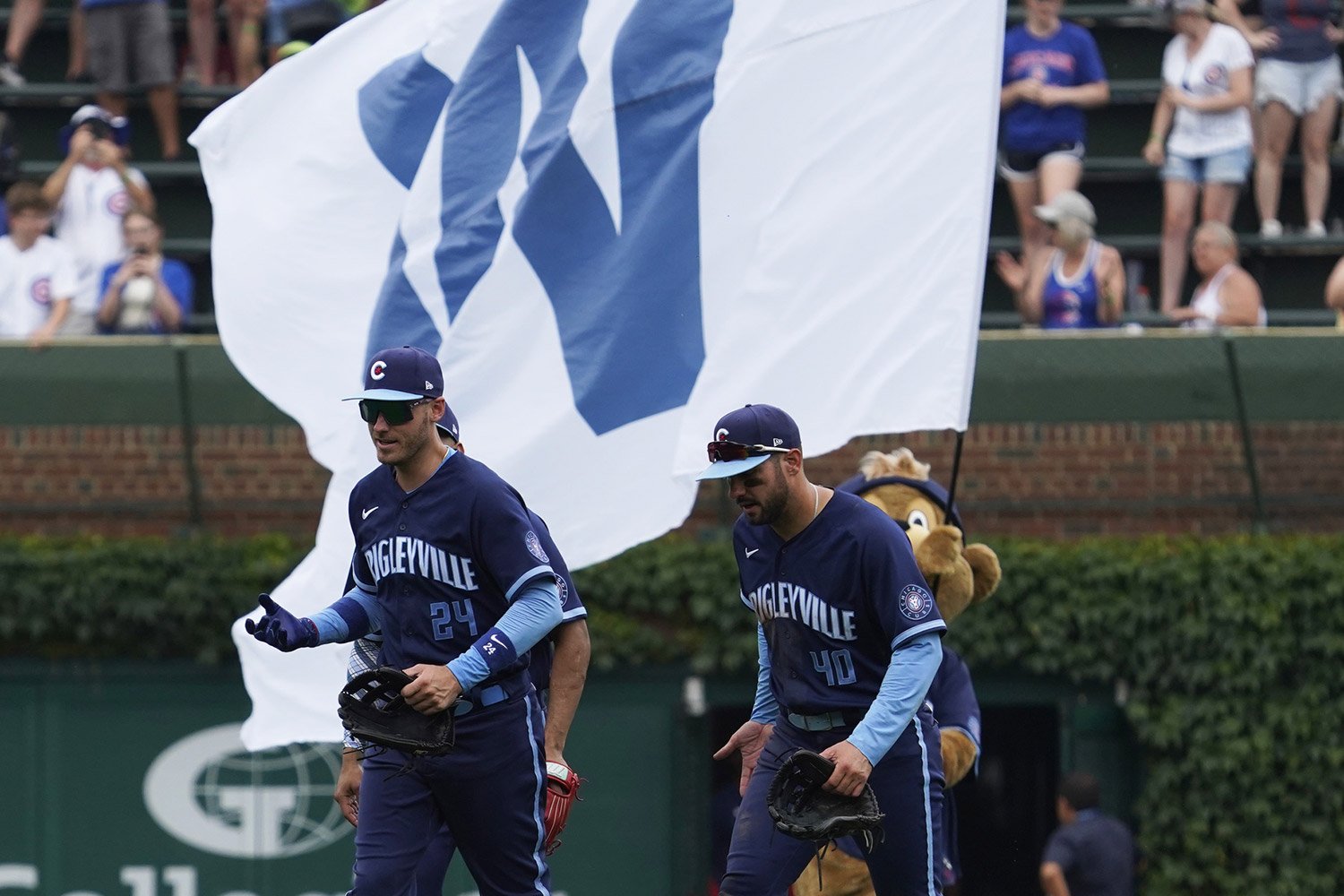 Image courtesy of © David Banks-USA TODAY Sports
The premise behind this is simple: we'll look at which roster had the better player(s) at each position. As you'd expect, the World Series winning roster is going to look a little bit more stacked than the Wild Card hopeful one, but it's an exercise meant to demonstrate that one size does not fit all when it comes to contending for the championship. 
The Cubs 2016 roster data is from Baseball Almanac; the up-to-date Cubs 2023 roster data is from The Athletic. All stats are current through August 17, 2023.
This is part two of a three-part series. Part one, featuring infielders, is available here.
Part three, featuring pitchers, will be available later this week. 
---
LEFT FIELD
Kyle Schwarber/Matt Szczur/Jorge Soler/Albert Almora/Chris Coghlan vs. Ian Happ
Initially, it may look like Happ is outnumbered here. On Opening Day in 2016, it was Kyle Schwarber's job… until he tore his ACL in early April. The Cubs then tried to patch the position up with some defense-and-speed first options (Szczur and Almora) before prioritizing offense with Soler and Coghlan. The team made it work, especially once it let Zobrist start manning left field so Baez could take over second base full-time in the playoffs, but left field was the rare position on the 2016 Cubs that just never came together. 
The 2023 Cubs have had some remarkable stability in left field, though, thanks to the contributions of Happ. Though he hasn't been quite as productive as his All-Star, Gold Glove season in 2022, Happ has still been worth 2.0 bWAR this year, backed by a .766 OPS and solid defensive metrics. Against any other position on the 2016 Cubs, Happ's productivity may not have been enough, but sometimes the best ability is availability. 
Advantage: 2023 Cubs
---
CENTER FIELD
Dexter Fowler vs. Cody Bellinger
Now this is an electric matchup. Fowler was incredible in 2016, earning his only All-Star nod on the back of a .840 OPS (which was buoyed by a stellar .393 OBP). He earned the tagline of "you go, we go" thanks to his contributions as the leadoff man and winning attitude. Though his defense was never stellar, he was a consistent presence in center field and allowed Jason Heyward to keep his Gold Glove at home in right field. Oh, and he hit the only leadoff home run in Game 7 of the World Series in MLB history. Maybe you remember. 
Much like his center field counterpart, Bellinger is the heart and soul of this year's team. He easily leads the team in OPS with a massive .933 mark and applies his Gold Glove chops at first base and center field. He won Player of the Month in the National League in July and is the main catalyst behind the Cubs' recent surge. Oh, and he's about to become the first Comeback Player of the Year in Cubs history. 
This is genuinely tougher than I anticipated, but Bellinger is just too good when he's on. And for most of this year, he's been on.
Advantage: 2023 Cubs
---
RIGHT FIELD
Jason Heyward vs. Seiya Suzuki/Mike Tauchman
As it stands in Cubs fandom right now, the closest comparison between Heyward and Suzuki is how they failed/are failing to live up to their massive contracts. Heyward was a disaster at the plate in 2016, posting an unsightly .631 OPS from the bottom of the lineup. He was still worth 1.0 WAR, though, thanks to incredible defense in right field. It's also become something of a meme, but his $184 million rain delay speech will go down in Chicago legend. 
Suzuki is struggling in his second year stateside, battling injuries and inconsistency at the dish to the tune of a .736 OPS in just 360 at-bats. His glove has been okay, he's been an average baserunner, and he's clearly well-liked on the team. However, the real reason the 2023 Cubs have the advantage here is because of one Michael Robert Tauchman. He's provided the same steadying presence atop the lineup as Fowler once did, slashing .272/.372/.421 and putting up a 2.1 bWAR. He's also got the heroics to match the stat line and is quickly etching his name into Cubs lore. 
Advantage: 2023 Cubs