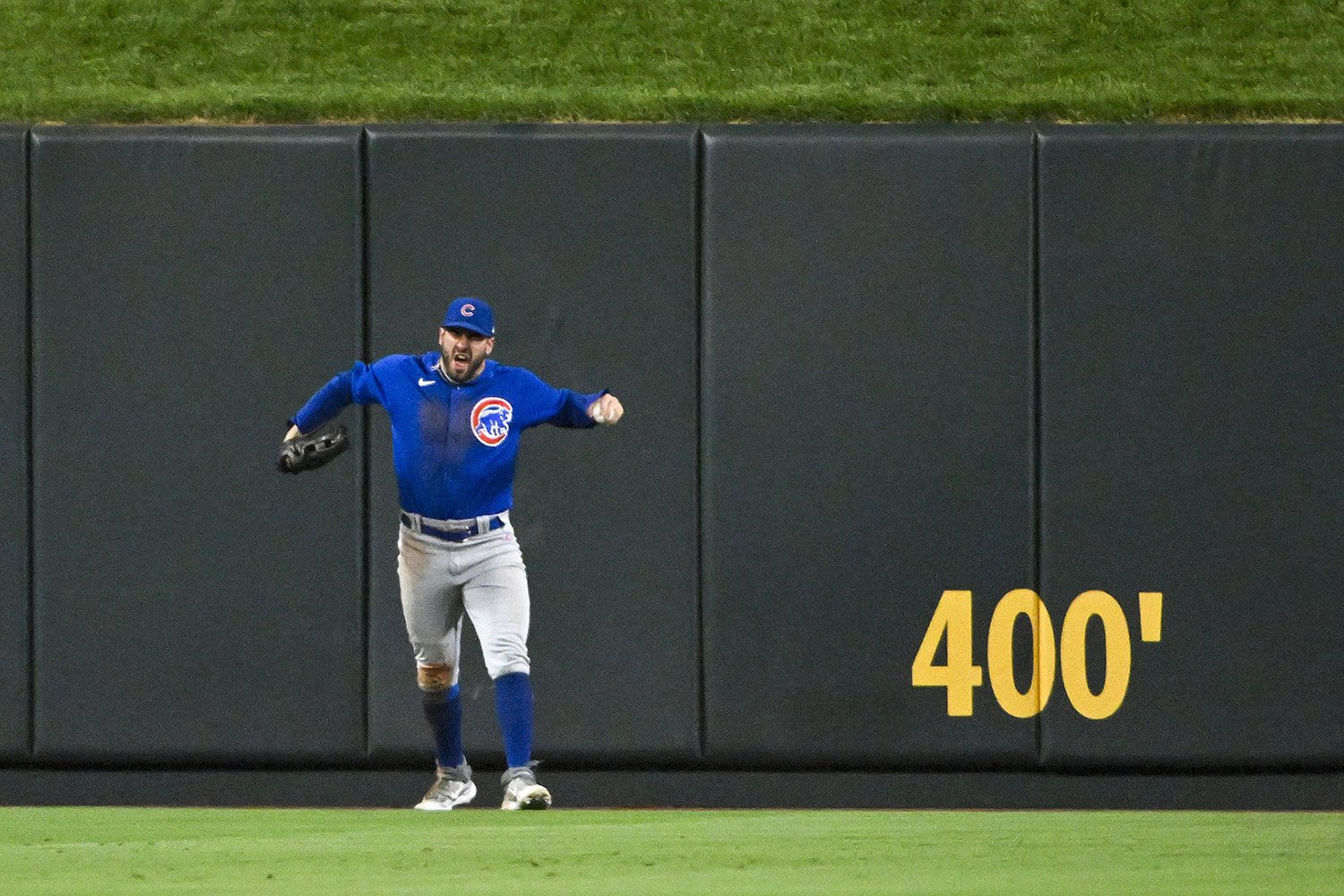 Image courtesy of © Jeff Curry-USA TODAY Sports
It may seem that the impetus to write this came on Friday night, when Mike Tauchman robbed Alec Burleson of a walk-off two-run homer, propelling the Cubs over .500 on the year and firmly into "playoff contender" status. And while that moment feels like it'll be etched into Cubs lore regardless of what happens the rest of the season, it's actually the rest of Tauchman's year that deserves the most love. 
Originally, Tauchman was signed to a minor league deal in January, meant to serve as organizational outfield depth and perhaps compete for the fourth or fifth outfielder job on the big league team with a strong Spring Training showing. If you'll allow yourself to think back to then, the plan for the Cubs was for Cody Bellinger to man center field full time, while other offseason signings Eric Hosmer and Trey Mancini kept first base warm for Matt Mervis.  
You know what happened next. Hosmer was… well, modern-day Eric Hosmer, and he got released at the end of May. Mancini has been a disaster to the tune of a -1.3 WAR (i.e., Mancini has been worth over one win less than a replacement-level first baseman this year), at times showcasing spectacularly atrocious defense at the "cold" corner. And Mervis, surrounded by tremendous hype, was called up in May… only to post a .531 OPS in 99 plate appearances. 
Then, Bellinger got hurt in Houston, costing the Cubs their center fielder and best bat. As such, the Cubs were left at a standstill. So, they responded by calling up Tauchman to fill in and hold down the fort in center field while Bellinger got healthy. Then, something amazing happened: Mike Tauchman became one of the Cubs' most valuable players. 
In 57 games (through Monday, July 31st) with the Cubs in 2023, Tauchman has been worth 1.6 WAR, with a .760 OPS propelled by a .361 on-base percentage (which currently ranks fourth on the team). He's provided solid (and, as aforementioned, sometimes special) defense out in center. And he's quickly become one of the most respected voices in the locker room, no doubt a reflection of the wisdom he's picked up in a journeyman career that has featured stops with multiple first-place teams (2019 Yankees, 2021 Giants). 
But the most valuable contribution Tauchman has given to the Cubs this year can't really be quantified: flexibility. His steady presence atop the lineup has allowed Bellinger to shift back to his original position* at first base against righties, keeping Mancini on the bench until an opposing lefty appears on the schedule (where Bellinger then shifts back to CF). This hybrid, three-man platoon has worked quite well for the Cubs, and now with Nick Madrigal back and healthy at third base, we may see even more options for the Cubs at first (especially against lefties), including Patrick Wisdom and Christopher Morel. 
It'd be easy to question the sustainability of a guy putting up career highs or near-career highs across the board, especially at 32. And there's no doubt the future of center field at the Friendly Confines is still Pete Crow-Armstrong (barring the fulfillment of a dream Bellinger re-signing). But for a team that's desperately trying to compete in a down year in the division (and really, across the entire National League), Tauchman's contributions have been invaluable. 
It remains to be seen just how much damage a team with Mike Tauchman atop the lineup can do in the playoffs in the year 2023 if they even get there at all. Only time will tell if that home run robbery against the Cardinals right before the trade deadline will be the highlight of a lost season or a footnote in a much more successful one. But following years of trading fan favorites and Chicago legends with an eye toward the future, it's nice to have someone creating his own Cubs legend right now. 
*Bellinger was initially called up to replace an injured Adrian Gonzales at first base for the Dodgers in 2017.