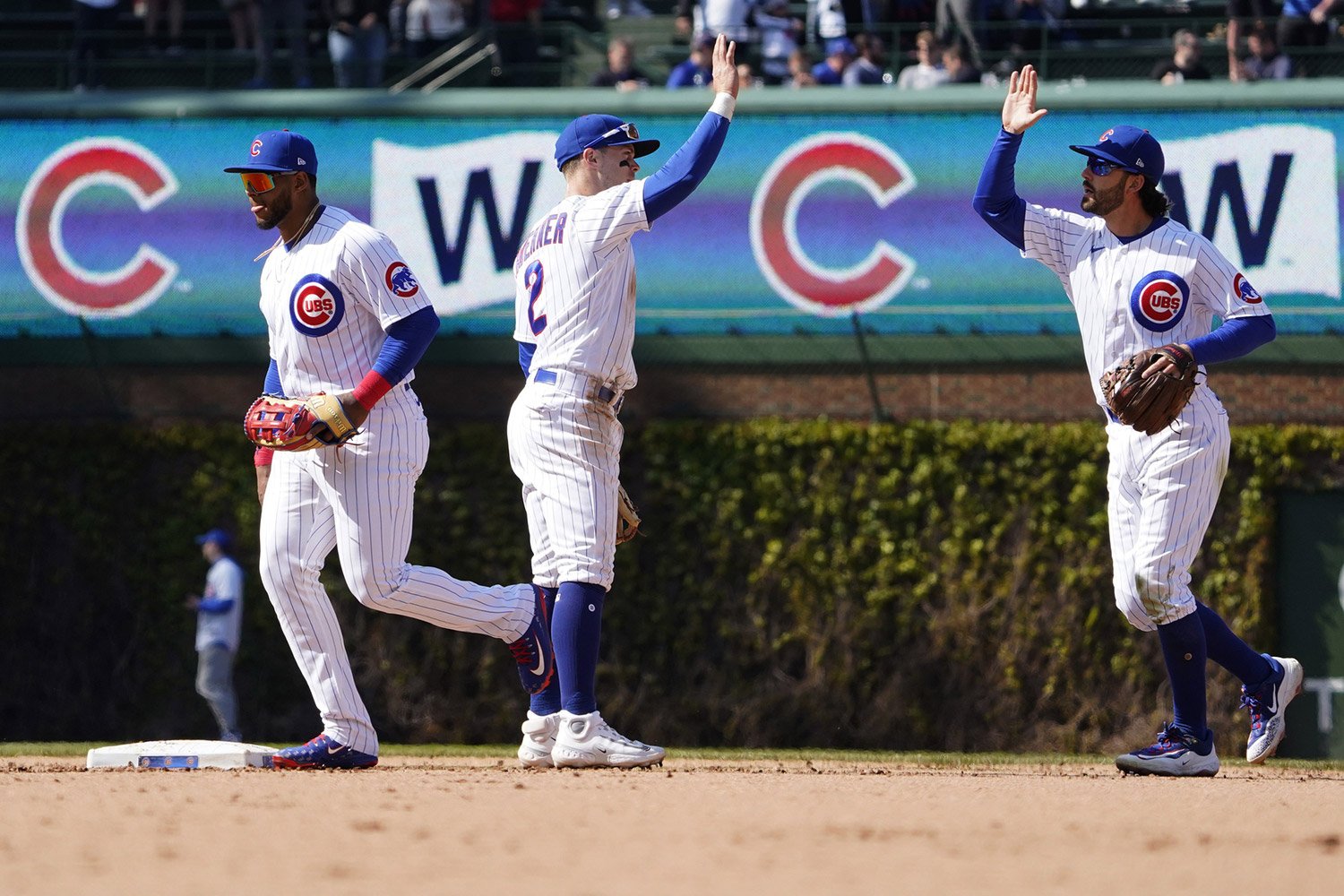 Image courtesy of © David Banks-USA TODAY Sports
The premise behind this is simple: we'll look at which roster had the better player(s) at each position. As you'd expect, the World Series winning roster is going to look a little bit more stacked than the Wild Card hopeful one, but it's an exercise meant to demonstrate that one size does not fit all when it comes to contending for the championship. 
The Cubs 2016 roster data is from Baseball Almanac; the up-to-date Cubs 2023 roster data is from The Athletic. All stats are current through August 17, 2023. 
This is part one of a three-part series. Parts two and three will feature outfielders and pitchers, respectively. 
---
CATCHER
Miguel Montero/Willson Contreras/David Ross v.s. Yan Gomes/Miguel Amaya/Tucker Barnhart
NOTE: Barnhart was DFA'd before this article could be published. 
The triumvirate of catchers in 2016 all famously had at least one RBI each in Game 7 of the World Series (the first time in postseason history for three catchers to do so in the same game), but this was not a prolific group. Montero and Ross were at the tail-end of their respective careers, sporting batting averages below .230. Contreras was still early in his career (though he did post an impressive .845 OPS in 252 at-bats during the regular season). 
The Cubs catchers this year were built around a new pitching infrastructure, prioritizing defense and game-calling rather than offense (hence why Contreras was allowed to walk to the rival Cardinals). None of the catchers have been great at the plate, though Gomes and Amaya have above-average OPSs of .735 and .751, respectively (the MLB average this year is .733). The big boon these players have provided is helping the pitching staff, as the Cubs were allowing just 4.24 runs per game through the end of July (down from 4.51 last year). 
Ultimately, which group you take is up to what you desire out of your catchers. Montero and Ross were good enough defensively (and uniquely specialized enough to work with certain pitchers on the staff) to make ends meet, and no one on this list was ever as good at the plate as Contreras, even early on in his career. 
Advantage: 2016 Cubs
---
FIRST BASE
Anthony Rizzo v.s. Jeimer Candelario
Before even delving into this matchup, it's fair to note that the 2023 Cubs have been flat-out atrocious at first base this year, rolling out negative-WAR guys like Eric Hosmer and Trey Mancini for most of the season before mercifully trading for Candelario. 
That being said, Candelario is a massive upgrade, and he's having a career year on both sides of the diamond (he's already up to 3.5 bWAR this season). However, despite Candy's .846 OPS and above-average glove at both infield corners, he can't compare to the last face of the franchise. 
Rizzo was tremendous at the plate in 2016, posting a .929 OPS with 32 home runs and 109 RBIs as the lefty slugger in the middle of the lineup. He finished fourth in MVP voting that year, won the Silver Slugger and Gold Glove, and became the only first baseman in history to win the Platinum Glove. Rizzo was as good as anyone in baseball in 2016. 
Advantage: 2016 Cubs
---
SECOND BASE
Ben Zobrist/Javier Baez v.s. Nico Hoerner/Christopher Morel
While Baez served as a super-utility guy in 2016 (25+ games at three positions) and Morel is the primary DH for this year's Cubs (the DH didn't exist in the NL back in 2016), their respective defensive homes were generally at second base.
And a good thing, too, because this is one hell of a matchup. Zobrist would win the most important World Series MVP of all time, while Baez chipped in with elite defense and a .737 OPS (and co-NLCS MVP). Their defensive versatility was part of what made them so valuable to the Cubs, but Zobrist (.832 OPS in 2016) and Baez were legitimate threats at the plate as well. 
Not to be outdone, Hoerner and Morel have been a dynamic duo as well, with Morel playing nearly every position on the diamond and Hoerner flashing his gold glove bona fides at both second base and shortstop. Hoerner has settled into the two-hole in the lineup nicely, posting a .743 OPS and leading the team with 30 steals. Morel has provided tremendous power from literally every spot in the lineup and is second on the team in OPS with a .843 mark. 
I was trying to avoid a "push" situation, but these are two elite duos. The Cubs of 2016 and 2023 should be thankful for their production from the keystone. 
Advantage: Draw
---
THIRD BASE
Kris Bryant v.s. Nick Madrigal/Patrick Wisdom
I don't think there needs to be much in-depth analysis here. Remember how I said Rizzo was as good as anyone in baseball in 2016? Bryant was even better, winning the MVP with a .939 OPS, 39 home runs, and 102 RBIs. [Just an aside real quick: did anyone remember how insanely identical Rizzo and Bryant were offensively in 2016? Bryant slashed .292/.385/.554 and Rizzo slashed .292/.385/.544. Wild.]
Meanwhile, Wisdom is trying his damnedest to become the first ever 300-strikeout, 40-home run player in MLB history. On the other hand, Madrigal is still trying to learn how to post an OPS that starts with a seven without getting any extra-base hits. [In all fairness, Madrigal has been a pleasant surprise this year, especially with the glove, and Wisdom does lead the team in home runs. But, I mean, come on. This isn't even close.]
Advantage: 2008 Cubs (Aramis Ramirez truthers unite!)
Actual Advantage: 2016 Cubs
---
SHORTSTOP
Addison Russell v.s. Dansby Swanson
In hindsight, this is an easier matchup to look at, as Russell's star very quickly faded thanks to some off-the-field issues. However, he was still quite a productive player in 2016, posting a 3.7 bWAR and earning an all-star selection thanks to some outstanding defense and a .738 OPS. He was a steadying presence in the middle infield and had some legendary moments during the run to the title. 
Alas, Dansby Swanson is just better. He's putting up a .780 OPS with the best defensive metrics for any shortstop in the National League this year. He's added a true winner's mentality to this club, with some comparing his signing to that of the fateful Jon Lester signing during the 2014-2015 offseason as the one that marked the turn of the tide from rebuilding to contention. 
The 2023 Cubs are on the board. 
Advantage: 2023 Cubs
1